USA Songwriting Competition Winner Hits #1 On Billboard Charts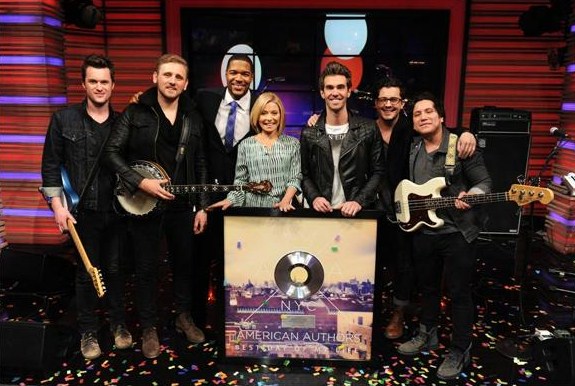 American Authors, the winner of the 18th Annual USA Songwriting Competition, is making huge waves this week with their new hit single 'Best Day Of My Life'. It has been gaining momentum, hitting #1 on the Billboard US Adult Pop Songs Charts, making it their first official #1 single. They beat the likes of mega-hit music acts such as One Direction, A Great Big World & Christina Aguilera, Lorde and Bastille. The song also hit #11 this week with a bullet on the Billboard Hot 100 Charts.
On top of this, the song was certified Platinum today, meaning it sold a total of 1 million copies. They are the first USA Songwriting Competition winner to ever hit #1 and certified Platinum [by Recording Industry Association of America (RIAA)].

From Unknown To Stardom
They entered the USA Songwriting Competition as unsigned independent band and came out winning the USA Songwriting Competition, getting signed and hitting the charts. They have also appeared on hit TV shows such as "Tonight Show with Jay Leno", "Conan O'Brien" and "Late Late Show with Craig Ferguson".
American Authors also appeared on "The Ellen Show" performing this song last month.
The song is also featured in the hit movie "The Secret Life of Walter Mitty" and featured on the hit TV show "The Voice" more than once with the top 5 finalists singing this currect hit song.
The song is written by Zac Barnett, Dave Rublin, Matt Sanchez, James Adam Shelley, Aaron Accetta and Shep Goodman. American Authors is an American indie rock band based in Brooklyn, New York, and who are signed to The Island Def Jam Music Group.
The band of brothers met at the Berklee College of music, and up until 2012 were known as The Blue Pages. Under this moniker, the group released two extended players, Anthropology and Rich With Love, both of which were met with enough interest to keep the band relevant.
They won overall grand prize and first prize (Rock/Alternative) with their song 'Believer'. This song appears as the first track in their full length album "Oh, What a Life", released this week on March 3rd.
About USA Songwriting Competition
USA Songwriting Competition has a long history of having winners getting recording and publishing contracts, have their songs placed on the charts as well as having their songs placed on film and television. The top two winners of 2011: Nenna Yvonne and Alexander Cardinale were signed to Interscope Records after their win. The 2007 winner hit Top 10 on the Billboard charts with his winning song. The 2005 Winner of the Country category had his winning song cut by Country Superstar Faith Hill. The 2005 winner of the Pop category was signed by Interscope Records; she went on to hit Top 10 on the Billboard 200 Album charts. Our 2008 winner appeared on David Letterman TV show and was signed to a record label.
For more information on entering the 19th Annual USA Songwriting Competition, visit:
http://www.songwriting.net/enter