Songwriting in Nashville
By Jason Blume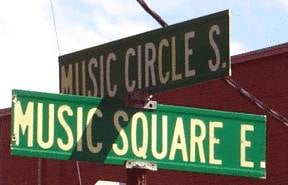 When I first came to Nashville, the joke at demo sessions used to be, "Which melody do y'all want? Number 3 or number 4?" The implication was that country melodies were all alike -- and only the lyric mattered. Now, the lyrics still have to overflow with details, pictures, and unique angles--but that won't matter if they're not attached to a killer, fresh, instantly memorable, hook-laden MELODY!
As part of my most recent webinar (in addition to the song critiques) I identified the melodic tools used in some of the biggest current hits. It really hammered home for me that "outside" songs (not written by the artist or co-producer) have to have EXCEPTIONAL melodies and rhythms.
For the people who complain that country music today is crap and that it ain't country anymore … I have two things to say:
1) Music in every genre changes and evolves (thankfully!). Motown, the Beatles, Aretha, Sinatra, are all amazing and have all had their time of ruling the radio airwaves--but we can't get those kinds of songs recorded by today's artists. So, why should country music stay frozen in time? I LOVE the old country standards, but if I want a successful career, I can't write songs that would have been appropriate for Hank, Patsy, Jones, Johnny, or anybody else who is dead, and expect today's artists to record them; and
2) If you think today's songs are poorly written or just cranked out crap, try writing "I Drive Your Truck," "Drink a Beer" or "The House That Built Me," or melodies as fresh and instantly memorable as those in "Came Here to Forget" (Blake Shelton); "Somewhere On a Beach" (Dierks Bentley); and "Church Bells" (Carrie Underwood) -- ALL OF WHICH WERE WRITTEN BY OUTSIDE WRITERS -- NOT THE ARTISTS.
Another issue came up during the webinar …
When I critique songs I frequently ask, "Who do you hear this song for?" You should always be prepared to answer that. A publisher will almost definitely ask that question. If you cannot come up with a list of artists who are currently having hits and do not write their own material exclusively, then you are probably not writing material that targets the current market. This is a business, and part of our job is to be aware of the kind of material being recorded by artists who are currently on the radio--and do not write all of their own songs. We need to write for those artists' future albums – – not rehash what they've already done. Our ticket to success is to give them material that will deliver them to the next level.
Sometimes, I hear songs that are truly terrific--songs that I love--but they are not the kinds of songs publishers can pitch and earn money from. In some cases, it's because these are "singer/songwriter" songs--the kinds of songs that performing writers write for themselves. In other instances, they might sound like they're from a different era. I spent years writing both of those kinds of songs and bitterly complaining (while working hideous temp jobs) that my songs were "better than the crap on the radio." I desperately wanted a publishing deal, but I wasn't writing the kind of songs a publisher could place. The turning point came when I accepted that if I wanted to write for catharsis that was fine. But if I wanted to earn a living as a songwriter, I needed to write songs with lyrics and melodies that would compel an artist (or publisher or record label exec) to choose my song over a thousand others (including those written by the current hit-makers, as well as the artist and the producer). I still needed to write from my heart--but I needed to also target my listeners' hearts.
It takes EXCEPTIONAL songs to break through--and those songs must have outlets in the current market. Publishers and other music industry pros are starving for those songs, but they have no need for perfectly crafted, predictable ones. One of the things I love so much about teaching songwriting is that so many of the skills we need to take our songs to that next level are learnable--and that amazing songs really can change lives.
Now, time for the sales pitch. July dates for interactive song critique webinars are now posted on my website. The webinars combine in-depth critiques of a song from every participant, lessons, and topics such as "what publishers want"; "how to take a lyric to the next level"; and "how to pitch songs," as well as Q&A. Note: Every session has filled up--and half the attendees are "repeat offenders."
http://www.jasonblume.com/song-critique-webinars.html
Jason Blume is the author of This Business of Songwriting and 6 Steps to Songwriting Success (Billboard Books). His songs are on three Grammy-nominated albums and have sold more than 50,000,000 copies. One of only a few writers to ever have singles on the pop, country, and R&B charts, all at the same time—his songs have been recorded by artists including Britney Spears, the Backstreet Boys, the Gipsy Kings, Jesse McCartney, and country stars including Collin Raye (6 cuts), the Oak Ridge Boys, etc. Jason's songs have been included in films and TV shows including "Scrubs," "Friday Night Lights," "Assassination Games,", etc. A regular contributor to BMI's MusicWorld magazine, he presented a master class at the Liverpool Institute for Performing Arts (founded by Sir Paul McCartney) and teaches songwriting throughout the U.S., Australia, New Zealand, Norway, Ireland, the U.K., Canada, Bermuda, and Jamaica. After twelve years as a staff-writer for Zomba Music, Blume now runs Moondream Music Group. For additional information about Jason's latest books, online classes, instructional audio CDs, and workshops visit
www.jasonblume.com
.

To enter the 21st Annual USA Songwriting Competition, go to: http://www.songwriting.net