[Songwriting Tip] Eight Reasons Why You Should Have a Co-writer
By Jake Gakovik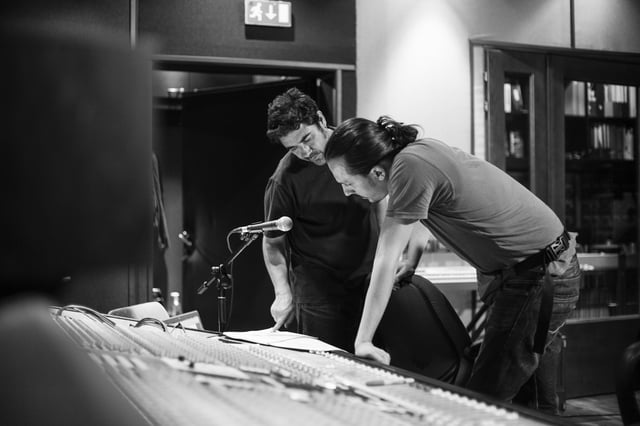 Opinions about co-writing songs are very much divided—some love it, some hate it. Although a lot of songwriters frown upon the idea of working with other songwriters, co-writing is actually more common than you might imagine.
Take a look at the songs on any of the charts, at any given time, and chances are you'll find that a lot of them are the result of a cooperation between co-writers. You will even see a lot of songs created by teams of 4+ songwriters!
Some of the most successful music of all time has been the creation of co-writing teams like John Lennon and Paul McCartney, Keith Richards and Mick Jagger, Jimmy Page and Robert Plant, and many more.
If you're still not if sure co-writing is your thing, here are eight reasons why you should give it a try. Who knows, the results could be chart-topping.
Improve your style with new techniques and writing skills
Every songwriter has different writing skills and a different songwriting process. Sometimes this process works and your skills are all you need to create a hit song. More often than not, though, this is not the case.
In a lot of situations, working as hard as you can is simply not enough for you to write that one song that will help you make it in the music world.
Combining your skill set with another songwriter, who can also have a different writing process, can be good for you. Co-writing is a great chance for you to improve your own process by seeing how someone else approaches the same song and to adopt some new writing techniques.
Most importantly, if you find a partner with whom you can create a mutually-beneficial relationship, where you add value to each other's work, you'll be on the right way to success.
Learn about your strengths and weaknesses
No one is perfect. We all have our flaws and skills, or talents we lack. Knowing that about yourself is a big step towards finding your voice and your style. Another way you could deal with your weaknesses is to find someone who excels in the areas you don't and vice versa.
Working with someone else on achieving the same goal can also help you identify a character trait that you didn't know you had. Your partner could play a big role in helping you work on that specific weak point.
Once you get to know each other's strengths and weaknesses, you will see if you're a good fit for each other and if working together will produce great results.
Let your creativity soar and have fun
Writing your song is the fun part, especially if you're working with someone else. Share the energy and excitement with your writing partner and it will definitely show in the song you create.
With high spirits, a positive atmosphere and good energy, creativity is bound to flow! If, at some point, you get stuck, just talking to your co-writer about it can help you overcome the block and get back into creative waters.
Use a new set of eyes (and ears) to improve your songs
Say you started writing a song, but never finished it. There's a number of reasons why this might happen, as we all know. Perhaps you just ran out of inspiration or you didn't like it and decided to leave it be. Maybe you just got stuck and couldn't finish it.
Try showing your unfinished work to your songwriting partner. They may have some ideas on how to finish the song and make it even better than you ever thought possible when you gave up on it.
This doesn't have to apply only to abandoned and unfinished work. If you have a song you have finished but you're not sure it's good enough, ask your partner for feedback and maybe you'll end up with a hit song.
Be accountable to someone else
No matter how responsible you are as a person, tight deadlines and time pressure can affect us all. Even if you mark you calendar and firmly determine the time when you're going to sit down and write, something can always come up in the last possible minute.
By scheduling in time for work, you actually make a commitment and become accountable to someone else but yourself. This is a great way to keep yourself honest and dedicated to the writing routine. It's much harder to avoid responsibility when you're responsible for more than just your own work.
Work half as hard and have twice the results
This is one of the practical reasons you should have a co-writer for your songs. However obvious this may sound, people often forget about the fact that two people working together generally need half the time and effort needed to write a song than it would take them if they were working individually.
Of course, that's not always the case, but usually two heads are better than one.
You could also look at it this way: in the time you would need to write one song yourself, you and your writing partner could create two or more songs that are influenced by both your techniques and styles.
Split the costs of your demo in two
This is another practical reason that people forget about more often than not.
When you and your writing partner are done with the song and you both think it's ready to be heard by people, it's time to create a demo. You have couple of choices here:
You can turn to professionals to record your demo right away, or

You can record the demo yourself and then hire professionals to turn it into a master track through professional studio tracking and post production.

Either way, you have someone to split the costs with which gets you one step closer to getting your songs in front of relevant people and companies.
More people will be pitching your song
Once your song is written and demo recorded, it's time to start pitching. This is usually the boring part for most songwriters, but when you have a partner by your side, the work immediately becomes easier as there is now two of you doing the pitching.
It's not just the number of people that matters here. Since you worked hard on the song together, it's important to both of you that the song succeeds, which is why you'll do your best. A great little bonus is that with a partner you have more contacts in the music industry and the ability to grow your network, which can certainly come in handy for any future work.
The truth is that co-writing is not for everyone, but unless you give it a shot, you will never know if it's your thing. Even if you decide to do it, it could take some time before you find the winning combination of skills and knowledge in your co-writing partner. But when you do find a partner you connect with and that you can really work with, you'll get to experience the happiness and satisfaction that only comes from putting a great song into the world. Just imagine what the world would have missed if, for example, Paul McCartney decided to exclude John Lennon from the songwriting process.
Jake Gakovik is a session guitarist, music entrepreneur, and co-founder of www.supremetracks.com, a professional online recording studio where you can get your songs arranged, recorded and mastered by award-winning music professionals.
Information on the 23rd Annual USA Songwriting Competition, go to: http://www.songwriting.net