Taking Applications NOW: the 26th Annual USA Songwriting Competition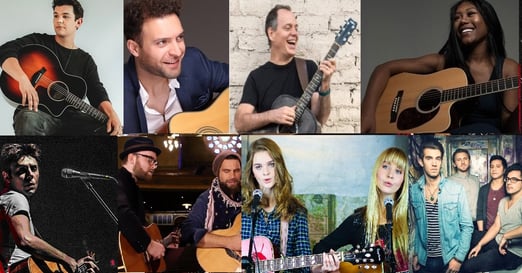 :. Radio Airplay!
:. Grand Prize of US$50,000 in Cash & Merchandise!
:. 15 different categories
:. Winners Will Be determined by Top Music Industry Pros*
Since 1995, the USA Songwriting Competition®, the world's leading international songwriting event, has been honoring songwriters, composers, bands, and recording artists everywhere. This is open to all, regardless of nationality or country origin. ENTER NOW >>
*Winners are selected by a Blue Ribbon committee of music industry judges including record label publishers, producers, A&R from Universal Music, Warner, Sony Music, and other distinguished professionals. This is your chance to be discovered by the biggest names in the music business!
This competition offers a shot at the big time for songwriters, original solo artists, and bands everywhere around the world. For you it is the contest that might just open the right doors, make the right connections and get your songs heard. Winning songs receive radio airplay! (the first for any songwriting competition!).
This is not American Idol - this is the professional songwriting competition that offers winners the clout that it it takes to really make it!

***FREE EARLY ENTRY BONUS: First 1,000 entrants entered by March 31st or earlier will each receive a FREE annual subscription of Acoustic Guitar Magazine worth $23.99. Hurry, Click here to enter now >>
SPONSORS:
:. QUOTES
"I was so shocked that my song got selected winner of the top prize in the USA Songwriting competition, I hope I can continue to make music that you all enjoy. It's amazing because I've also recently been signed to Sony Music Nashville Records!" ...Andrew Jannakos, Top Winner of 25th Annual USA Songwriting Competition
"Winning the 24th Annual USA Songwriting Competition is one of the highlights of my career. This incredible competition has featured some of the greatest up and coming talent from around the world, and it's an absolute honor to be this year's winner" ...Jamie Alimorad, Top Winner of 24th Annual USA Songwriting Competition
"I'm grateful my song was selected winner of the top prize in the USA Songwriting competition. This recognition inspires me to continue the work. I love the process of writing, and this will help me follow through when the next song idea pops into my head. Thanks to the judges, and thank you to everyone at the competition for supporting the art of songwriting." ..David Wilcox, Overall Grand Prize winner, 2018 USA Songwriting Competition.
"I encourage all songwriters, regardless of experience, and regardless of production to enter. To have my song's quality validated by those I respect means so much. Winning has inspired me to work even harder at my craft. Enter!! Do it!!!"..Robert Jason, winner of the Gospel/Inspirational category, 2015 USA Songwriting Competition.
"It really feels fulfilling to win!"..Priscilla Hairston, winner of the 2017 USA Songwriting Competition. Her songs have been recorded by Kelly Clarkson, Fifth Harmony, Rihanna and more.

"We are so excited to win this competition. We entered this competition as unsigned acts, came out as top winner, signed to Island Records and we hit #1 on the Billboard Charts!"..Dave Rublin, Winner of the 18th Annual USA Songwriting Competition (2013), hit #1 on the Billboard Charts and went Double Platinum, selling over 2 million copies.
"This is a great place for talent to be found"..Monte Lipman, President & CEO of Universal Records
"I realized that most songwriters I know enter USA Songwriting Competition, it is wonderful thing of what they are doing and helping songwriters like us"..Rich Miller
"My Name is Jennifer Adan and I used to enter this contest all the time back in the day. I am proud to say that I am now a HIT songwriter who lives in Nashville and travels back and forth to LA to write. I had a two week #1 hit with Blake Shelton "She Wouldn't Be Gone" and I just released my first childrens book. You guys were a big part of my early career!"...Jennifer Adan, Hit Songwriter with #1 Billboard Hits and BMI Award Winning Songwriter. Read More