Neon Hitch, singer songwriter talks about her experience as a songwriter in collaboration with hit makers:
USA Songwriting Competition caught up with Warner Brothers Recording Artist Neon Hitch at the Winter Music Conference in Miami Beach, Florida. She is a British singer and songwriter. She talked about songwriting and collaborations with hit makers such as Bruno Mars, Gym Class Heroes, 3OH!3 and Mike Posner. She had 2 songs that hit the Billboard Hot 100 Charts.
She was signed to Mike Skinner and Ted Mayhem's label, The Beats, before it closed down. She was later discovered on MySpace by Benny Blanco who flew her to New York to work with him. Their work together earned her a music publishing deal with EMI and a record deal with Warner Brothers Records.
The Winter Music Conference is a weeklong electronic music conference, held every March since the mid-1980s in Miami Beach, Florida.
The WMC is recognized for serving over 62,000 attendees from 70 countries in Miami Beach to get involved in the WMC week. Over 4,000 industry delegates attended, Record label representatives, publishers, and A&R attend the conference.
USA Songwriting Competition's event director Eddie Phoon (pictured below with Neon Hitch) spoke as a panelist at WMC Demo Listening Workshops and South Beach Sessions, which included legendary music producer Henry Stone.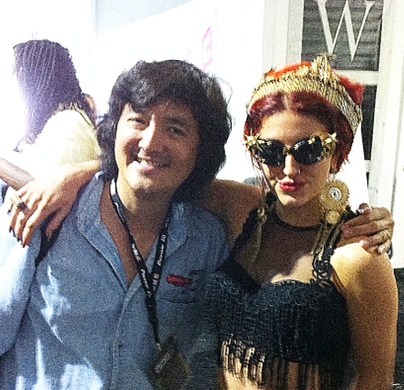 For more information on the 17th Annual USA Songwriting Competition, please go to:http://www.songwriting.net