Robin Gibb, Songwriter Remembered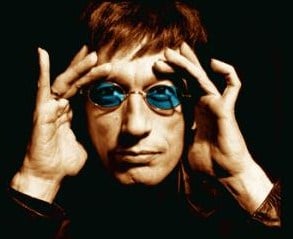 Robin Gibb, a member of the group the Bee Gees, died Sunday at the age of 61. The musician was best known for his contributions, along with his brothers, to disco in the 1970s. The genre, both loved and hated, was in part defined by Gibb and the Bee Gees.
No one dominated disco more than the Bee Gees, whose soundtrack to "Saturday Night Fever" cemented their place in history and changed the defining sound of the era.
The Bee Gees had nine singles reach number one on the Hot 100 chart, which, according to Billboard magazine, puts them in third place for the most number ones in history, after the Beatles and the Supremes.
The Bee Gees has tremendous songwriting success, sold in excess of 200 million records worldwide.At one point in 1978, the Gibb brothers were responsible for writing and/or performing nine of the songs in the Billboard Hot 100. In all, the Gibbs placed 13 singles onto the Hot 100 in 1978, with 12 making the Top 40.
At least 2,500 artists have recorded their songs. Their most popular composition is "How Deep Is Your Love", with 400 versions by other artists in existence. Among the artists who have covered their songs are Ardijah, Michael Bolton, Boyzone, Eric Clapton, Billy Corgan, Destiny's Child, Faith No More, Feist, The Flaming Lips, Al Green, Jinusean, Elton John, Tom Jones, Janis Joplin, Lulu, Elvis Presley, Nina Simone, Percy Sledge, Robert Smith, Take That, and John Frusciante (who has covered "How Deep Is Your Love" duringRed Hot Chili Peppers concerts). The band's music has also been sampled by dozens of hip hop artists.
Songs written by the Gibbs, but largely better known through versions by other artists, include:
"Ain't Nothing Gonna Keep Me From You" by Teri DeSario

"Buried Treasure" by Kenny Rogers (backing vocals The Gatlin Brothers)

"Chain Reaction" by Diana Ross

"Come on Over" by Olivia Newton-John

"Emotion" by Samantha Sang

"Gilbert Green" by Gerry Marsden

"Grease" by Frankie Valli

"Guilty" and "Woman in Love" by Barbra Streisand

"Heartbreaker" & "All the Love in the World" by Dionne Warwick

"Hold On to My Love" by Jimmy Ruffin

"I Will Be There" by Tina Turner

"If I Can't Have You" by Yvonne Elliman

"Immortality" by Celine Dion

"Islands in the Stream" by Kenny Rogers and Dolly Parton

"Morning of My Life" by Abi and Esther Ofarim

"Only One Woman" by The Marbles

"Rest Your Love on Me" by Conway Twitty

"Sacred Trust" by One True Voice

"Warm Ride" by Graham Bonnet
Robin Gibb also had a solo career, was initially successful with a Number 2 UK hit, "Saved by the Bell", which sold over one million copies. However, Gibb's first solo album, Robin's Reign, was less successful and he soon found that being a solo artist was unsatisfying. Maurice played bass guitar on the song "Mother and Jack", but was subsequently removed from the project by producer Robert Stigwood. Despite having almost completed a second solo album, Sing Slowly Sisters, Gibb reunited with his brothers, who then revived the Bee Gees. The group came back on a high note, reaching No. 3 on the US charts with the song "Lonely Days" in 1970. In 1971, the Bee Gees had their first US No.1 hit, "How Can You Mend a Broken Heart".
With Robin's death, Barry Gibb became the last surviving and oldest Gibb brother.
(Edited by Jessica Brandon)
For more information on USA Songwriting Competition, go to: http://www.songwriting.net