Edited by Jessica Brandon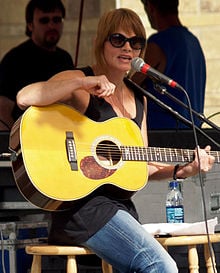 Shawn Colvin recently published memoir, "Diamond in the Rough." Colvin, 56, has struggled at various times with depression, alcoholism, eating disorders and failed relationships.
At the same time, she's had a career as a singer-songwriter that has netted her three Grammy awards, including Song of the Year and Record of the Year for "Sunny Came Home" from the 1996 album "A Few Small Repairs."
That controversial song told about a woman burning down her home – making "a few small repairs" to a presumably unsatisfactory life.
"It's scary to write a book that's personally revealing, so to get some positive feedback is very rewarding," she said in a recent telephone interview from Cape Cod, MA.
The book raises questions about how she's been able to have the long career she's had, given the problems she has struggled to surmount.
"I think you can ask anyone else with a chronic illness and find that, between treatment that's successful and other coping mechanisms, you do carry on for the most part," she said. "There are periods you're not able to do your best, but it's like battling any other chronic disease. It's very uncomfortable at times.
"It's really just a question of dealing with your illness and doing your job," she said. "Yeah, I'm on stage and I suppose that has its pressures. But it's what I'm familiar with and able to do, even when not feeling my best."
Colvin, who was born in South Dakota but grew up elsewhere, learned guitar early and moved to Texas in the late 1970s, where she absorbed folk, rock, country and other musical elements.
She came to New York in the 1980s and made a mark in Greenwich Village folk-rock circles, singing backup on Suzanne Vega's "Luka."
Columbia Records signed her and released "Steady On," which won her fast attention as a singer-songwriter to watch for the title song, "Diamond in the Rough" and "Shotgun Down the Avalanche." (All were written with John Leventhal.)
The title song, co-penned by longtime partner John Leventhal, has dark lyrics about the way "the best of 'em wind up sweepin' dirt off the street," but it also has the kind of slashing, high-spirited rock 'n' roll guitar hooks more suitable for dancing than somber reflection.
"The title song, even if it's about struggle, is pretty upbeat, a pretty fun song," she said. "We came up with the title together first. But I didn't know what really to say. But you just start chipping away; you get a line here and a line there, and it starts to lead you on."
"Also, (songwriting) has a great deal to do with how it sings. I don't just sit there with a piece of paper and hear music in my head and then write lyrics. You have to sing along and see what comes out. Sometimes you don't plan it – words just come. It's a strange process, but you know when it's working."
Colvin has a loyal following now, but acknowledges it isn't what it was when "Sunny Came Home" rose into the Top 10 and "A Few Small Repairs" sold almost a million copies (according to www.allmusic.com). She was one of the headliners of the 1997 Lilith Fair, a tour featuring women singer-songwriters that itself became heralded as a concert-industry trendsetter.
But that high didn't last. "I don't want to diminish that time when I had a big song," she said. "It was a lot of fun. It was a time when singer-songwriters, especially women, were very popular. For me it was the perfect storm of right place, right time, right person.
"I loved the song and I think it deserved the attention it got. But I don't set out to have big hits. I'm happy with where I am and where I've always been. The fans with me are the fans who will always be with me. I just happened to have a great ride, a very interesting experience."

Source: The Community Press & Recorder, Cincinnati
For more information on the USA Songwriting Competition, go to: http://www.songwriting.net