The Backyard Connection
by Mark Cawley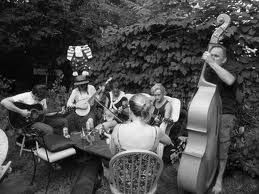 If you've been writing songs for awhile you have to have heard someone preach about the value of networking and getting connected.
Pretty much a given, you can create in a vacuum but you can't grow there.You may be all alone in your room and in your head when you create but to get that song (and you as a writer) in front of people it takes more people. More people means connecting and more connecting. Takes a village to raise a hit. Where to start?
Scour the village!
What does that look like for a beginning writer or a writer living outside of a major music center? It takes some digging on your part. For instance, I coach songwriters from all over the US and beyond these days and many live in places like Indiana, just to pick one. I urge them to look for a local resource first. If you write lyrics but don't play an instrument see if you can connect with someone who's a good player. If you're a songwriter but don't have production skills look for someone around you who's making magic in the basement. Grow together.
One of my favorite ways to connect in these cases is to, in the words of John Hiatt "pull my pony up and hitch my wagon to your star". Is there someone you've heard in a local club? Online? At church? Who's a diamond in the rough? Connect with them. So many writers made a career of working with an unsigned artist and as the artist gained attention, as good ones tend to do, the songwriter's name was attached. I'm not just suggesting you pitch your songs to this budding artist but suggest you offer to co-write. Get them invested in the song and as they rise so will you. Not every artist we know and love came from LA, New York or London. Some of them came from small towns and for the sake of my point, the pride of Seymour, Indiana, John Mellencamp.
I Was Born In A Small Town
I know John a bit from my days of playing in Indiana and most of the people connected to him in the beginning were all local players. The guys I saw in the local bars where the same ones I saw years later at the LA Forum. Some of his earliest hits were co-written with a local lyricist named George Green. John worked with what he had around him.
Sure the odds go up if you move to one of the cities I mentioned and put yourself out there but in the meantime make the most of what's right in your backyard. Might seem like a small connection but it just might be the one to hitch your pony to. Oh yeah, one more Hoosier...John Hiatt.
Got Nothing Against the big Town
In defense of the writers and artists that make the big leap to a major market, most of the ones I know worked hard at making and keeping connections. One of my favorite illustrations would be the number of them that offered to sing demos for songwriters, sometimes cheap, hoping that as the writers song gets heard someone will discover the singer. In my first few years in Nashville it was common for me to call some of these folks like Gretchen Wilson, Brett James, Clay Davidson, Ruby Amanfu and Neil Thrasher to sing a demo for me. Worked out pretty well for me and for them.
No matter how you get your break, you never stop connecting on any level in this business you chose.

Mark Cawley
Nashville, Tennessee
1/15/14
Photo: Google Images
About:
Mark Cawley's songs have appeared on more than 15 million records. Over a career based in LA, London, and Nashville his songs have been recorded by an incredibly diverse range of artists. From Tina Turner, Joe Cocker, Wynonna, Diana Ross and Chaka Khan to The Spice Girls, Tom Scott, Kathy Mattea, Paul Carrack, Will Downing and Pop Idol winners in the UK. He has had #1 records in the UK and throughout Europe as well as cuts in Country, Jazz & R & B. His groundbreaking website Song Journey created with Hall of Fame writer Kye Fleming was the first to mentor writers from around the world one-on-one online. He is currently writing and publishing as well as helping writers and artists worldwide with a one-on-one co-active coaching service, iDoCoach.
For more information on the 19th Annual USA Songwriting Competition, go to: http://www.songwriting.net