Preparing yourself for a recording session and beyond or: If you fail to plan, you plan to fail!
By Stefan Held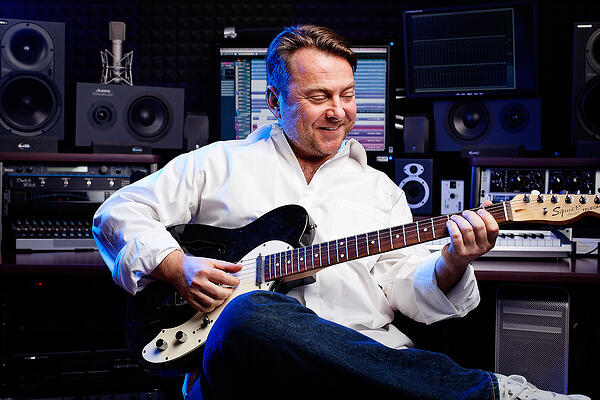 People tend to think that the recording process is all about the music. Unfortunately, in today's industry, having a great song—even a brilliant song—is only one small step in a very long process. The reality is that it doesn't matter if you just started thinking about the first song you want to record or if you have 12 songs mapped out all the way to four-part harmonies in the chorus.
I've worked with thousands of musicians and helped guide them through every step of the process. The biggest piece of advice I can give is this: take a step back and DON'T jump right into the recording process.
There are many things to consider: figuring out how to fund raise enough money for the entire project; choosing the right song(s); deciding when to start a social media/marketing campaign; hiring or not hiring a producer; using your band or going solo; finding a studio; figuring out your style (i.e. does my hair look good??), etc. etc. Everyone will give you lots of advice. But, in my experience, here are the seven most important things to think about:
Fund raising
Okay, so you're not a trust fund kid nor are you in line to inherit a small fortune from your Great Aunt Millie. Welcome to the club! Now, what are your options?
Think of this entire project as an investment in your music career. And by entire project, I mean everything: social media marketing, advertising campaigns, the recording process, album duplication, video production, album release show(s), merchandise production, the upcoming tour... And what about the next album?
We are constantly making choices about how we spend our money. Why pay thousands or hundreds of thousands of dollars on college tuition? Simple. It's an investment in your future. Why buy a car? It's an investment that helps get you to work, to school, to gigs and therefore, it's an investment in your future. Why spend all that money on a suit for that job interview? Another investment in your future. Get the picture?
If you are serious about music and want to make it your profession, then you need to start thinking of yourself as a business and music as your product. Start a company (like an LLC). Go to your local bank and ask for a small business loan. That's what I did when I started my music production & marketing company –StevenHeroProductions, LLC.
Most studios, producers, marketing companies, etc offer payment plans and they all accept credit cards- it might be time to get those airline miles!
I'm not saying that you shouldn't ask family members, friends, long lost relatives for a contribution as well. But help them feel like they're investing in something as well—call it a pre-order of the album or merchandise.
If the investment is high enough, offer them perks like a lifetime backstage pass or a private house concert for them and 50 of their closest friends. If the investment is smaller, offer other incentives like a signed album. I know this sounds like a Kickstarter campaign- and that's basically exactly what it is.
I have seen amazingly successful online fundraising campaigns and some that crashed and burned. The basic issue: if you have 500 followers you can not expect everyone to pitch in $100 to raise the 50K you want to. You need massive amounts of real fans to achieve that, which brings me to my next topic:
Marketing
Most artists record first and market afterwards…if at all. Big mistake!
Unless you have a following as big as Beyonce, I strongly encourage you to start a solid social media and marketing campaign BEFORE writing the first words to your first single. Why? If you wait to market until after the single/album/demo is finished, you are wasting money on this recording. Or, if you think that you'll simply release your new music to your existing fan base without trying to attract new followers, you are (once again) wasting money on this recording.
Releasing a song or an album without generating substantial buzz and without creating a strong following is useless. It's wishful thinking. It's akin to putting your song(s) on iTunes and hoping fans, who have no idea who you are, what you've done, will mysteriously find your new album and buy your tracks. But i digress.
Start a campaign to gain more REAL fans. Figure out if your social media campaign is in place? Branding? Are the sites synced up? Do the links work? (I know this sounds like a no-brainer- but I see this mistake literally every day). Is your content engaging? Are you interacting with your followers on a personal basis?
You're probably thinking, but wait, this has nothing to do with music. But unfortunately, a huge fan base is essential to becoming a full-time musician. If you don't sell downloads/albums/merchandise and your shows are not packed, you will never make a return on your investment--- ever!
What to do?
Start creating a team around you. Hire an intern, who you pay with a small stipend and the promise of letters of recommendation after the project is compete. Have that person spend hours every day looking for great content. Have that person interact with your fans, go to shows, meet people, etc. I hope i don't have to explain that organic followers (while important) are a slow way to go and will not bring the desired results besides close friends and family who will buy your record anyway. Don't get me wrong, a strong, solid foundation is great- just don't leave it at that.
You can also hire a professional company with a proven track record. Some companies offer quite reasonable rates. (Again, a lot of companies offer payment plans and all professional ones accept credit cards.)
Another reason to start your campaign early is to get behind the scenes video footage of you rehearsing with the band, struggling through writing sessions, fighting with band members, meeting with producers, crying and cursing out the music business and all of the over fun stages of the process. This is content gold. Fans want to be part of the entire process. The more they feel involved, the more of a "super fan" they will potentially become. These are the fans every artists loves! They buy your products, they run your fan clubs, they spread the word and they attend every show.
To demo or not to demo...
Okay, so now you started your campaign, what next? Demo or no demo…well, that depends. As a producer I always love to hear a rough version of a song. It's a great way to see if it's in the right key for the artist, if the arrangement works or the bridge is too long or even in the right spot? How about the song's tempo?
I can hear the potential of a song through a basic demo with your voice and guitar or piano accompaniment. I can get a sense of a song's promise and its problem spots.
Garageband is also a great (and free) way to lay down your ideas. Did I mention it's free???
A word of warning: use these demos for pre-production BUT do not send them to major labels, publishers or anyone else who regularly receives tons of high quality submissions every day. If your song does not sound amazing and if it fails to grab them on every level from composition, to performance, to production, they will not listen past the first 20 seconds. The hard lesson in this business is that there is a lot of great music out there. They don't need to spend time looking for "potential" and making "suggestions" as to how you can improve your song(s).
If you are lucky enough to get that song into the right hands, be sure it will TOTALLY BLOW THEM AWAY!
Enough said.
Next question:
Producer or not?
Guess what? Making demos on your laptop or recording your band's rehearsal does not necessarily make you a producer. There are professionals who have devoted their lives to producing music. They can be a tremendous asset. They provide a set of experienced ears and give you someone to call on when the studio decides not to tune the piano or provide the promised mics for your session. Besides, with a producer's assistance, it most likely won't even come to that. A good producer knows which studios sound great, which engineers are amazing and what studio musician show up ready to rock!
How to find the perfect producer?
Do your research, use the internet, find out what this person did for the last few years and not what they did 25 years ago!
Meet them in person and ask them questions. If a producer/engineer/studio owner, does not answer each and every question you have or if their answers don't make sense - RUN!
So, long story short, a great producer will most likely not only save you money by helping you making the right decisions in the first place (Yes, you heard that right- i said saving money!) but the finished product will sound highly professional and will make you stand out.
Now, you have raised the funds, have a solid social media strategy in place and hired the right producer- what's next?
Pre-production.
What's that?
Pre-production means: sitting down with the producer and going over every song in great detail. No need to rent a $500/hr studio for that. Just meet at his/her place or a basic rehearsal studio (most producers have a studio of their own to work from)!
By the time you actually head into the recording studio, there should be no question about the key, the tempo, the arrangement, or any of the other basic details. It goes without saying, once the red light goes on, things may change a little. But before walking into the studio, make sure you've answered all of the basic questions.
midi or live instruments?
This depends a lot on your style of music- many times, it will be a combination of both. But if it's done right, the results will be amazing and will save you some serious $$$.
If you want primarily live instruments, there are a couple of options:
Either use a full band to record live in the studio or, lay down vocal and guitar or piano scratch tracks first and then overdub one instrument at a time.
What you ultimately decide depends on a number of factors: Style of music? Do you have a super tight band that has a ton of studio experience? Is your pitch dead on? Are you comfortable with everyone recording at the same time? Does the guitar player deliver an amazing solo every time? Are the drummer and bassist super tight and locked in rhythmically? etc If so, a "live" recording might be the answer. Most of the larger studios have a handful of isolation booths, so you can still fix some things during overdubbing sessions.
If you are a solo artist and not sure what to do in terms of instrumentation, I highly recommend FIRST tracking you--and your instrument--to a click track (unless you are a hundred percent sure you do not want to add any other instruments, especially rhythmic ones afterwards) and adding layers one by one. That way the chances of overproduction are limited since you don't pile everything on at first and then have to peel off what you don't like later.
Again, every producer works differently, so make sure to pick one who works in a way that you feel comfortable with.
And, FINALLY!
The Recording
It's finally time to lay down some magic!
If you've done all the work, the recording is not only going to be fun and exciting—it's going to be quick and economical! Make sure your instrument(s) are in great shape, you have new strings/batteries, your voice is warmed up, and you are rested and ready.
If you followed my advice so far, you are not only on your way to amazing sounding tracks but you've also established a strong following with fans who are eagerly awaiting your upcoming release.
Next steps: planning mixing/mastering sessions, album duplication, online distribution, album release show(s), video shoot(s), booking a tour, getting your music licensed, interviews and tons more.
I wish you all the best on your journey and hope to hear your music soon!
Stefan Held is the owner of StevenHeroProductions, LLC, a music production & marketing company based in New York City. He has done music productions for MTV, MTV2, BRAVO, TLC, NBC, FOX, Discovery, VH1, Sundance, Travel channel, etc. And he has worked for USA Songwriting Competition Top Winner & Billboard Top 10 Hit Artist Ari Gold, American Idol's Diana DeGarmo and Tony Award winner Melba Moore, etc. www.StevenHeroProductions.com
For more information on the 19th Annual USA Songwriting Competition, please go to: http://www.songwriting.net