THE MISSING LINK
by John Capek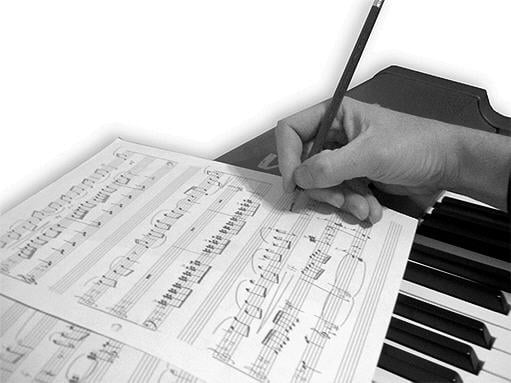 Popular songs as we know them today perhaps found their shape and form with one of the seminal founders of American popular music, Stephen Foster. Stephen Foster is often credited as "America's First Composer" and widely regarded as one of the first who made professional songwriting profitable. Foster wrote songs that we often mistakenly think of as folk songs. His songs include:
"OH! SUSANNA", "OLD FOLKS AT HOME" (SWANEERIVER)", "MY OLD KENTUCKY HOME" "BEAUTIFUL DREAMER" "DE CAMTON RACES" (CAMPTOWN RACES, DOO DAH) and "JEANNIE WITH THE LIGHT BROWN HAIR"
The form and nature of these songs are significant in their connection to everything that followed. These songs were short, had verses and chorus's or refrains, they were easy to learn and repeat and they tapped into the popular culture of their time. It is profoundly significant that we still know these songs now, about one hundred and fifty years after the time that they were written.
Stephen spent much of his life in Pittsburgh where he worked consistently at his songwriting,. As a professional songwriter he had made it his business to listen to the various styles of music circulating in the immigrant populations of the newUnited States. He used images and a musical vocabulary that would be widely understood by everyone. Foster worked very hard at writing, sometimes taking several months to craft and polish the words, melody, and accompaniment of a song before sending it off to a publisher. His sketchbook shows that he often labored over the smallest details, the right prepositions, even where to include or remove a comma from his lyrics.
It is also important and significant to know that Foster kept his own account books, documenting in detail how much his publishers paid him for each song, He also estimated his probable future earnings on each piece. His contracts were written out in his own hand. These contracts are the earliest written agreements that we know of between American music publishers and individual songwriters.
Within twenty years of Foster's death, the concept which he had a large part in creating, that of writing songs for publishers for money, developed into what came to be called Tin Pan Alley, named for a street in New York City (West 28th StreetbetweenBroadway and Sixth Avenuewhere all the music publishers had their offices.) By 1890, sheet music sales of popular songs was a thriving multimillion dollar business.
Had Stephen Foster survived for another twenty years, it is possible that his catalogue of songs would have been worth hundreds of million dollars.
The immediate successors to Stephen Foster's legacy were numerous well known songwriters who's work has survived them. Irving Berlin had his first significant hit with Alexander's Ragtime band in 1911. Show Boat, with music by Jerome Kern and lyrics by Oscar Hammerstein, was the first hugely popular musical comedy in 1927. "Ol'ManRiver" and "Can't Help Lovin' Dat Man" are songs that have become standards in the "great American songbook George Gershwin's folk opera Porgy and Bess premiered in 1935. Summertime is an all time standard song from that show
The electric guitar was first seen around 1936. Alan Freed invented the term Rock and Roll in 1951. Berry Gordy formed Motown records in 1959
The Beatles had their first major hit with I want to Hold Your Hand in 1964
Hip hop, a blend of rock, jazz, and soul with African drumming, was born in theSouth Bronxin 1978 or perhaps in Kingston Jamaica with dub DJ's earlier than that.
Tin Pan Alley, the center and focal point of American popular music can be directly linked to another New York institution and landmark. That landmark, the Brill Building at 1619 Broadway became the very definition of pop music in the 1950's and 1960's
By 1962 the Brill Building contained 165 music businesses: a musician could find a publisher and printer, cut a demo, promote the record, and cut a deal with radio promoters, all within this one building. Some of the better known songwriters associated with the Brill building include:
* Jerry Lieber and Mike Stoller
* Doc Pomus and Mort Shuman
* Gerry Goffin and Carole King
* Ellie Greenwich and Jeff Barry
* Barry Mann and Cynthia Weil
* Burt Bacharach and Hal David
* Neil Sedaka and Howard Greenfield
* Hugo & Luigi
* Tommy Boyce and Bobby Hart
* Paul Anka
* Jim Croce
* Bobby Darin
* John Denver
* Neil Diamond
* David Gates
* Billy Joel
* Kris Kristofferson
* Roger McGuinn
* Joni Mitchell
* Carly Simon
* Paul Simon
* Phil Spector
* ChipTaylor
* James Taylor
* Gene Pitney
* Artie Kornfeld
I believe that there are two seminal key ingredients that link the various stages of unfolding of popular music. The first is the dedication of the writer to his art and craft. The second is the economic factor.
In describing the writer's dedication to his art and craft, I have discussed how meticulous Stephen Foster was in fine tuning and perfecting his tunes.
On a similar note it is useful to read Rennold Wolf's account of how he, Irving Berlin, Vincent Bryan, and Channing Pollock worked together on a show song inAtlantic City:
"We assembled in Mr.Berlin's imposing suite of parlors, where there was a piano.... Seated at the instrument, he was not long in conceiving a melody, which immediately he began to pound out. All night, until dawn was breaking, he sat on the stool, playing that same melody over and over and over again, while two fagged and dejected lyric writers struggled and heaved to fit it with words.... One cigarette replaced another as he pegged away; a pitcher of beer, stationed at one end of the keyboard, was replenished frequently; and there he sat, trying patiently to suggest, to two minds that were completely worn out by long rehearsals and over-work, a lyric that would fit his melody. Mr. Pollock and I paced the floor; we sat, in turn, in every chair and on every divan in the rooms; we tore at our hair; we fumed, we spluttered, and probably we cursed"..
These examples of work ethic continue as the songwriters process to this day. I personally have spent six months fine tuning a song, where the first draft or sketch took a few minutes to unfold. My peers work in the same way.
In discussing the second important link, the economic factor, it is significant to know that most of the successful songwriters who's work has transcended time and genre were also very aggressive entrepreneurs.
By the age of 15, George Gershwin had quit school and was a pianist and "song plugger" for a Tin Pan Alley publisher.
One of the first "popular" music publishers in Tin Pan Alley was T.B. Harms. T.B. Harms started out as a songwriter. His company ultimately became George Gershwin's publisher.
At the time, songwriters were also "songpluggers," a term that is still used today. Instead of waiting for the market to come to the publisher, the publisher would use songpluggers to take songs to the market. A songplugger's main job was to place songs with performers. Songpluggers were aggressive and influential, singing to passing crowds, going to department stores and sports events, and just about anywhere they could find an audience.
As I have suggested, I believe that the two major ingredients involved in success as a songwriter are:
1 Serious and meticulous attention to detail of craft.
2.. A dedicated investment of time and energy into the business of songwriting.
In recent months there has been a lot of hand wringing, whining and complaining about the state of the record industry. InCanada, there has been the biggest decline in CD sales in the history of the world. Similar situations are occurring everywhere. Industry think tanks are focussed on how to monetize the new paradigm.
No-one anywhere has suggested that perhaps the reason that CD sales are about to die is that the songs suck.
There was a time where singers and bands were not the writers of the songs that they performed. Songwriters and artists were two separate entities. In our current environment, artists write their own songs. This has repercussions. I believe that rather than blaming the intrusion of a new technology on the demise of the record industry, I would point to the fact that there are no great songs being written that will last for 150 years or more like the songs of Stephen Foster, Irving Berlin or Cole Porter.
Perhaps the cycle will bring back the art and the craft of songwriting when the attention to detail and art and craft become a priority again. At that point i believe that the audience, the market will respond and be willing to spend money for music of quality.
Rod Stewart leads the list of popular music icons who have recorded John Capek compositions. Others include Bonnie Raitt, Cher, Diana Ross, Joe Cocker, Toto, Chicago, Olivia Newton John, Little River Band, Heart, Manhattan Transfer, Isaac Hayes and Amanda Marshall. John Capek's most performed award winning songs include : "Rhythm of My Heart", "This", "Soul on Soul" and "Carmelia". Capek's most performed productions include Dan Hill's Billboard hit duet with Vonda Sheppard, "Can't We Try" as well as work with Ken Tobias, Gene McLellan, Good Brothers and Downchild. As a keyboard player, John has recorded with Diana Ross, Olivia Newton John, Ian Thomas, Marc Jordan, Dan Hill, Kermit, The Chipmunks, The Simpsons and countless other international performers. John's songs are heard in the feature films, "A Perfect Storm", "Cocktail", "Blown Away" and many others. For more information go to www.johncapek.com

For more information on the 19th Annual USA Songwriting Competition, go to:http://www.songwriting.net