LYRICS AND POETRY
by Harriet Schock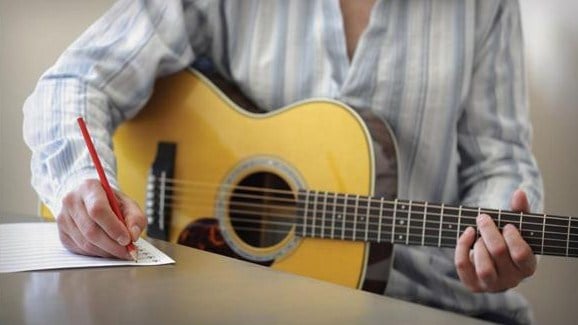 I've noticed a lot of people confuse poetry and lyrics. I think reading poetry can make you a better lyricist because good poets do the following things that lyricists should also do:
1) Say a lot in a few words. I call it emotional shorthand
2) Write visually or show don't tell
3) Use irony
4) Use conversational language, especially found in modern poetry.
I have all my students read the poetry of Charles Bukowski and Billy Collins. There's something about Bukowski that gets writers to "catch" irony. I don't think you really learn to be ironic, but you can "catch" it like you would a cold. I've had students who had never had a drop of irony in anything they'd written come in after a week of reading Bukowski and suddenly they had developed the skill of being ironic. Even though Billy Collins also writes with irony, it's Bukowski I've noticed they catch it from more than Collins.
Poetry can inspire lyrics, just as other lyricists can inspire songwriters. But poetry is not lyric writing. I used to be a member of a group of poets and I'd bring in a lyric for a new song. If my song had a chorus, they'd all complain, "But you've said that!" Yes, a repeating chorus is definitely a convention of songwriting, not poetry—or Broadway for the most part, but that's a different subject.
Some lyricists also use the word "poetic" to absolve themselves from writing something no one understands. Of course, that's not being "poetic." It's merely being obscure and that's a choice, in some cases. In other cases, the writer simply cannot be clear, thinks and writes in a jumbled manner which does not communicate anything to the listener and, in a last ditch effort to defend it, says he's being "poetic."
The structure of a song is different from poetry, as well. Verses, choruses, pre-choruses and bridges are of no concern to poets but they are important to lyricists. How the lyric fits the melody is vitally important as well. Furthermore, modern poetry rarely rhymes and lyrics usually do. So if you're a poet, you may be on your way to becoming a lyricist, but there's a lot to lyric writing that poets may be aware of. Conversely, songwriters and lyricists becoming aware of modern poets is something I highly recommend.

If you've never seen "Born Into This," the film about Charles Bukowski, you might want to check it out. There's at least one songwriter in there it how important an influence Bukowski was on their writing.
Harriet Schock wrote the words and music to the Grammy-nominated #1 hit for Helen Reddy, "Ain't No Way To Treat A Lady" plus many songs for other artists, TV shows and films. She co-wrote the theme for "Jakers! The Adventures of Piggley Winks," currently showing in 30 countries. She and her band were featured in Henry Jaglom's film "Irene In Time" performing 4 of Harriet's songs. She also scored three other Jaglom films starred in "Just 45 Minutes from Broadway." Jaglom's current film, "The M Word," features Harriet's song "Bein' a Girl," performed on camera at the end of the film. Harriet is in the process of writing the songs for "Last of the Bad Girls," a musical with book by Diane Ladd. Karen Black wrote the play, "Missouri Waltz," around five of Harriet's songs, which ran for 6 weeks at the Blank Theatre in Hollywood as well as in Macon, Georgia. In 2007, Los Angeles Women In Music honored Harriet with their Career Achievement and Industry Contribution award. Harriet teaches songwriting privately, in classes and a popular online course by private email. For her performance schedule, list of credits and samples of her work or information on her book (Becoming Remarkable, for Songwriters and Those Who Love Songs), her songwriting classes and consultation, go to:www.harrietschock.com