The Lover and the Beloved in Your Song
by Harriet Schock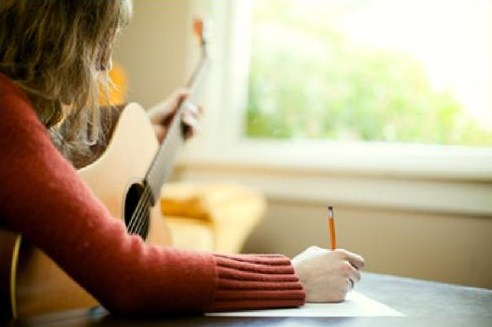 Songwriters can't escape writing a love song at one time or another. But there's one problem I see over and over in this type of song.
In life, as in songwriting, it's better to be interested than interesting. If you're interested in someone, that person will find you infinitely fascinating. If you're trying to be fascinating, he/she will rarely even be interested.
Similarly, in songwriting, if you try to dazzle the person you're talking to in the song, or the listener, with your own wonderfulness, you may have the audience talking among themselves. Consider the song "I Love the Way You Love Me" by John Michael Montgomery. Yes, he talks how her eyes roll when he sings off key but most of it is simply about her.
He likes the way her eyes dance when she laughs and the innocent way she cries at sappy old movies she's seen hundreds of times….how she enjoys a 2-hour bath. We get a picture of the girl he's singing to, which gives us a better idea of how he feels than if he was just trying to dazzle us with how much better off HE is with her.
Sometimes a songwriter will show me a love song written to someone and there isn't one single thing in it about the beloved except, perhaps, how the beloved makes the singer feel. We can't see the person he/she is singing about and we know nothing about that person.
Maybe this phenomenon is explained by what Carson McCullers says in "Ballad of the Sad Café,"
"Often the beloved is only a stimulus for all the stored-up love which had lain quiet within the lover for a long time hitherto."
This is so true that maybe it can be used in defense of the songwriter who fails to describe the beloved. It's possible he doesn't really see her at all. She is merely a catalyst. But unlike what we learned in chemistry class, the catalyst rarely emerges unchanged. So we might as well write about her in a way that will seem like it's actually the beloved whom he loves and not just a place for the stored-up love to land.
Harriet Schock wrote the words and music to the Grammy-nominated #1 hit, "Ain't No Way To Treat A Lady" plus many songs for other artists, TV shows and films. She co-wrote the theme for "Jakers! The Adventures of Piggley Winks," currently showing in 30 countries. She and her band were featured in Henry Jaglom's film "Irene In Time" performing 4 of Harriet's songs. She also scored three other Jaglom films and starred in "Just 45 Minutes from Broadway." Jaglom's most recent film, "The M Word," features Harriet's song "Bein' a Girl," performed on camera at the end of the film. Karen Black wrote the play, "Missouri Waltz," around five of Harriet's songs, which ran for 6 weeks at the Blank Theatre in Hollywood as well as in Macon, Georgia. In 2007, Los Angeles Women In Music honored Harriet with their Career Achievement and Industry Contribution award. Harriet teaches songwriting privately, in classes and a popular online course by private email. For her performance schedule, list of credits and samples of her work or information on her book (Becoming Remarkable, for Songwriters and Those Who Love Songs), her songwriting classes and consultation, go to: www.harrietschock.com
For Information on the 20th Annual USA Songwriting Competition, go to: http://www.songwriting.net