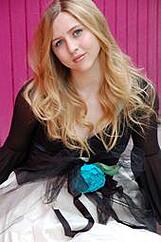 Teen phenom Sarah Lonsert won the Overall Grand Prize of the 14th Annual USA Songwriting Competition along with co-writer Jonathan George. Her winning song "Dancing Through Life" will be on the USA Songwriting Competition's compilation CD next year. Sarah Lonsert, only 17 years old, not only broke the first prize record of being the youngest winner but also the overall grand prize winner of being the youngest winner ever. The previous youngest first prize winner was Kate Voegele, who won in 2005 at 18 years old. Adrianne Gonzalez was the youngest overall grand prize winner at 22 years old when she won in 1999. Sarah also won first prize in the Dance/Electronica category, making her the first from that category to ever win the overall grand prize. Sarah Lonsert will be releasing a full length CD earlier next year. Although Sarah suffers from autism, she is a budding singer-songwriter and has also won the L.A. Music Awards last month.
Eric Colville (from Ipswich, MA) won the overall second prize and Anne Simoni (from Brazil) won the overall third prize.
This year also marks the first time that USA Songwriting Competition had two winners from Spain. Ariel Queupumil from Guadalajara, Spain won the first prize in the Latin Category while Eduardo de la Iglesia Nieto from Madrid, Spain won the First Prize in the instrumental category.
Celeste Scalone, an American Idol semi-finalist and "Making The Band" reality tv show finalist won 1st prize in the R&B category.
Nicole Morier and Fabien Waltman from Los Angeles won the first prize in the Pop category. Nicole has written songs for Britney Spears and is also an artist. Helle Hansen (from Denmark) tied with Ariel Queupumil for having the most songs in the finals, at 5 songs each. Here is the list of winners:
OVERALL GRAND PRIZE WINNER:
Sarah Lonsert
Dancing Through Life - Sarah Lonsert & Jonathan George; Mission Viejo, CA

OVERALL 2nd PRIZE:
End of War - Eric Colville; Ipswich, MA

OVERALL 3rd PRIZE:
Papagaio - Anne Simoni; BRAZIL

FIRST PRIZES IN EACH CATEGORY:
1st Prize - LATIN
Fruto Prohibido - Ariel Queupumil; Guadalajara, SPAIN
1st Prize - LYRICS
End of War - Eric Colville; Ipswich, MA
1st Prize - R&B
Red Light - Celeste Scalone & Enpho; Sherman Oaks, CA
1st Prize - DANCE/ELECTRONICA
Dancing Through Life - Sarah Lonsert and Jonathan George; Mission Viejo, CA
1st Prize - FOLK
Bullets To Bite - Melissa Greener; Austin, TX
1st Prize - COUNTRY
You and I - Kyler England; Los Angeles, CA
1st Prize - ROCK/ALTERNATIVE
I'm Not - Carla Cappa; Blue Bell, PA
1st Prize - POP
Good Boy - Nicole Morier & Fabien Waltman; Los Angeles, CA
1st Prize - HIP-HOP/RAP
Strange Kinda Love - Ashley J. Llorens, Monique Harcum, Steven Boel & SoulStice; Columbia, MD
1st Prize - WORLD
Papagaio - Anne Simoni; BRAZIL
1st Prize - INSTRUMENTAL
The Pursuit - Eduardo de la Iglesia Nieto; Madrid, SPAIN
1st Prize - JAZZ
Your Eyes - Vanessa Moodley; Durban, SOUTH AFRICA
1st Prize - GOSPEL/INSPIRATIONAL
Every Time - Tom Poulter; NSW, AUSTRALIA
1st Prize - NOVELTY/COMEDY
The Starbucks of County Down - Greg Trafidlo, Neal Phillips & John Seay; Salem, VA
1st Prize - CHILDREN
Tallest Tree - Jeremy and Rebecca; Visalia, CA
Honorable Mention Awards
1. Vamo Ya - Peter Torsiello & Liliana de Leon; Mesa, AZ
2. Beautiful Life - Claire Ulanoff, Will Hopkins; Nashville, TN
3. Anyway U Want - Nichole C. Minor aka Alias; Washington D.C.
4. This is My Life - Andrea Benham; Bloomfield, NJ
5. The Peddler - Maria Dunn; Edmonton, CANADA
6. Hurricane - (Mandee Radford) Alathea; Unicoi, TN
7. The Runner - Jesse Terry/Fred Wilhelm; Nashville, TN
8. Bait Shack - (Whitelaw, Lewis & Lewis ) Jimi Whitelaw; Gallatin, TN
9. Hard To Smile - ORBO & The Longshots; Os, NORWAY
10. Waiting - Jonathan Ferreri & Chris Upton; Nashvile, TN
11. Guitar - Carsten Lindberg, Joachim Svare, J. Belle & Jayden; Loa Angeles, CA
12. Eye for an Eye - Rebecca Wolfers & Dirtywings; Queensland, AUSTRALIA
13. Vai-e-Vem - Luiz Simas; New York, NY
14. Reason For Me To Smile - Helle Hansen & Ole Kibsgaard; Copenhagen, DENMARK
15. Where There Are Dreams - Jen Waters & Bob Farrell; Toluca Lake, CA
16. What I Do With Your Time - (Anadara Arnold and Stephanie Lewis) Anadara; Nashville, TN
17. I've Done It - Brent Lillie & Paul Harris; Queensland, AUSTRALIA
18. Jubilation - Cathy Fink & Marcy Marxer; Kensington, MD
19. Woman In The Dark - Dewi Puspita; Bali, INDONESIA
20. Hypnotized - Beezy; Commerce City, CO

Entries are currently being accepted for the 15th Annual USA Songwriting Competition. Winning songs of the 15th Annual USA Songwriting Competition will receive airplay on a nationally syndicated radio program "Acoustic Café" as well as Sirius XM Satellite Radio. This is the first Songwriting Competition that gives airplay to the winning songs, giving deserving bands, songwriters the recognition and exposure they deserve. Entrants stand to win a grand prize of over US$50,000 in cash and music gear from sponsors such as Sony, D'Addario Strings, Ibanez Guitars, Audio-Technica, IK Multimedia, and more, making this the largest prize package for any annual songwriting competition. For more information on the 15th Annual USA Songwriting Competition, visit:
http://www.songwriting.net