These are the top songwriting teams/collaborations. When you put two or more heads together, you may come up with a hit or two.
1. Paul McCartney & John Lennon
With pop anthems such like "Yesterday" and Let It Be". Lennon & McCartney is argubly the best songwriting collaboraion in the world. With a resume of the best selling band in the world and the most successful songwriter of all-time (McCartney). This dynamic duo tops the list.
2. Rodgers and Hammerstein
Richard Rodgers (1902 - 1979) and Oscar Hammerstein II (1895 - 1960) were a well-known American songwriting duo, usually referred to as Rodgers and Hammerstein. With musicals such as "The Sound of Music" and "South Pacific", their songs have made into the mainstream Pop and became household names.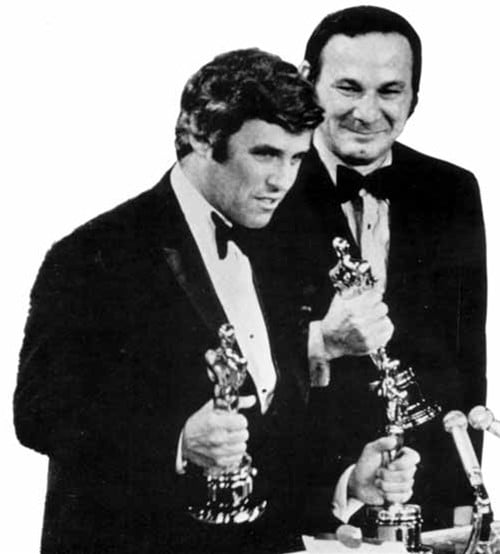 3. Burt Bacharach and Hal David
With hits such as: "Raindrops Keep Fallin' on My Head", "This Guy's in Love with You", "I'll Never Fall in Love Again", "Do You Know the Way to San Jose", "Walk On By", "What the World Needs Now Is Love", "I Say a Little Prayer", "(There's) Always Something There to Remind Me", "One Less Bell to Answer", and "Anyone Who Had a Heart".
4. Elton John & Bernie Taupin
Elton has made magic with lyricist Taupin and wrote hits such as "Your Song" and Candle In the Wind". In fact the only time he didn't use Bernie was his "Victim of Love" album which resulted with no hits.
5. Jerry Leiber & Mike Stoller
With hits such as "Hound Dog", "Stand By Me" and Jailhouse Rock". They have written the soundtrack of the 50's and beyond.
6. Holland, Dozier, Holland
Holland-Dozier-Holland is a songwriting and production team made up of Lamont Dozier and brothers Brian Holland and Edward Holland, Jr. They are one of the greatest songwriting teams in pop music. The trio wrote and arranged many of the songs making up the Motown sound that dominated American popular music in the 1960s with hits such as "Heat Wave", "I Can't Help Myself (Sugar Pie Honey Bunch)", "You Can't Hurry Love" and more.
7. Carole King & Gerry Goffin
With iconic hits such as "Will You Love Me Tomorrow", "Up on the Roof" and "(You Make Me Feel Like) A Natural Woman".
8. Barry Mann & Cynthia Weil
With pop anthems such as You've Lost That Lovin' Feelin'", "Never Gonna Let You Go", "Make Your Own Kind of Music". This husband and wife team went on to create songs for numerous contemporary artists, winning a number of Grammy Awards and Academy Award nominations for their compositions for film.
9. Mike Stock, Matt Aitken and Pete Waterman
Also known collectively as "Stock Aitken Waterman", this UK team has written #1 80's iconic hits such as: "Never Gonna Give You Up" by Rick Astley, "Respectable" by Mel and Kim, and more.
10. Jimmy Jam & Terry Lewis
They have written hits for Janet Jackson, Michael Jackson, Mariah Carey, Mary J Blige, etc.

This article is brought to you by USA Songwriting Competition. For more information on USA Songwriting Competition, go to: http://www.songwriting.net