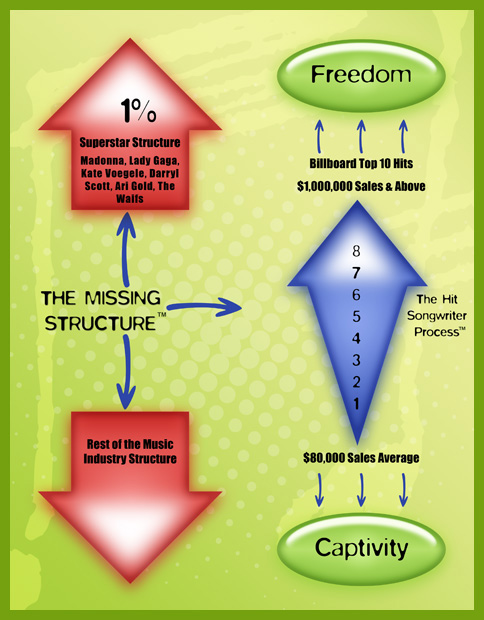 The music industry is an interesting one. 20 percent of the music industry record labels owned by Sony, Universal, EMI and Warner owns 80 percent of the music industry. This Pareto's Principle like "80-20" rule is hard to acknowledge but true.
Success in the music industry is in the eye of the beholder. Less than one out of a hundred artists (music artists such as singer-songwriters) will have a song or album on the record charts such as Billboard or make 1 million in sales. That's less than 1%. This superstar 1% level control 80% of all music sales, songs you hear on the radio, downloads, concerts, etc. Singer-songwriters such as Lady Gaga, Madonna, Kate Voegele, Darrell Scott have sustaining careers, playing large venues hitting the Billboard Charts or making 1 million in sales.
The remaining 99% of the rest of the industry struggle to get signed, let alone hitting the charts, remaining in perpetual captivity. Most independent artists print 1,000 copies of their CDs and struggle to even sell half (500). They would make $80,000 or less per year in revenues or concert tickets per year. With no direction 99% remain in this captivity as they struggle through each day. The top 1% are using a system that 99% aren't.
However, there is a solution, it is called The Hit Songwriter Process™ , this is a proven method used by major record labels would release 99% of the music industry. The music artists break through out of that captivity and shatter the ceiling of complexity. This missing structure is what missing in the music industry. The general public thinks American Idol and America's Got Talent are means to an end. The missing structure is a tough 8 step method to make a music artist breakthrough.
The Hit Songwriter Process™ , is the missing structure where talent and ambitious music artists can achieve the $1 million in sales and above. It is the only way to do it in a strategic manner