5 Tips to Build a Kick Ass EPK (Press Kit) by Tess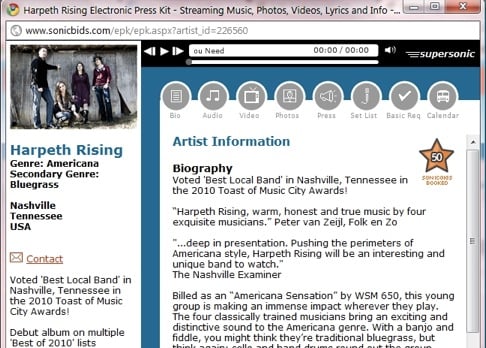 High fidelity audio is key. Long gone are the days where a cheaply recorded demo is fine to shop to promoters and music buyers. With high-quality studio equipment becoming more and more accessible and home studios beefing up, it's hard to ask any music professional to ignore the fidelity of your recording anymore. Keep the demos as a fun thing to share with fans on your blog, while your EPK highlights your highest quality work.
Invest in a quality Main Photo. Picture an image of 4 flannel-wearing guys, one holding a fiddle, all with long beards standing in a grassy field. Now, picture an image of 3 girls, all dressed in purple with loads of pink lipstick and their hair taking up half of the frame. You can at least safely assume these two bands don't make the same genre of music, even though you haven't heard either of them play. What I'm trying to say here is that your image matters. I know that ideally your "music will speak for itself" …but I hate to say it… it doesn't. The viewer of your EPK sees that before anything else and it sets an immediate expectation of who you are and what you're about. You main photo is your first impression. So don't skimp on investing in your promo photos and make sure it gives off the right image for your sound.
Write a descriptive Elevator Pitch. If you were riding in an elevator with a stranger, and you had 30 seconds to sell your band to that person, what would you say? Choose your words carefully on your EPK elevator pitch, because this is your chance to grab the reader's attention. The most important thing to remember is that the pitch should describe the music, because music is what the reader is looking for. The second thing to remember is that arrogance, triteness, and vagueness don't work well. Avoid saying things like: "You've never heard anything like this before!" or "My music defies all genre and comparisons." If you want to talk quality, highlighting a single great quote from a blogger or a recent award is a good tactic to get the point across.
Display complete Calendar Dates. A complete and up-to-date Gig Calendar is one of the most important and useful things to have in your EPK. It's pretty simple: your calendar is your line-item resume. Promoters, especially those for performance opportunities, want to know the types of venues you are playing, how often you are performing, and even what nights of the week you tend to play. A complete calendar that includes past performance dates gives viewers a great idea as to where you are in your career, and if you're a good fit for their gig. Also, many promoters prefer to see bands live themselves before booking - without the where and when, no one will know where to go to see you play and they most likely won't go to the extra effort to head to your Myspace to check it out.
List out your Press Reviews. It's nice to tell everyone how great you are, but it's even better if you can show how great other people say you are. Keep in mind that brevity isn't just the soul of wit – it's the soul of everything in the music world. Choose the best quotes from the best articles and include those. And when I say "Press" I don't mean only the New York Times. Posting links to bloggers that gave you a shout is definitely something to include.
Sonicbids.com is a sponsor of the 16th Annual USA Songwriting Competition. If you want some more tips, check out the Sonicbids Lounge – our blog dedicated to educational content – or find me on Twitter @SonicbidsTess and we can keep the conversation going.