Creating Cool, Daily Content for Your Fans. Easily.
by Tess Cychosz
So you're an emerging artist. That means by now, you probably feel like you've seen about a million articles from industry reps talking about how important it is for you have daily interaction with your fans. You need to be on Facebook getting "Likes," Youtube getting hits, tweeting until your hands are raw, etc. etc. You get it. But unless your last name is Gaga, your life probably isn't that fascinating on a daily basis.
So the question is, how can you create content that's actually cool and interesting to your fans on a daily basis? Well, I'm here to try and help answer that. Here are a couple ideas and tools to capture your daily activities and make them look pretty nifty too. Added bonus: these apps and tools all allow you to immediately share via Twitter, Facebook and more.
Take "Vintage" Digital Photos. Typing "Making my morning coffee" on Twitter doesn't sound that rad… when you say it like that. But using a photo is a fun and easy way to share something simple from your day. To make it even more exciting, there are a few fun "vintage photo" apps out there to make your morning coffee even look cool. See my super-awesome examples below. Voilà! An ordinary coffee cup is turned into a photo that could qualify for the wall of your local Starbucks (ok, that might be stretching it, but you get the idea). If you're a Droid user, my favorite app is Retro Cam. iPhone users should check out Instagram.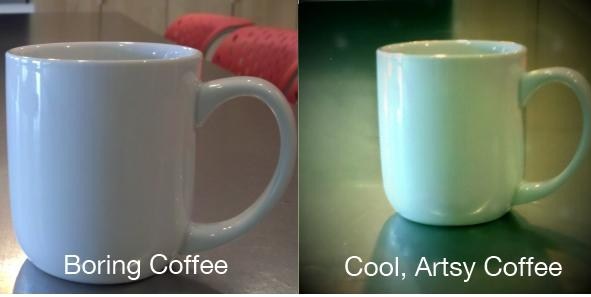 Mix Daily Video Clips with your Tunes. You've seen it a million times: A person sitting in front of their computer, the backdrop is a bedroom or basement, and it's just another talking head. This is fine every once and a while to give several updates at once (a nice alternative to a newsletter) but it's easy to expose daily activities in a more creative way. Check these out: Taking a ski trip? Pidgeon eat your lunch? Or maybe you're really happy about a Snow Day? Putting together a few clips taken with your data phone and using some of your music as a soundtrack can be a clever way to showcase a new demo or bring back an old tune you released a few years ago. Apps with cool video effects: 8MM Vintage Camera app for iPhone and Videocam Illusion for Android. Edit clips together on your phone with apps like Reel Director or Qik.
Make Gig or Studio Photos into a Mini Production. Sonicbids Product Manager (and pal) Lou gave me this idea and I'm a fan. Once you've taken all of your cool content in the ways listed above, use it to create a quick and easy mini production. Play a gig last night? This is a great way to showcase your favorite photos from the evening in a snappier way than your average Facebook photo gallery. Animoto, lets you create quick 30 second productions (which you can throw together in minutes) for free and seems to hit it out of the park. But you can also check out Masher, too.
So there you have it. A few ideas to make that experience waiting in line at Guitar Center staving off the headache from the florescent lighting an opportunity to engage your fans. Don't forget to show me a photo (@SonicbidsTess) when you do. This article is written by Tess Cychosz from Sonicbids.