USA Songwriting Competition Winner Kate Voegele Back on "One Tree Hill," Releases 3rd Album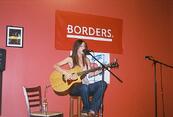 NEW YORK (Billboard Magazine) – USA Songwriting Competition Winner Kate Voegele is back on TV show "One Tree Hill" and has just released her third album yesterday "Gravity Happens" under ATO records. Kate Voegele won first prize in the 10th Annual USA Songwriting Competition in the Pop category. She went on to perform at USA Songwriting Competition's showcase during SXSW (see picture), went on to get signed after winning the USA Songwriting Competition and she hit Top 40 in the Billboard charts with the same song that she won at the USA Songwriting Competition with "Only Fooling Myself".

On the May 17 episode of CW's teen drama "One Tree Hill," Mia Catalano -- the character played by Kate Voegele -- returns to Tree Hill feeling refreshed after a brief sojourn to work on her music.

Voegele knew exactly how her character felt: the pop-rock singer/songwriter missed a few episodes of "One Tree Hill" this past winter to finish her third album "Gravity Happens" for ATO Records (May 17).

"It was a much-needed little sabbatical to take because music is really my first language," the 24-year-old artist said. "I've been doing it a lot longer than I've been in this acting world, and I'm so happy that I took the plunge and did it."

Since joining the show in early 2008, Voegele has juggled her musical endeavors (her last album, 2009's "A Fine Mess," hit top 10 on the Billboard 200 Album Charts) with her filming schedule. She also toured the country with Jordin Sparks.

While the dual commitment has made Voegele's day-to-day life more hectic, her role on the show has resulted in original songs like "No Good" and "Wish You Were" garnering prime placements on the long-running program.

"Heart in Chains," the first single from "Gravity Happens," will be performed by Voegele on the show's season finale -- the same day the album is released.

Meanwhile, Voegele will showcase her visual artistry in an upcoming sponsorship with Oakley sunglasses: The budding painter designed original artwork for a signature pair of shades that will hit stores this summer. Each pair will include a free download card for "Gravity Happens.""It's all very connected," Voegele says. "Even some of my lyrics are in this design for the sunglasses. Oakley has been an amazing partner and sponsor, and I'm stoked to see come out soon."

In the meantime, Voegele will be busy unveiling "Gravity Happens," which she described as "more honest and raw." The set features sing-along tracks like "Hundred Million Dollar Soul" and "Sunshine in My Sky." She's joining Natasha Bedingfield on the latter's Less Is More summer tour, which kicks off June 5 in Northampton, Mass.

As for taking on additional acting projects aside from "Hill," Voegele says, "I never would have dreamed that we would have such a cool tie-in with a show like 'One Tree Hill.' So you kind of just take it as it comes."

(Editing by Jessica Brandon & Zorianna Kit)