Every Place Is Home: A Magical Co-write by Melissa Axel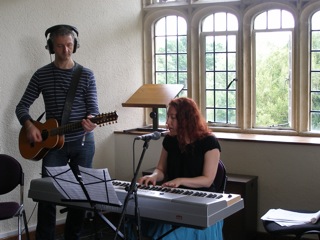 After my last blog article about the power of co-writing, I was asked to share an experience of how one successful co-write came together. This is the story of "Every Place Is Home," a song from my new album LOVE . HUMANITY . METAMORPHOSIS …
A few years ago, my husband James Jacoby and I were awarded scholarships to participate in a songwriting workshop held in the United Kingdom by the WOMAD Foundation. Short for "World of Music, Arts and Dance," WOMAD was co-founded by Peter Gabriel in 1980 to create awareness of the potential of a multicultural society through festivals and educational projects. It was at one of these programs that we met Irish singer-songwriter Andy White, who was leading the songwriting workshop. A year later we attended again, and there Andy, James, and I co-wrote the song "Every Place Is Home" in a flurry of inspiration.
Each day of the workshop, the songwriters gathered in a small 14th century castle tower to share their original songs and team up to create new ones. Co-writing began with a lyric brainstorming session, a process we've affectionately nicknamed "songstorming." Andy placed huge sheets of paper on a big group of tables, and in the center of each sheet was an art image. Ten songwriters walked around the tables examining the artwork and doodling bits of lyrics near any image that sparked an idea, later copying down favorite phrases into the notebooks Andy had given us. The first image of a single chair by a table in an empty room immediately caught my eye.
Words came first, but almost immediately a melody started to form along with them: "if I play for one, I play for all / from this truth I cannot stray" and then, "fill this empty space with what my soul creates / let this mind just fall away." As James and I walked around the tables, each piece of art drew out more lyric ideas: "sweeping landscape, surreal sunscape, urban faire and country rain" and "in the shadow of our big dreams, we built a love that will sustain." We had driven through Iceland for several days before arriving in the UK, so the more scenic images on the table reminded us of the trip, as well as the English countryside on our train ride from London to Bath.
After the "songstorming" session, James and I compared notes in a practice room. We had both written about our journey: traveling the world, connecting through music and creativity, always feeling at home with each other and the friends we met along the way. We quickly worked out a chorus together: "we don't need to find one way to go / all we need is love, open sea and road / we don't need a place to call our own / when every place is home." By this point, I knew that this would not be one of my typical piano songs.
Even though I've never played guitar, in my head I was hearing a steady picking rhythm. Andy opened our door to check on us, 12-string guitar in tow, and we quickly brought him into the fold. I told him we needed a guitar pattern that would evoke the feeling of riding along on a train. Imagine my euphoria when he immediately played what I was hearing in my head! Forty minutes later, the three of us had fine-tuned the melody, written a bridge (or as they say across the pond, the "middle eight" bars), and were rehearsing away, ready to make a demo recording.
Sometimes a song just comes magically, without warning or even very much effort. Who knows how or why certain words, ideas, and notes come to us to put life's experiences together in a poetic and relatable way that will hopefully touch people for years to come. Yes, we spent a little time honing the lyrics and melody a bit, making adjustments to the chord progression as we went. But in this case, we can truly say that the muse spoke, and we all just happened to be in the right place at the right time to help capture her magic.
Melissa Axel is an Artist Relations representative of USA Songwriting Competition. At just eight years of age, she was writing songs about the bittersweet journey of life, love, struggle, and inspiration. The piano-driven singer/songwriter studied at Boston's renowned Berklee College of Music and went on to earn her master's degree in Interdisciplinary Arts from Nova Southeastern University. Axel's new album LOVE . HUMANITY . METAMORPHOSIS is reminiscent of Regina Spektor, Norah Jones, and Tori Amos. For more information on USA Songwriting Competition, go to: http://www.songwriting.net