By Kari Kiddle, Yahoo! Contributor Network
(Source: Yahoo! Contributor Network)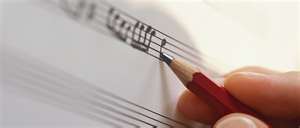 I know what you're thinking: I can't write a song if my pen depended on it. (A little joke). But you can! I started writing a few years ago, and now I can't stop. It takes practice, thought, and most of all patience. By reading this, you'll learn how to write a song in 5 easy steps.
1.) Start by brainstorming what type of music you want to write. What's your favorite band? I find it easier to write music that I like to listen to.
2.) Next, grab a pen and paper. I like to pull my inspiration from songs that I've fallen in love with. Like a phrase that your favorite artist used? Find a way to re-write it. For example, in Sara Bareilles' "Love Song", she talks about going against what's decided for her. I used her angry inspiration to write my song Take You Down.
3.) If you can play an instrument fairly well, I suggest using chords from songs that you love to start. Go to a site like ultimate-guitar.com that provides tabs as well as chords.
4.) The hardest part is deciding whether to start with the music, or the melody. It varies for me. Sometimes I'll be playing around on my keyboard and start humming/babbling along to the chords. This eventually turns into a song. Other times I'm in the shower or car and a melody just randomly comes to my head.
For beginners, I suggest the first one. If you can't play an instrument, look online for backtracks that you could hum along to. You're not going to be able to freestyle words right away, so don't be afraid to sound like a three year old.
5.) Finally, it's time to put them all together. Take your clever words, melodies, and chords and sing/play your heart away.

Kari Kiddle is a singer-songwriter. Through the process of writing songs, playing gigs, and self-promotion, she has learned a lot of things that she would like to share with the world.
For information on USA Songwriting Competition, please go to: http://www.songwriting.net