Written by Bill Nutt
(Scource: NJ Press Media)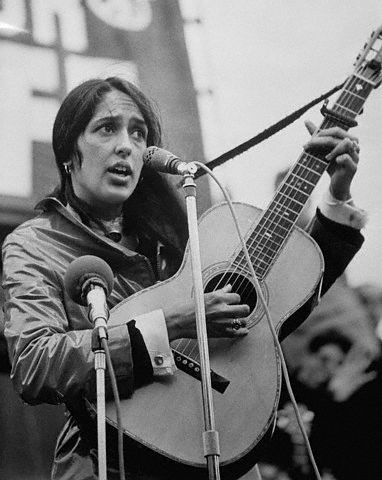 This past January, Joan Baez turned 70. And like a number of her fellow septuagenarians (such as Bob Dylan, Judy Collins and Paul Simon), she still tours and performs.
No one is more surprised by that fact than Baez herself.
"Sometimes, I'm up on the stage, and I think that it's crazy that I'm still doing this," she says.
With a laugh, she adds, "And it's crazy that you're still coming to see me."
Crazy or not, Baez continues to make music and continues to promote political and social activism. Her current tour brings her to the Mayo Performing Arts Center on Wednesday (Nov. 16).
The combination of social causes and music has been part of Baez's public image since she started performing in coffeehouses in Cambridge, MA in the late 1950s. Only 17 years, she had already developed a social consciousness, in part because of her parents.
Her musical career began almost by accident, according to Baez. Her first instrument was the ukulele, followed by the guitar.
"I didn't take (music) seriously," she says. "My idea of the future was the following Wednesday. Planning was not my strong point."
Nonetheless, Baez's undeniably powerful soprano voice soon became familiar to aficionados of folk music, and her first three albums went gold. She championed other performers, including a young Bob Dylan. Gradually, she went from recording traditional folk songs to more politically tinged material.
In the 50 years since her debut album, Baez has occasionally had significant commercial success, notably her cover of the Band's "The Night They Drove Old Dixie Down" and the self-penned title track from her 1975 album "Diamonds and Rust." But arguably her greatest strength has been covering material by singer-songwriters from Dylan to Mary-Chapin Carpenter and making it her own.
For example, her 2008 album "Day After Tomorrow" was produced by Steve Earle, who contributed three songs. She also covers songs by Tom Waits, Elvis Costello and T Bone Burnett.
"It sounds corny, but the song really finds me," says Baez. "With the song 'Day After Tomorrow' (written by Waits), I really thought, 'Oh, he wrote it for me.' "

With so much material from which to choose, planning her setlist is a challenge.
"It's dicey business doing a concert," she says. "If it's a new song, it has to be one that catches the people's attention right away."
However, Baez also understands that some older songs can take on a deeper resonance. For example, inspired by Occupy Wall Street and related movements, she has resurrected her version of the Rolling Stones' "Salt of the Earth" on her current tour.
"I think that Occupy Wall Street is one of the biggest surprises," she says. "I don't know if this would have happened without (uprisings) in Egypt and Tunisia, that showed how much power people can have."
Still, Baez does not see herself as a starry-eyed optimist.
"I was always a realist," she says. "Most things that are unpleasant don't surprise. And I'm not discouraged, because I know newspapers and TV don't always cover the good things that are happening."
For her own part, Baez sees no reason to slow down either as an activist or as a performer.
"It's true that I've lost some of my upper register," she says. "But it's made up by the fact that my voice contains 50 years of living."
For more information on the 17th Annual USA Songwriting Competition, please visit: http://www.songwriting.net