[Songwriting Advice] Does Songwriting Take A Village?

by Mark Cawley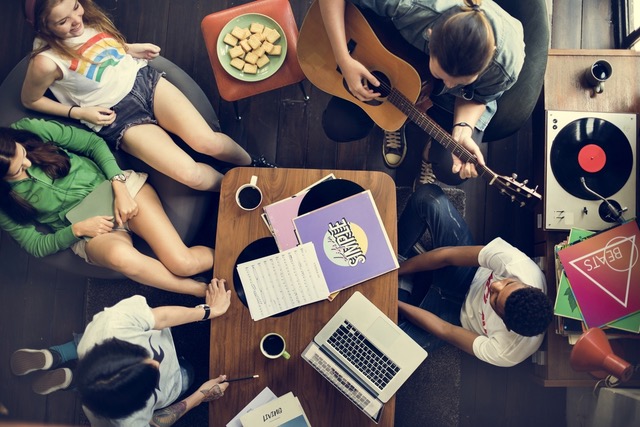 The multi-way co-writes have been on songwriters' minds. This is the fifth consecutive year that all Top 3 winners of the USA Songwriting Competition were co-writes. A staggering 29 out of 30 songs in the Top 10 country category for the past 3 years were all co-writes. And songwriters e-mailed us and called us to say "you are so unfair, all your top winners are all co-writes!".

The debate rages on about co-writing and the current state of multiple writers on a song. Check out the songwriting credits on the Grammy nominees for best song this year. A lot of names, eh? No Lennon and McCartney, Jagger and Richards, Bacharach and David, Elton and Bernie and defiantly no Brian Wilsons or Carole Kings.
"Despacito," Ramón Ayala Rodriguez, Justin Bieber, Jason Boyd, Erika Ender, Luis Fonsi & Marty James Garton Jr., songwriters (Luis Fonsi & Daddy Yankee featuring Justin Bieber)

"4:44," Shawn Carter & Dion Wilson, songwriters (Jay-Z)
"Issues," Benjamin Levin, Mikkel Storleer Eriksen, Tor Erik Hermansen, Julia Michaels & Justin Drew Tranter, songwriters (Julia Michaels)

"1-800-273-8255," Alessia Caracciolo, Sir Robert Bryson Hall II, Arjun Ivatury, Khalid Robinson & Andrew Taggart, songwriters (Logic featuring Alessia Cara & Khalid)

"That's What I Like," Christopher Brody Brown, James Fauntleroy, Philip Lawrence, Bruno Mars, Ray Charles McCullough II, Jeremy Reeves, Ray Romulus & Jonathan Yip, songwriters (Bruno Mars)
I've had major cuts that I wrote on my own, with a co-writer, with 2 co-writers and even a few with 5. When I've gotten up to more than 2 I got a little confused about who did what I admit. But…
As I mentioned, I've had a few experiences with 5 or more writers including a #1 with "Day And Night" by Billie Piper and the story behind that one is a typical example of how it can happen and, in this case, I couldn't complain. I was writing a bunch with Eliot Kennedy in the UK and Eliot had a team at Steelworks in Sheffield. The studio turned out a bunch of hits, sort of Motown style. Artists came in, the team wrote with them, did pre-production in house as well as the final record.
I loved this process enough to sign with them on their joint venture with Universal. Gave me some great opportunities I never would have had otherwise as most of these projects weren't taking outside songs. I might do my part with Eliot, his partners take it to final production, the artist is there and, in the end, multiple writers. It becomes about numbers and how much faster you can turn out songs with a team. I had the same experience writing with The Spice Girls there and more. Did I miss the idea of writing on my own or with another writer? Sure, but I found I could do that AND write with a group sometimes but, and it's a big but, it worked because much of my time was spent as a team member.
Beyond this method you see lots of songs that, due to losing (or settling) a lawsuit are legally required to add the writers of the original source of inspiration or sample. Case in point, "Uptown Funk" now has 9 writers listed. I love that song so…can it still be inspired if it takes a village to produce it?
All this is a hot topic of debate with songwriters the past few years. I coach writers all over the world and I understand the frustration when they feel it's impossible to break in to a production team or to write a song that could be pitched to the Beyonces of the world. It's not impossible but it is getting pretty rare to see a song written by one writer, not connected in some fashion to the label or production team associated with the record.
So…what's the kid in his or her bedroom, making music and dreaming supposed to do? How about 4 ideas to start?
Be your own artist. You still might get pressure from a label to write with the current crop of hitmakers but at worst your ideas make it to the record!

Develop mad tracking skills. More and more successful writers are coming from the ranks of track guys. Even here in Nashville you might find a great track guy in the same writing session with a couple of proven hit makers.

Similar to my 2nd point but in this case, become part of a production team. Maybe you start by making tea and graduate to being a part of the creative process. For this you need to be a good hang as well as adept at more than one skill.

Be awesome. An overused word but in this case it works. Be so awesome in your songwriting that the powers that be can't overlook you. Still hard to be heard but some of the ones who have made this work took to the streets, to social media and to clubs until their tribe grew and they became names. Ed Sheeran is one great case in point. Started as a busker.
In the end, this current state is just that . . . the current state. Complaining about the songwriting business and how unfair it is or how "watered down" the songs are is good fodder for social media posts but not for change. For that I think you work within it or work outside it and again…be awesome
About Mark Cawley
Mark Cawley is a hit U.S. songwriter and musician who coaches other writers and artists to reach their creative and professional goals through iDoCoach.com. During his decades in the music business he has procured a long list of cuts with legendary artists ranging from Tina Turner, Joe Cocker, Chaka Khan and Diana Ross to Wynonna Judd, Kathy Mattea, Russ Taff, Paul Carrack, Will Downing, Tom Scott, Billie Piper, Pop Idol winners and The Spice Girls. To date his songs have been on more than 16 million records. . He is also a judge for Nashville Rising Star, a contributing author to USA Songwriting Competition, Songwriter Magazine, sponsor for the Australian Songwriting Association, judge for Belmont University's Commercial Music program and West Coast Songwriter events , Mentor for The Songwriting Academy UK, a popular blogger and, from time to time, conducts his own workshops including ASCAP, BMI and Sweetwater Sound. Born and raised in Syracuse, NY, Mark has also lived in Boston, L.A., Indianapolis, London, and the last 20 years in Nashville, TN.
Information on the 23rd Annual USA Songwriting Competition, go to: http://www.songwriting.net