Songwriting Tip: Does your Latest Song Sound Similar to Ones Before?
by Mylène Besançon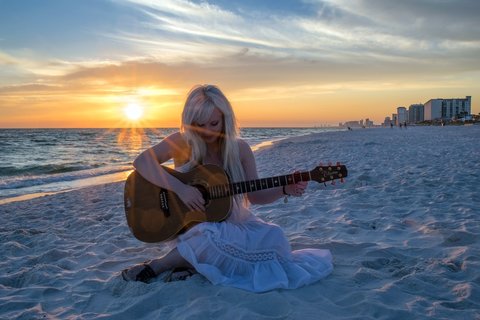 For many songwriters, one of the biggest challenges is ensuring that their songs are unique. With music lovers tending to have very discriminating hearing and short attention spans, picking up on similar patterns, lyrics or recurring themes between two or more of your songs could easily turn them off, regardless of how subtle the similarities are.
In a saturated music market, it's not uncommon for different songs from different songwriters to sound similar, especially in genres such as pop. Listeners, though, are less likely to be forgiving when they are from the same songwriter.
So, how do you avoid plagiarizing your own music (or anybody else's for that matter?) Whether you're a known songwriter or still in obscurity, there are a number of ways to ensure that all of your songs sound different from each other.
Have friends and family review your songs: If you have a large catalog, you may not have the time to go through all your previous songs to see if a new one sounds similar. But, you can ask people who are close to you and are familiar with your music to read through your lyrics and listen to the song to determine if it's noticeably similar to anything you've done before.

Invest in a low cost music production company: This really depends on what you can afford as a songwriter who is trying to make a career out of your writing talent. However, if you're out of writing ideas and in danger of using the same melodies in new songs, you should contemplate investing some money into an affordable music production house that can bring fresh ideas to the table to match your style or even help you revamp songs you've already written so that they sound totally different.

Expand your repertoire: If you're already well-known for writing songs based on certain themes, rhyme schemes and genres, you may want to broaden your horizons without totally alienating your fan base. This may be a balancing act but music history is littered with singers and songwriters who successfully crossed genres and strayed from the prevailing themes of their song collections, earning new fans and expanding their markets in the process.

Collaborate with another writer: People co-write songs all the time and, while this may cut into your royalties, it is better to share than risk losing listeners due to unoriginality. However, be sure to work with someone who is a good writer and can bring fresh ideas to the table.

Learn an instrument: Some of the best songwriters are those who also play an instrument, such as the guitar or piano. Adding an instrument to your skillset can serve as inspiration and as a guide in your head when trying to write fresh lyrics.
As a songwriter who intends to make a life and living from your talent, having a steady stream of songs under your belt is the only way to keep going. However, continuously writing songs may eventually take a toll on the imagination, making it harder to compose a song that has its own identity when compared with all those you did in the past. The preceding tips could help you to survive such trying periods whenever they arise.
Mylène Besançon is the CMO of SongCat LLC, a top-rated online recording studio. We believe that by making professional music production financially accessible to anyone with a dream and a voice, we have the potential to change the musical landscape forever. Visit http://songcat.biz to learn more.

To enter the 21st Annual USA Songwriting Competition, go to: http://www.songwriting.net