Imagine… Finally taking control of your songwriting!
by Mark Cawley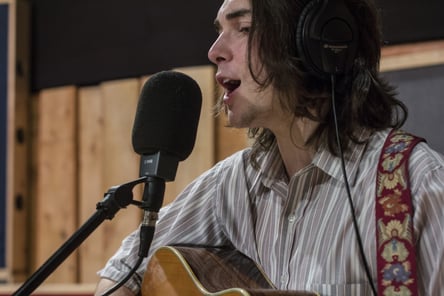 Here's the idea. Think of yourself as an entrepreneur. Great inventors never wait for the world to discover them, they discover things the world needs or at least, the world's interested in.
The business model of songwriting has changed and continues to evolve. Where can you fit in? Chances are this hasn't been part of your creative journey, maybe it hasn't had to be but what if it were?
What if you match your song with another art form? Rather than waiting on that publishing deal or for your song to be found you get pro-active?

Before you groan too loudly I'm not talking about writing for the advertising world although it's not a bad idea. What if your song is a match for a project or a product or even a campaign but the powers that be don't know it? You can be the matchmaker.

For instance …
I have a songwriter I've coached that wrote a very cool song about coffee. She didn't write it for Starbucks but why not reach out to them or any number of caffeine related products and see if your song can be a part of someone's bigger vision? She has been putting it out there and getting a great response. Nothing to lose. Hasn't landed yet but…it might and by being the writer, owning the publishing, she gets on someone's radar and can even be more flexible than a standard publisher might in getting a usage.

Another friend and client in Australia sent me a song called "Stephen Hawking Wants You To". I urged her to look for any projects involving Stephen Hawking. This was before last year's movie about him. She reached a UK film company who had just done a project about him but now has a dialogue to send lot's of her songs for possible film use.

Another for instance.
Kye Fleming and I wrote a song about a year ago called "What Would Lennon Do". We weren't asked to write it, didn't think it had commercial hit written all over it, just wrote it to express ourselves. Rather than let it sit we started thinking…big. Who might want this to be a part of their message? It's a song of peace so we reached out to the UN. Sounds far fetched? You'd be amazed at the people who are open to a good idea. It reached all the way to the secretary of the UN. They are still deciding how best to connect it . We kept thinking. We also reached out to Amnesty International and they are in the process of creating a charity single with their artist board.

So many artists are being found though mediums other than records. Someone has to have the big idea, make the connection. Why not the songwriter?

My point is your song might be someone's solution. Thing big, think waaaay outside the box and pitch your own song. Waiting on the world to hear you or waiting on that publisher to do the work for you is getting harder than ever. Not only that but most of the best and most successful songwriters I know have always pitched their own ideas. They might have a great publisher but they didn't always wait for them to come up with the best idea. They became their best promoter.
By creating a vision you're taking control of your songs, you're taking control of your career and, the buzz you may get from connecting your vision to someone else's can be bigger than you ever imagined.
Control equals freedom and freedom feels great!

About Mark Cawley
Mark Cawley is a hit U.S. songwriter and musician who coaches other writers and artists to reach their creative and professional goals. During his decades in the music business he has procured a long list of cuts with legendary artists ranging from Tina Turner, Joe Cocker, Chaka Khan and Diana Ross to Wynonna Judd, Kathy Mattea, Russ Taff, Paul Carrack, Will Downing, Tom Scott, Billie Piper, Pop Idol winners and The Spice Girls. To date his songs have been on more than 15 million records. Mark's resume includes hits on the Pop, Country, R&B, Jazz, and Rock charts and several publishing deals with the likes of Virgin, Windswept Pacific, and Steelworks/Universal. Mark calls on his decades of experience in the publishing world, as an artist on major labels, co-writer with everyone from Eliot Kennedy and Burt Bacharach to Simon Climie and Kye Fleming, composing, and recording to mentor clients around the globe with iDoCoach. He is a contributing author to the USA Songwriting Competition a popular blogger and, from time to time, conducts his own workshops. Born and raised in Syracuse, NY, Mark has also lived in Boston, L.A., Indianapolis, London, and the last 20 years in Nashville, TN.

To enter the 21st Annual USA Songwriting Competition, go to: http://www.songwriting.net