by Karen Randle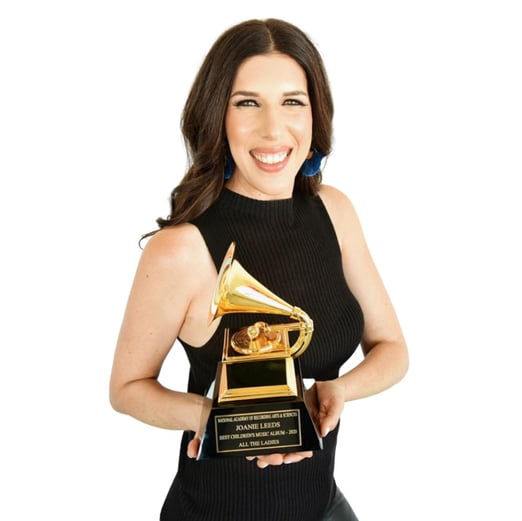 Joanie Leeds, First Prize winner of the 2013 USA Songwriting Competition (as well as our current finalist) has just won a Grammy in the 63rd Annual GRAMMY Awards (2021) in the "Best Children's Music Album" category for her album "All The Ladies". The album is produced by 2019 GRAMMY Winner, Lucy Kalantari, an honorable mention winner of the 2018 USA Songwriting Competition. See list of Grammy winners at: https://www.cbsnews.com/news/grammys-2021-winners-and-nominees/

"It is truly an honor to have received the GRAMMY for All the Ladies as my peers in the music industry voted. It was a collaborative effort with a team of talented women and I am so filled with joy it was heard by so many", said a jubilant Joanie Leeds, a singer-songwriter from New York City.

As a musical theatre major at Syracuse University, Joanie began composing her own songs. After graduation, she did the New York City thing, bartending at The Bitter End when not onstage performing. While making the rounds as a singer/songwriter in New York clubs (her favorites were Rockwood, The Bitter End, The Living Room, Arlene's Grocery and CBGB's), Joanie tried her hand at about ten different day gigs until a friend suggested that she get a job where she could sing with kids during the day and perhaps sleep at night.

ABOUT USA SONGWRITING COMPETITION
USA Songwriting Competition has a long history of having winners getting recording and publishing contracts, have their songs placed on the charts as well as having their songs placed on film and television, and winning Grammy Awards.
Andrew Jannakos, the current Overall Grand Prize winner of the 25th Annual USA Songwriting Competition, as well as Best Country Song award was recently signed to Sony Music Nashville. His debut single hit #65 on the Billboard Hot 100 charts as well as No. 1 on the Billboard Emerging Artists Charts.

USA Songwriting Competition Honorable Mention winner (2017 Competition) and finalist (2018 Competition) Lucy Kalantari of New York, NY won a Grammy Award for Best Children's album at the 2019 Grammys.

Meghan Trainor (USA Songwriting Competition finalist) won Best New Artist in the 2016 Grammy Awards, making her the only winner in the top categories (Best New Artist, Song of the Year, Record of the Year, etc) of the Grammy Awards. Meghan Trainor hit #1 on the Billboard Hot 100 Charts, and debuting #1 on the Billboard 200 Album Charts. She has a total of 9 songs that have hit the Billboard Hot 100 charts as an artist.

Christopher Tinn (USA Songwriting Competition First Prize winner, Instrumental category in 2014, Finalist in 2010) won two Grammy Awards for his classical crossover album Calling All Dawns in 2011.

Cathy Fink & Marcy Marxer (USA Songwriting Competition 2011 First Prize winner, Children's music category) have earned two Grammy Awards for their recordings "cELLAbration: a Tribute to Ella Jenkins" in 2004 and for "Bon Appétit!" in 2005. Their CDs "Postcards" and "Banjo Talkin'" were both Grammy Awards nominated in the Best Traditional Folk Album category. They have received a total of 12 Grammy nominations so far.

2013 winner American Authors were signed to Island Records, and hit #1 on the Billboard Charts and went Double Platinum.

The 2017 top winner Pricilla Renea had her song "Love So Soft" recorded by Kelly Clarkson, it hit #47 on the Billboard Hot 100 Charts. Her songs have recorded by other big name artists such as Rihanna, Mariah Carey, Fifth Harmony, Demi Lovato, Rihanna, Madonna, Selena Gomez and Chris Brown. Several of her songs have hit the Billboard Hot 100 Charts.

In its landmark 26th year, the USA Songwriting Competition is currently accepting entries. To enter the 26th Annual USA Songwriting Competition online, Click Here>>