Max Martin, the Most Successful Songwriter (in the last 20 years)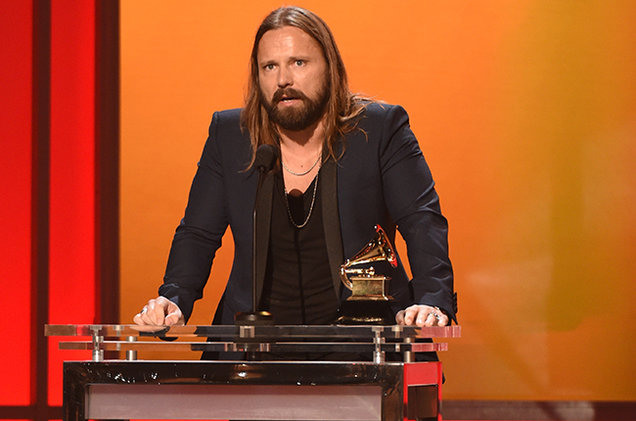 Just turn on Top 40 radio and you will hear one of his songs "Shake It Off", a song recorded by Taylor Swift. Max Martin, is a Swedish songwriter and producer has replaced Diane Warren as the most successful pop songwriter of the last 20 years.. He rose to prominence in the mid-1990s after making a string of major hits for artists such as the Backstreet Boys, Britney Spears, Bon Jovi and NSYNC. Some of his earlier hits include "I Want It That Way" (1999), "...Baby One More Time" (1999) and "It's My Life" (2000).
Martin, born Martin Sandberg in Stockholm, won the Grammy for producer of the year, non-classical, in 2015 and Album of the year (for Taylor Swift's "1989" Album) in 2016. He has written 21 No. 1s on the Billboard Hot 100, more than any other writer in history except for Paul McCartney (32) and John Lennon (26). Martin has produced 19 of the Hot 100 No. 1s, more than any other producer except for another Martin: Beatles producer George Martin, with 23. Max Martin's run began with Britney Spears' "…Baby One More Time: in 1999. He has also written No. 1s for *NSYNC, Katy Perry, Pink, Kelly Clarkson, Maroon 5, Taylor Swift and The Weeknd.
Hitting #1 on the Billboard Hot 100 Charts is the absolute "Olympic Gold Medal" measure for a songwriter. In the Billboard Charts' Hot 100's 57-year history, only Paul McCartney (32) and John Lennon (26) boast more leaders as writers.
Expanding the scope to the Billboard Hot 100's top 10, Martin's sum swells to an astonishing 58 top 10s on which he's credited as a writer. While it's not an all-time record (yet; McCartney boasts more).
Here are Max Martin's 58 Hot 100 Top 10s as a Songwriter
Peak Pos., Title, Artist, Peak Date
No. 7, "Do You Know (What It Takes)," Robyn, 8/2/1997
No. 2, "Quit Playing Games (With My Heart)," Backstreet Boys, 9/6/1997
No. 7, "Show Me Love," Robyn, 11/29/1997
No. 4, "Everybody [Backstreet's Back]," Backstreet Boys, 5/9/1998
No. 1 (two weeks), "...Baby One More Time," Britney Spears, 1/30/1999
No. 6, "I Want It That Way," Backstreet Boys, 6/26/1999
No. 10, "(You Drive Me) Crazy," Britney Spears, 11/13/1999
No. 6, "That's the Way It Is," Celine Dion, 3/4/2000
No. 6, "Show Me the Meaning of Being Lonely," Backstreet Boys, 3/18/2000
No. 9, "Oops!...I Did It Again," Britney Spears, 6/10/2000
No. 1 (two weeks), "It's Gonna Be Me," 'N Sync, 7/29/2000
No. 9, "Shape of My Heart," Backstreet Boys, 12/2/2000
No. 2, "Since U Been Gone," Kelly Clarkson, 4/9/05
No. 6, "Behind These Hazel Eyes," Kelly Clarkson, 6/11/05
No. 9, "U + Ur Hand," P!nk, 5/5/2007
No. 9, "Who Knew," P!nk, 9/29/2007
No. 3, "Hot N Cold," Katy Perry, 1/22/2008
No. 1 (seven weeks), "I Kissed a Girl," Katy Perry, 7/5/2008
No. 1 (one week), "So What," P!nk, 9/27/2008
No. 1 (two weeks), "My Life Would Suck Without You," Kelly Clarkson, 2/7/2009
No. 1 (one week), "3," Britney Spears, 10/24/2009
No. 10, "Whataya Want From Me," Adam Lambert, 5/1/2010
No. 1, "California Gurls," Katy Perry feat. Snoop Dogg, 6/19/2010
No. 2, "Dynamite," Taio Cruz, 8/21/2010
No. 1 (two weeks), "Teenage Dream," Katy Perry, 9/18/2010
No. 4, "DJ Got Us Fallin' in Love," Usher feat. Pitbull, 10/9/2010
No. 8, "Teenage Dream," Glee Cast, 11/27/2010
No. 1 (one week), "Raise Your Glass," P!nk, 12/11/2010
No. 1 (one week), "Hold It Against Me," Britney Spears, 1/29/2011
No. 2, "F**kin' Perfect," P!nk, 2/12/2011
No. 7, "Blow," Ke$ha, 3/19/2011
No. 6, "Loser Like Me," Glee Cast, 4/2/2011
No. 1 (five weeks), "E.T.," Katy Perry feat. Kanye West, 4/9/2011
No. 3, "Till the World Ends," Britney Spears, 5/14/2011
No. 7, "I Wanna Go," Britney Spears, 8/20/2011
No. 1 (two weeks), "Last Friday Night (T.G.I.F.)," Katy Perry, 8/27/2011
No. 3, "The One That Got Away," Katy Perry, 1/7/2012
No. 6, "Domino," Jessie J, 2/18/2012
No. 1 (one week), "Part of Me," Katy Perry, 3/3/2012
No. 9, "Scream," Usher, 8/4/2012
No. 2, "Wide Awake," Katy Perry, 8/11/2012
No. 1 (three weeks), "We Are Never Ever Getting Back Together," Taylor Swift, 9/1/2012
No. 1 (nine weeks), "One More Night," Maroon 5, 9/29/2012
No. 5, "Beauty and a Beat," Justin Bieber feat. Nicki Minaj, 1/5/2013
No. 2, "I Knew You Were Trouble.," Taylor Swift, 1/12/2013
No. 7, "Daylight," Maroon 5, 2/23/2013
No. 1 (two weeks), "Roar," Katy Perry, 9/14/2013
No. 1 (four weeks), "Dark Horse," Katy Perry feat. Juicy J, 2/8/2014
No. 2, "Problem," Ariana Grande feat. Iggy Azalea, 6/7/2014
No. 4, "Break Free," Ariana Grande feat. Zedd, 8/30/2014
No. 1 (four weeks), "Shake It Off," Taylor Swift, 9/6/2014
No. 3, "Bang Bang," Jessie J, Ariana Grande & Nicki Minaj, 10/4/2014
No. 7, "Love Me Harder," Ariana Grande & The Weeknd, 11/22/2014
No. 1 (seven weeks), "Blank Space," Taylor Swift, 11/29/2014
No. 3, "Love Me Like You Do," Ellie Goulding, 3/7/2015
No. 6, "Style," Taylor Swift, 3/21/2015
No. 1 (one week), "Bad Blood," Taylor Swift feat. Kendrick Lamar, 6/6/2015
No. 1 (one week to-date), "Can't Feel My Face," The Weeknd, 8/22/2015


To enter the 21st Annual USA Songwriting Competition, go to: http://www.songwriting.net