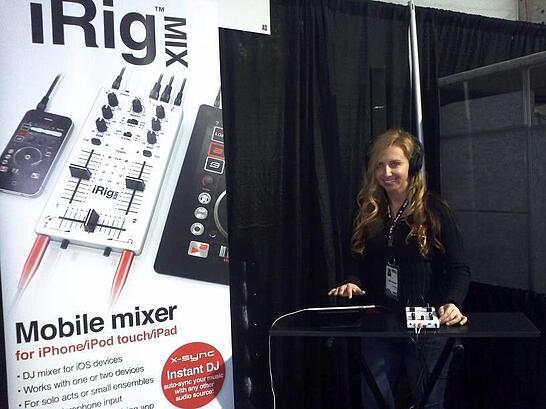 IK Multimedia showcased 2 new products (See Video above) at the 2012 WMC (Winter Music Conference) in Miami Beach on March 19, 2012:
iRig™ MIX
The first mobile mixer for iPhone, iPod touch and iPad. iRig™ MIX is the first mobile mixer for iPhone, iPod touch or iPad devices. iRig MIX offers the same controls you would expect from a professional DJ mixer (crossfader, cues, EQ and volume controls, etc.) in an ultra-compact mobile mixer that can be used with a huge variety of iOS DJ mixing and other apps. iRig MIX is a DJ mixer that allows DJs to use a traditional setup with two devices (one plugged into each of the independent channels) OR a single iOS device. For the single iOS device setup, the output of the single device is split into dual-mono and sent to the individual channels. Additionally – for the first time on any DJ mixer - iRig MIX can be used for mixing any type of audio source (coming from mp3 players, CD players, etc.) with an iOS device using automatic tempo matching and beat syncing. This is accomplished with X-Sync, a feature that works in combination with the DJ Rig free app from IK Multimedia that is included with iRig MIX.

DJ Rig
The pro-quality DJ mixing app. DJ Rig is a full-featured, double-deck DJ mixing app for iPhone. DJ Rig provides instant song playback from the device's music library, tempo sync, sample-based pads, performance recording and an arsenal of high-quality DJ effects. Together with the iRig MIX, DJ Rig provides the most portable pro-quality setup for mobile DJs and musicians.
DJ Rig stands out from the crowd of DJ apps for its complete set of professional features including some that cannot be found in any other app such as X-Sync. This mode allows anybody to automatically synchronize the app audio with any other external audio source. DJ Rig "listens" to the device's audio input, determines its BPM tempo and syncs the app audio automatically. Read more about iRig™ MIX and DJ Rig at: http://www.ikmultimedia.com/irigmix/moreinfo/djrig.php