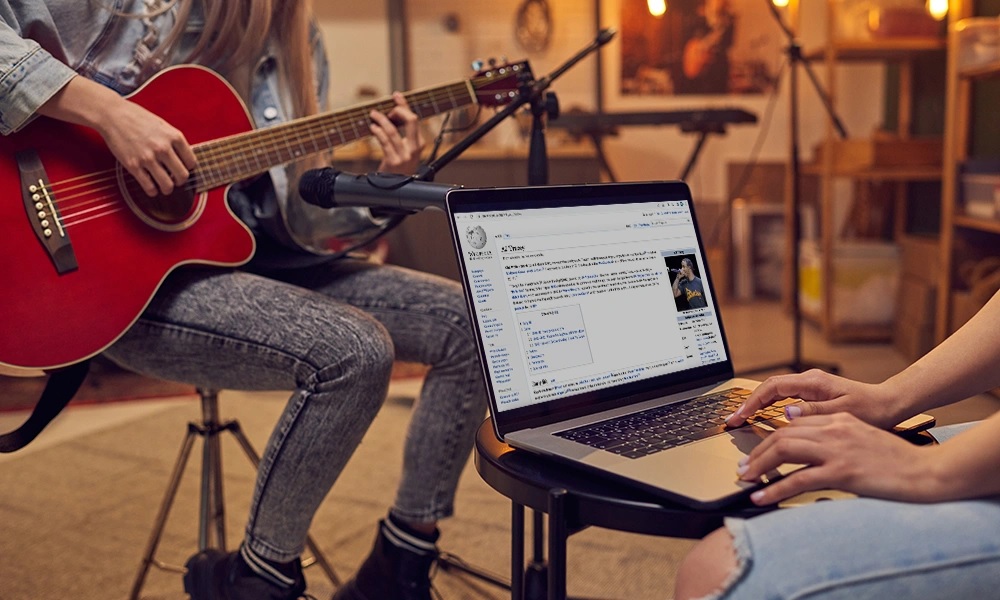 Are you a music artist, singer-songwriter, band with original songs released? If so, you'll need to know about playlists. What are playlists? Playlists are containers for tracks and episodes. Spotify's users have already created over 1.5 billion of them. By creating a playlist, a Spotify user can specify a subset of tracks and episodes; and the order in which to play them. Playlists have revolutionised modern music consumption.
Audiences now rely on personalised playlists and algorithmic recommendations for their everyday music discovery and listening, placing their trust in music curators and tastemakers to direct the majority of all their own listening.
But what does this mean for artists trying to get their music heard in 2022? It means getting your music playlisted should be a number one priority.
So here's what you need to know to land the ultimate playlist placement.
8 tips to get a playlist placement for your music
1. Release your music online
It might sound obvious, but you can't start pitching your music for playlists until you, you know… release it!
Making your music readily available on as many big DSPs and online stores as possible, is only going to maximise your chances of getting it picked up by a playlist curator.
Plus, the more platforms you release on, the more income you can make in the form of streaming royalties. If you're not already collecting royalties for your music, Ditto Music Publishing can do the job for you. We'll make sure you're earning back all the money you're owed, every time your music gets streamed online.
So before you do anything else, release your music online and meet us back here for the next part.
2. Get verified on DSPs
Being a verified artist on streaming platforms like Apple Music & Spotify, is like getting a badge that shows playlisters and curators you're a legitimate artist who's serious about the music they make.
Spotify verification can be accessed through Spotify's artist services, Spotify for Artists. Simply head to the website, and click "Get Access" where you'll be able to fill out a simple, verification request form.
Similarly, you can apply for verification on Apple Music via Apple Music for Artists. All you have to do is claim your iTunes account and once again, fill out a verification submission form to secure your verification badge of honour.
3. Submit your music to Spotify playlists directly
Spotify is like the central hub of the playlisting world.
The platform's entire premise is based on algorithmic playlist picks and personalised recommendations. And with over 400m active users, after you upload music to Spotify, getting listed on one of their highly followed playlists could be the tip of the iceberg when it comes to getting your music discovered.
Good news is, Spotify has its own playlist submission portal that lets you submit your unreleased music to Spotify's editorial team for playlist consideration.
When you're submitting, make sure you include details and info about the track you're releasing, for example the genre it belongs to, the mood it evokes, or influences it's based on.
You can also include info about the instruments that feature, the culture it belongs to, and whether it's an original version or a cover.
My advice is - go to town on this bit. Remember - while the platform is based on algorithms, your submission will be read by a real-life, Spotify curator. So don't dismiss the human element of your pitch.
4. Pitch to independent curators
But that's not to say it starts and ends with Spotify.
In fact, independently curated lists are some of the most highly followed playlists on the internet, and there's thousands of them - each with a different style, genre, mood, feeling, activity - you name it.
When it comes to finding independently curated playlists and requesting placements, here's what you need to do.
Source the right playlists to pitch to
Identify keywords that you would use to describe your music, for example, the genre, influences, similar artists etc. Then use these words to start hunting down the right kinds of playlists to pitch to, either through Spotify & other streaming platforms, or online playlist sites like SubmitHub.
Find the curator's contact information
You'd be surprised how much information you can find from a quick Google search, or copying and pasting the playlist URL into an online search engine. Try to locate the name and email address of the playlist curator so you can approach them directly.
Draft and send your pitch
In your pitch, make sure you're polite and clearly addressing why you believe your track would be a suitable addition to their playlist. You don't have to write a huge spiel either. Playlist curators' inboxes are usually flooded with pitch emails, so it's better to be straightforward and to the point in your pitch, otherwise they're likely to drop off.
TIP: Make sure you include the link to your track on the same streaming platform that the playlist lives on. This will make it easier for the curator to listen to it and potentially add to their list if they dig it.
5. Build your own playlists
Aside from platforms and other people's playlists, remember you can still get playlisted by adding your own tracks to your playlists.
This might sound like a cheat, but it's really not!
If you're creating great music, chances are you've also got great music taste. And one that other listeners will really appreciate. Self-curated playlists are a great way to show off your musical knowledge, liken your music to other artists you'd like to be compared with, and give fans an insight into what beats get you going!
If you're making your own playlists, the no.1 rule is - don't be spammy with your music.
A playlist of your own shouldn't be a homage to all your life works so far, it should be a list with a variety of artists and tracks, and about 2 - 3 of your own tracks subtly included throughout.
You could approach your list in a few different ways;
Make it activity based - i.e. music for working out to, music for singing in the car - whatever it is that you'd imagine yourself doing while listening to this selection of tracks.

Base it on musical influences - i.e. if there's a handful of artists that you love or that you get inspiration from for your own music, align your sound with these artists in one extended portfolio.

Tell a story or narrative - i.e. select the songs in your list based on what sort of feeling you want to evoke from the playlist's listeners.
6. Complete all your streaming profiles
Taking the time to kit out each of your streaming platform profiles won't go unnoticed by curators who're sourcing new music to feature on their playlists. And it's one of the first things that'll set you apart from an artist who takes their music seriously, vs one who sits on the backburner.
Make sure you've got all the necessary information included, such as:
An artist bio: a brief summary of who you are, where you're from, your music influences and background.

Links to your social media: make it easy for listeners and curators to find your social media profiles by supplying them with your handles.

Upcoming diary dates: if you've got an upcoming gig, tour or show, make sure you include dates and a link to where people can buy tickets or find out more.
7. Grow your online following and presence
A big part of getting playlisted is getting your name out there.
Think about it. The more you can grow your fans and listener-base via your online presence, the more streams your tracks are likely to get and the more chance a platform or curator will sit up and take notice.
Friends and family are definitely an obvious place to start. Make sure they're following you on all your platforms and social media, and ask them if they can share your music from time-to-time amongst their own followers.
Include links to your music on streaming platforms in all of your social media bios, so users who find you online can easily go and stream your latest release.
Lastly, make sure you've got a really well-crafted social media marketing plan that includes things like regular live streams, Q&As, news and updates about your music, recent promo pics - and anything else that'll help engage your fans and attract new followers.
8. Don't give up!
Getting playlisted can be a challenge - especially if you're still finding your feet or just emerging in your field.
Like we said at the beginning, playlist placements are a big deal. So it's hardly surprising that every new artist will be competing for one of those spots.
But keep your head up, don't get off-put by rejections and keep pushing forward! Before you know it, it'll only be a matter of time before you get a great playlist placement that you can be proud knowing you worked hard to get.
This article is brought to you by Ditto Music. Ditto Music is an online music distribution company. It distributes music to 160 digital music stores, including Spotify, iTunes, Google Play, Amazon, Vevo, Apple Music, Beatport, Deezer, and Shazam. Go to: https://dittomusic.com/
For information on the 27th Annual USA Songwriting Competition, go to: https://www.songwriting.net