From Demo To Master, A Music Artist's Experience
by Melissa Axel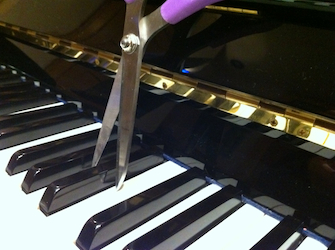 After my last article Demo vs. Master Recordings, I was asked to share how one of my own songs moved through the demo stage to completion. That and this post are both written from the recording artist perspective (rather than songwriter pitching songs for other singers to record). This is the evolution of "Golden Rule," from my album LOVE . HUMANITY . METAMORPHOSIS …
"THIS IS IT!" The rush of adrenaline, hard work rewarded, that magical feeling of inspiration successfully translated into a complete, singable tune … You know the feeling you get when you've just finished writing a new song. Eureka, you've done it! But, you're not done with it.
At least, I wasn't done when I shouted from our piano in mid-afternoon triumph for all the neighborhood cats to hear. Even after the editing stage, "Golden Rule" went through several major revisions—the kind best made by sitting down with a trusted musical advisor (in this case, our producer) to carefully analyze a basic recording of the song. The changes made in this pre-production stage turned a pleasant but complex tune into an engaging song with a clear message of love and self-acceptance.
One thing we noticed in the first piano/vocal demo was that there seemed to be two different pre-choruses in the song—and each one appeared twice. This took power away from the composition by creating several different build-ups that never fully paid off. It felt great to play and sing those sections, but as a listener, even I got lost when I heard my initial recording. Where was the peak of the song?
Another issue was how the perspective of the song progressed. It began in third person about a struggling little girl, shifted to the girl's voice questioning her situation, and then to mine, empathizing with everyone who'd gone through the same thing. It seemed like an interesting story arc at the time, but I had admittedly come up with a narrative that was too confusing to clearly deliver its point. What was the punchline … and whose line was it, anyway?
After a hard look at each section of the song, we decided to stick with the first pre-chorus. I let go of lyrics I was originally attached to when I saw how much more powerful the song became without them. We also cut down the instrumental parts, keeping just a short vocal vamp and a quick instrumental build-up to the "bookend" outro. With so many lyrics on the cutting room floor, we no longer needed to give the listener as much musical "buffer" to process what was being said.
Still, I adored that other section, whatever it was. Those chords just felt like they belonged, and the statement "but everyone is special, everybody's unique / that's what they say, and I'd like to believe it" was only the key point of the whole song. A-ha—that was no second pre-chorus, it was the end of the bridge—the climax! Those words now mark the shift from third to first person as we continue into the chorus, "so I sing, soft but strong, 'there is nothing wrong with you.'" Sure enough, these few lines had also functioned as a pre-chorus, because the chords lead back up to the final chorus, only even stronger this time.
For me, transforming our demo in pre-production was the most crucial part of the recording process. Between tightening the form, upping the tempo, and putting unnecessary bits on the chopping block, we cut over two minutes from the song, clarified its structure, and made its core message crystal clear. Having settled on these essentials, we gave a revised piano/vocal demo to the string arranger and other musicians as we prepared to take "Golden Rule" into the studio.
Melissa Axel is an Artist Relations representative of USA Songwriting Competition. At just eight years of age, she was writing songs about the bittersweet journey of life, love, struggle, and inspiration. The piano-driven singer/songwriter studied at Boston's renowned Berklee College of Music and went on to earn her master's degree in Interdisciplinary Arts from Nova Southeastern University. Axel's new album LOVE . HUMANITY . METAMORPHOSIS is reminiscent of Regina Spektor, Norah Jones, and Tori Amos. For more information on the 17th Annual USA Songwriting Competition, go to: http://www.songwriting.net