Tools For The Songwriter: Capture And Craft
By Sven-Erik Seahom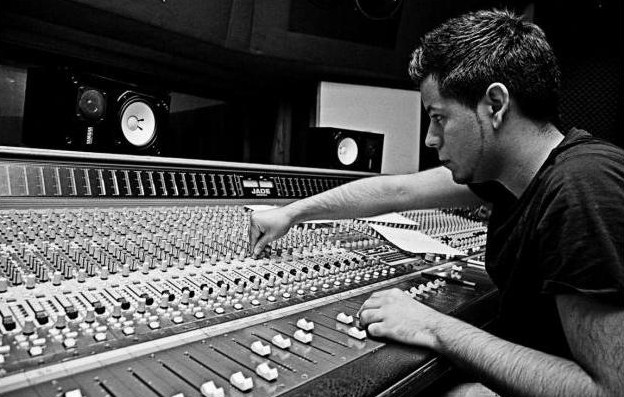 Grab those ideas and turn them into great songs with the right tools
"A song is like a dream, and you try to make it come true."—Bob Dylan
A song comes to us with a blend of three complementary ingredients: lyrics, melody and harmonic structure (chords). Each of these essentials supports the others, so while the lyrics may often directly refer to a particular feeling or emotion, the melody can actually help to emphasize or even embody that sensation. The chords contextualize things further by defining and establishing major and minor key relationships—the exact same melody can be made to sound either happy or sad, depending on which notes surround and support it.
It all sounds very complicated, and it certainly can be, but the act of songwriting can also be fundamentally broken down into two simple phases: Capture and craft.
Tools at the ready—anywhere, anytime
The first stage begins with allowing all of your ideas and inspirations to flow freely, encouraging them to come into being without judgment or expectation. Each new line or musical phrase may suggest another and then another, until you've filled the room with all of these wonderful 'butterflies' of invention and creativity. Along the way, you may employ a wide variety of 'nets' to gently capture them.
Songs are often like long-lost friends who show up unannounced while you're in the middle of something else. You're always very excited to see them, but the timing can be a bit of an issue. The key word here is readiness—having the tools you need at hand when you're struck by the lightning of creativity. Have a note pad at the ready, and pencils or markers, highlighters—the quicker you write down a good idea, the more likely you are to keep it and to build on it. I usually write on an acoustic guitar. If that's what you do, too, make sure yours is in tune, with good strings, ready to inspire you.
You won't always have your best ideas come to you while you're conveniently sitting at your desk. To capture a musical idea, anywhere, anytime, carry with you a pocket-sized digital recorder. Don't neglect to check the batteries, the memory card, or the internal memory, so that you can dictate a lyric or hum a melody whenever inspiration comes to you.
If you have a smart phone, load it up with apps to record, apps to take notes... Songwriting is a guerrilla operation—one must be patient, but prepared to act quickly. Having even the most rudimentary record of this moment can make the difference between that tiny creative encouragement becoming the best song you ever wrote, or just another one that got away.
I knew a songwriter several years ago who received a Nikon digital camera as a gift. This particular model included audio recording capabilities. He carried it with him everywhere. To my knowledge, I don't think he ever took a single picture with it. But it was filled with song ideas, arrangement snippets, found sounds, lyrics and poems…little audio finger-paintings, if you will. The artist finds a way!
The muse comes calling
Sometimes, there's a nibble. A chord change or a musical vibe might catch my attention or take over. I fall under its spell and delve deeper into it, playing it over and over in an endless loop. I begin singing along and exploring the varying sonorous textures that are suggested by the union of my musical sense and my subconscious mind.
At this point, I try to sing the most beautiful and unique melody I can uncover. Even though I don't know what all of the chords will be yet, I'm singing over what is there, because the very melody that I'm singing could suggest what the next move is.
Let's start out, for example, by playing a simple C chord for a measure, followed by an E minor chord for another measure. After a while, you might begin singing a G "Ooooh" over the C chord and rising to a B over the E minor. Return to the G over the C chord, falling to an E over the E minor... Back and forth: "Ooooh, ooooh. Ooooh, ooooh..."
Eventually, a melodic turn may be in conflict with what you're currently playing, suggesting a new chord. Let's say you want to hear a G note, followed by a note of G# and then an A. That's probably not going to work over the present chords, so you search through a variety of combinations until you arrive at the solution that sounds best to you. In this case, it might be a C chord, followed by an E7 and then an A minor. Suddenly, you're in a whole new place. By simply following our melody, you've wandered off the beaten path and are now finding your way instinctively.
Getting acquainted
So, where can you go next? Continue playing through the progression, still singing along, all the way up to that creative 'cliff' where you had left off. This hypnotic, cyclical approach places the song "under your hands"; you become more comfortable playing and singing these inspirations, allowing your mind to roam. This often gives the next solution a better chance to present itself.
Along the way, certain words or images may concurrently begin emerging from seemingly nowhere, giving further shape and focus to your otherwise rudimentary utterances. Vowels are significant: As you sing along, you can try moving from "Ooooh" to "Aaaay" or "Eeee", for example. Listening to the sonorous quality of these and other vowel shapes can further suggest lyrical snippets or additional melodic ideas... the point is to keep walking down that musical trail and see what else is there to be discovered.
Stopping time
If you're lucky, you may arrive at a big "Eureka!" moment, or you may just run out of steam... In either case, this is the place to whip out that smart phone and record what you do have so far. Got lyrics? Write those down too! Just a chord and a rhythm? Fine. Hit Record. A bunch of stuff in your DAW? Hit Save and render a rough mix. Like a page with a folded corner, your process can be frozen in place until your next opportunity to return to it.
Neil Young, only one among many artists who feel that way, has long embraced the notion that most of his songs be not only born from but completed in this initial flurry of activity. It obviously doesn't always happen that way, but his stated intent is that within that early burst of inspiration lies something very special that's also quite fragile. You can find a great interview online, wherein Young discusses this concept in the writing of his song "Like A Hurricane".
Singer-songwriter Peter Himmelman once said that as soon as a song idea began to take shape, his goal was to then finish the song before his wife came home, so he could show it to her. In the book Written In My Soul (a collection of interviews with many great songwriters, which I very highly recommend: www.amazon.com/Written-My-Soul-Conversations-Songwriters/dp/0809246503) Himmelman's father-in-law Bob Dylan says, "All you know is that it's a mood piece, and you try to hold onto the mood and finish. Or not even finish, but just get it to a place where you can let it go."
Modern technology affords us the unprecedented ability to pick up right where we left off, to effectively bookmark these works in progress, to subsequently develop them into something even better, stronger and more lasting.
Get it in writing
Now comes the crafting of the song, a stricter yet still passionate process. At this point I fire up my word processor—I use Microsoft Word. Aside from the spell checker, I use its Thesaurus. The internet is full of thesaurus websites and dictionaries of synonyms—pick one and type in 'ubiquitous'. Word will throw the following alternatives back at you: "ever-present", "everywhere" and "omnipresent". It may seem a paltry selection, but I'll bet it's a lot easier to rhyme with "everywhere"....
These sorts of synonymic options are the writer's key accomplice. They can help us to think "outside the box", by offering unexpected twists in our flow. One fantastic program that helps this process along in a very "musician-oriented" way is MasterWriter (masterwriter.com), which offers a huge selection of writing and reference tools with songs in mind. Check it out if you find working in Word to be a creativity-killer...
Let's say, for example, that upon revisiting the notepads and audio memos, you take up where you left off, playing through the chords and singing the same wordless melody. Only this time, you start to sing the words "Where were you?" sort of unconsciously, in an almost meditative way. You come to a place where you want to say "You're Everywhere", but you don't want to use such an obvious, almost lackluster word. You look up "everywhere" and the word "ubiquitously" is among the many choices offered. Chuckle at first, but then you hear the word "Ubiquitous" with a melody in your head: D#, D#, F#, G.
After a little more time exploring these new options, you come up with at least the start of a song structure, so go into your word processor, set it to a 20 point font size and make a chord chart for what you have so far, doing your best to line up the chords over the correct syllables, etc.:
C Em
Where were you?
C Em
Where were you?
C E7 Am B7
Everywhere weren't you?
C B7
Ubiquitous
C B7
Ubiquitous
You follow that with a quick recording into your phone, and you title both the .doc file and the memo 'Ubiquitous 02'. Every time you come to what you feel is a point of accomplishment (the melody forms, the structure gels, or a bridge appears), you will continue to leave these sorts of signposts for yourself along the way, so that you can track your progress, or back up if you hit a dead end.
Charting your course
If you're looking for a dedicated chord chart maker, one that lets you edit chord patterns and do key transposing, the program Song Sheet 5 (from dsbsoft.com) offers a few features that could make their way into your creative process. Within the chord editor, for instance, there is a "preview" function that plays the currently selected chord. If you're looking for the next chord in your song, you can click and audition chords you suspect might be right, or just see what arrives from clicking through different chords at random. Or try variations on the chords you have and see if they bring any new ideas forward.
Sometimes we just can't get our hands to play the music in our heads. Perhaps we habitually go to all-too-familiar chord shapes, or just aren't strong enough on our instrument to accurately realize the music we envision.
Band-in-a-Box (pgmusic.com) is an excellent aid in this more compositionally-oriented method. Band-in-a-Box lifts the chord chart approach up to a whole new level, by not just previewing chords, but performing them from start to finish, complete with drums, bass, guitar, piano, strings and more, in a variety of styles. Type in your chords and away you go, free to experiment with tempo, key, and style. There's even an automatic melody generator provided, to further provoke your own creativity from unexpected musical places!
A few years ago, I produced an album for singer/comedian Happy Ron, called Terribly Happy (www.cdbaby.com/cd/happyron). He had composed, arranged and demoed the whole record, complete with chord charts, lyric sheets and audio CDs, entirely within the Band-In-A-Box environment. This degree of organization is invaluable in the studio and could be immensely helpful to your songwriting as well.
Now, some or most of these tools are available inside many DAWs, including notation editing; there are also notation-specific programs that you might find inspiring, some of which contain composer-friendly additions like built-in sound libraries and audio recorders. Some famous examples are Sibelius (avid.com), Finale (makemusic.com), and Notion and Progression (notionmusic.com). I won't say more about them because they're not products I have experience with, but I've worked with a lot of artists who have drawn great inspiration from them, and I expect you'll see more mention of them in upcoming issues of Recording. I will discuss my DAW of choice below, in the context of a different sort of compositional flow.
Bait & Switch
Band-in-a-Box can also be used to play an existing song, over which you can audition an endless variety of original lyrics and melodies, in a kind of karaoke songwriting approach. Sometimes, we just need to sort of trick ourselves into doing something different, to help break ourselves out of old habits that may have begun bringing diminishing returns. For instance, lyricists can also benefit from the tactic of "hanging it on another song's structure."
There is a legend (which may or may not be true) regarding the pop songwriting duo of Chris Difford & Glenn Tilbrook of the band Squeeze. Difford was the lyricist and Tilbrook wrote the music. Allegedly, Difford wanted to try a new approach, just to shake things up a bit. He first compiled the lyrics from a bunch of his favorite Motown songs. Then, he completely rewrote each one, still adhering to the meter and syllable counts of the originals, and subsequently turned them all over to the composer, without letting him in on it. The resulting album was their biggest seller, one many fans cite as one of the best in their catalog.
Another approach: Gimme a beat
Hip-Hop songs require a different method from those illustrated in our previous examples, because in Hip Hop the words almost always come after the music. So first off, you're going to need a beat.
In this instance, a beat doesn't just mean a drum loop. The term includes all of the loops, the samples, the chords and the bass, as well as the all important Hook, which is also referred to within other genres as the Chorus. With so many elements involved in the song's construction, a writer can go from inspired to overwhelmed in a hurry.
There are a lot of DAWs out there that all do an amazing job, but when it comes to simplifying the process so that you can be free to create, I've found for my own purposes that PreSonus's Studio One (presonus.com/
studioone) offers a great workflow.
Studio One's intuitive, tempo-sync based environment keeps all of your loops, MIDI, audio and effects in sync with the song's meter, saving lots of setup and 'tweaking' time. Its easy 'drag and drop' interface almost seems to fade into the background as you create and discover. Loops can be performed and edited with incredible ease and speed, then quickly exported by simply dragging them to the browser. Studio One is not unique in this capability—nowadays most DAWs offer such tools. But it's the one I'm most familiar with.
Whichever DAW you're using, gather a palette of loops and other sounds, and you can begin building a structural framework. Start by a laying down 4 minutes of a two- measure drum loop. Adjust the tempo until you're "feelin' it". Words may already begin tumbling out of you from this humble start. If so, let 'em flow! The rhythms, accents and other forms of cadence that spill forth can influence every aspect of the arrangement that supports your lyric.
Since you're already in a recording environment, there's no better time to get those rhymes down than in the heat of the moment, so reach for a mic. Choose a decent one that suits your voice, in case you end up with keeper tracks.
As before, just lay down what comes out. A great exercise is to loop 16 bars and record numerous passes. Maybe each 'take' brings you closer to what you want, or you can try out a bunch of stuff and go back through and edit it later.
Grab that Ubiquitous chorus we were working on earlier and follow your verses with it for 12 measures. Using E minor as your key, you can begin building the rest of your 'beat' by adding bass, keys and other instrumental loops, or perform them via MIDI on one of the virtual instruments in your DAW.
Much like a sculptor, chiseling away in an effort to reveal the image that lies underneath, you can add and subtract these elements in an endless number of combinations. Structurally, you can shuffle song sections, re-order lyric lines and verses, add breakdowns and bridges, try out intros, etc. In this way, the studio becomes your willing accomplice, rather than one more adversary you need to contend with.
Inspiring sounds
Now that you're ready to flesh out your song and take it to the next level, you might want to look for realistic sounds that can inspire you. Guitarists can get that big-stage sound for styles like Rock, Punk, Metal, etc. from amp modeling plug-ins; your DAW probably came with a few already, and many more are out there. Even the free Apple GarageBand (apple.com/mac/garageband) has sounds that are perfectly suitable for commercial releases. Plus, you can get some of the hugest, gnarliest tones imaginable, riffing and wailing to your heart's delight... without your neighbors ever knowing.
Guitar slingers with iOS mobile devices are also presented with some great writing options, via guitar interfaces like the Sonoma Wire Works GuitarJack (sonomawireworks.com) or the Apogee JAM (apogeedigital.com). These new interfaces connect via the dock connector on your iPhone or iPad, rather than older products that go through the headset minijack and frankly don't sound very good.
Once you're connected, you can open a multi-effect processor app like Positive Grid's JamUp Pro and BIAS (positive
grid.com) and get to rockin'! In addition to being able to play through its faithful recreations of many different amps and effects, you can also dial in your own tones, and when inspiration strikes, you can capture it with the built-in 8-track recorder and export your audio via email or file sharing. This could even be imported back into the hook of your hip-hop production, bringing you full circle!
Getting there in the end
Don't beat yourself up on days when none of these tools work for you. There are times when creativity is calling a time-out. My mother is a painter. She once told me, "Sometimes you paint, sometimes you clean your brushes." So when it's not happening, go for a walk, do house chores, tidy up your studio and your computer's desktop, back up some hard drives, play Scrabble (it will give you ideas for lyrics!)—even though you won't be actually writing a song, you'll still be working at it, just on a different level.
Over time you'll go back to each almost-finished song, listening with fresh ears, tweaking a detail here and there, until you know it's ready to meet its audience. When an audience trusts a song, they can begin to believe that it has a place in their own lives. They will let down their guard and allow you the chance to get inside their hearts. To move them. This is the sacred covenant that makes our efforts as songwriters worthwhile. This is the importance of capture and craft.
(Reprinted with permission by Recording Magazine)
Sven-Erik Seaholm is an award-winning independent record producer, singer and songwriter. His latest release is Seaholm Mackintosh's Monarchs. Check out his website at www.kaspro.com.
For more information on the 19th Annual USA Songwriting Competition, go to: http://www.songwriting.net