WHAT TO LISTEN FOR
By Harriet Schock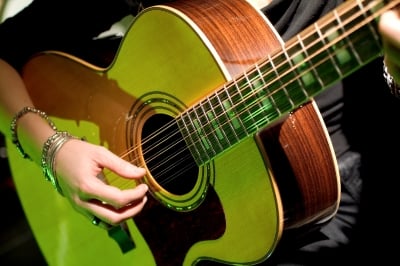 Yes, I teach songwriting. But 28 years ago when USC called and asked me to teach it, I said it couldn't be taught. The next year, I gave in and started teaching and I'm very glad I did. But there is a way that most successful songwriters learn to write and that's by studying other songwriters whom they admire.
I still do that. I will hear a lyric or a chord change and I'll think "OMG! I never thought of doing that! I can do that!" And then my writing just gets better. You might think of doing that.
If it's a chord change, you just figure out what the composer did and put that chord or that movement of harmony into your musical toolbox. If it's a melodic approach, you add that as well. Maybe that writer uses a certain rhythmic approach to melody you never thought of or maybe there is an interval you've never used. I remember when Bobby Brown used a particular diminished chord in "My Prerogative." Nearly every other song that year decided to use that diminished chord one way or another. It's not that the chord had never been used before, but somehow its use that way woke people up to the chord.
Lyrically, I remember when I first heard the Dobie Gray hit, "From Where I Stand," written by Jennifer Kimball and Tom Schuyler:
"From where I stand you are the break of day
You are a silver thread, a star light in the evening
I could hardly feel my heart before you held it in your hands
And I hope you will you will never fall from where I stand."
I was enamored of the way they used a known expression and then twisted its meaning to be literal later in the lyric. I then did it quite a few times in songs of mine "For What It's Worth" and "You Are" and probably others. I did this thinking I had learned it from "From Where I Stand." In fact, much earlier I had written the title song of my second album "You Don't Know What You're In For," using the very same device, unknowingly.
"You don't know what you're in for
Love can be the prison as well as the crime
And you don't know what you're in for
But you still have to do your time."
Because I never realized the device existed, it wasn't really mine to use. So now I have my students word such devices in order to have them for the future. For example, what is Hugh Prestwood doing in "The Song Remembers When"?
"That's just a lot of water underneath a bridge I burned,"
Can you put it into words? Think about it for a minute before reading on.
He's taking two expressions that share a common word and hooking them together into one sentence. Once you're aware of it, you're off and running.
I subscribe to TunaDay, which is a wonderful daily song sent out by Rob Meurer, who is not only one of the best lyricists/songwriters out there but who also has a virtual Wikipedia of songs in his head. Recently he reminded me via TunaDay (you can sign up for it for free from his website at www.robmeurer.com) of Bobbie Gentry's "Ode to Billie Joe." Study that lyric for lots of devices and tips on great songwriting. And while we're on the subject, check out Christopher Cross's new CD, "Secret Ladder." Rob Meurer wrote most of the lyrics. It's a virtual treasure trove of great lyrics—and of course, Christopher Cross's melodies, chords and vocals are fabulous also. http://www.amazon.com/Secret-Ladder-Christopher-Cross/dp/B00MD0PVOU/ref=sr_1_1?s=music&ie=UTF8&qid=1415825728&sr=1-1&keywords=secret+ladder
You can learn by listening and then you can deduct all your CDs and equipment as research! When you go to H&R Block, you can quote me.
Harriet Schock wrote the words and music to the Grammy-nominated #1 hit for Helen Reddy, "Ain't No Way To Treat A Lady." Her songs have been recorded by many other artists and used in TV shows and films. She co-wrote the theme for "Jakers! The Adventures of Piggley Winks," currently showing in 30 countries. She and her band were featured in Henry Jaglom's film "Irene In Time" performing 4 of Harriet's songs. She also scored three other Jaglom films and starred in "Just 45 Minutes from Broadway." Jaglom's current film, "The M Word," features Harriet's song "Bein' a Girl," performed on camera at the end of the film. Harriet wrote the songs for "Last of the Bad Girls," a musical with book by Diane Ladd. Karen Black wrote the play, "Missouri Waltz," around five of Harriet's songs, which ran for 6 weeks at the Blank Theatre in Hollywood as well as in Macon, Georgia. Harriet is currently writing lyrics (Misha Segal, music) for "Platypus, the Musical." In 2007, Los Angeles Women In Music honored Harriet with their Career Achievement and Industry Contribution award. Harriet teaches songwriting privately, in classes and an online course by private email. For her performance schedule, list of credits and samples of her work or information on her book (Becoming Remarkable, for Songwriters and Those Who Love Songs), her songwriting classes and consultation, go to: www.harrietschock.com
For more information on USA Songwriting Competition, go to: http://www.songwriting.net