WHY PLAY OTHER WRITERS' SONGS?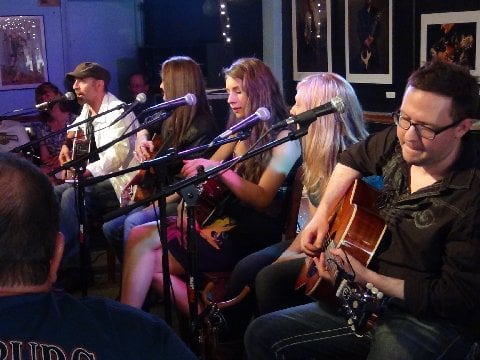 by Harriet Schock
Many songwriters start out in cover bands and play other people's songs for years before they start writing. This offers a large palette of chords and melodies to choose from. The brain is a very good computer but like a computer, what comes out is dependent upon what goes in. If you learn a few chords and start writing songs, never having played others' songs—by ear or even reading charts—your songs may show it.
My mentor, Nik Venet, used to say that Picasso could paint a picture to look exactly like the object or person—representationally. The point of this is that he had the craft of painting DOWN before he developed his own style. I think it's a good idea to play the songs of those writers and singers you admire. Then when you write your own songs, some of that will have rubbed off on you. And if you can duplicate someone else's song, your craft will simply be stronger. Not recognizing a chord when you hear it will mean that chord is simply not in your musical vocabulary any more than not recognizing a word in a sentence when you hear it.
Even lyrically, it's a good idea to listen, listen, listen. As I've mentioned in other blogs, listen to what that lyricist is doing and ask yourself how he/she did it so you can add that to your toolbox. But right now I'm discussing the merits of listening to music written by others.
I know excellent writers who say they don't want to be influenced by the music of others, so they don't listen to it. Maybe that's true currently, but you can bet they have been influenced in the past. Before they were writing, they listened to all kinds of music from all sorts of sources. You can't go into a restaurant, a grocery store or an elevator without hearing music. You can't be on hold on the telephone without hearing music. Granted some of these musical influences are pretty deadly, but you hear them. So you might as well prime your mental computer with something you love. That affinity you have for the song, mixed with the mere hearing of it, will allow it to enter into your computer and you will find that your own music has benefited greatly.
Think of a song you've always loved. Pick it out by ear, or if necessary, look at the chord chart or sheet music. Play it over and over. Dive into that song. Go back to the original and make sure you got it right. Play your copy of it, then play the original, then play your copy of it again. See if the next song you write has a little of the wondrousness of that song you've been swimming in.

Harriet Schock wrote the words and music to the Grammy-nominated #1 hit for Helen Reddy, "Ain't No Way To Treat A Lady" plus many songs for other artists, TV shows and films. She co-wrote the theme for "Jakers! The Adventures of Piggley Winks," currently showing in 30 countries. She and her band were featured in Henry Jaglom's film "Irene In Time" performing 4 of Harriet's songs. She also scored three other Jaglom films as well as starring in "Just 45 Minutes from Broadway." Jaglom's current film, "The M Word" features Harriet's song, "Bein' a Girl," sung on camera. Karen Black wrote the play, "Missouri Waltz," around five of Harriet's songs, which ran for 6 weeks at the Blank Theatre in Hollywood as well as in Macon, Georgia. Harriet teaches songwriting privately, in classes and a popular online courses by private email. In 2007, Los Angeles Women In Music honored Harriet with their Career Achievement and Industry Contribution award. For her performance schedule, list of credits and samples of her work or information on her book (Becoming Remarkable, for Songwriters and Those Who Love Songs), her songwriting classes and consultation, go to: www.harrietschock.com.
For more information on the 20th Annual USA Songwriting Competition, go to: http://www.songwriting.net