Creative Collaboration: The Power of Co-writing by Melissa Axel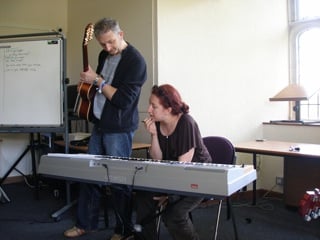 Everybody knows the three keys to a successful business are "location, location, location!" For successful songwriters, there is another mantra: "co-write, co-write, co-write!"
Still, many of us have grown accustomed to making music alone in our creative caves and may be nervous about teaming up with other writers. Let's take a look at some of the benefits of creative collaboration, whether it takes place in the same room or online with a co-writer many miles away …
Different minds bring fresh perspectives. Unless you've been deliberately writing about a variety of subjects, it's likely (and natural) that your songs tend to focus on the same handful of topics you know best or care about most. Pairing with someone else brings a second lifetime of experiences to the writing table, challenging you to try on new shoes and see what another person's ideas might look like told through your eyes.
Variation opens up new melodic and harmonic possibilities. If you tend to favor the same keys and chord progressions, writing with someone whose first instrument is different from yours can lead you down fresh musical paths. Guitarists could try writing with a pianist, violinist, cellist, mandolin player, etc. (and vice versa). Also, look for people who share some of your influences and lyrical interests but are into other musical styles or approaches to songwriting as well. Always wanted to explore African grooves or incorporate bluegrass elements into a pop song? Find an artist/writer comfortable in territory that's new to you, and give it a try!
Two heads really are better than one. It's easy to beat our heads against the wall or even put a song aside for years when we get stuck on a section of lyrics or melody that just doesn't feel "right." Or perhaps you have some choruses that need verses or a song that's missing a bridge. Trusted writing partners not only bounce ideas off of each other but also can become a great for completing unfinished songs and making sure each word and note is the strongest possible choice.
So where do you find people to co-write with? They might be performing artists in your local music community, writers you know from songwriting websites and social network groups, composers who usually write instrumental music, or producers who create tracks for artists who only sing or rap. Be open to meeting songwriting partners if you travel to perform or attend songwriting conferences, too. It's easy to write across the miles with online audio/video chat programs or even by sending MP3s and lyrics back and forth via email.
If you're ready to broaden your songwriting horizons, take your time and get to know potential co-writers and their writing styles. As your songwriting becomes more plentiful, diverse, and enriching, you'll be glad you reached out and found creative collaborators who are a really great fit.
Melissa Axel is an Artist Relations representative of USA Songwriting Competition. At just eight years of age, she was writing songs about the bittersweet journey of life, love, struggle, and inspiration. The piano-driven singer/songwriter studied at Boston's renowned Berklee College of Music and went on to earn her master's degree in Interdisciplinary Arts from Nova Southeastern University. Axel's new album love . humanity . metamorphosis will be released September 20, 2011. For more information on USA Songwriting Competition, go to: http://www.songwriting.net