[Songwriting Advice] Choosing the Chords That Work With Your Melody
by Gary Ewer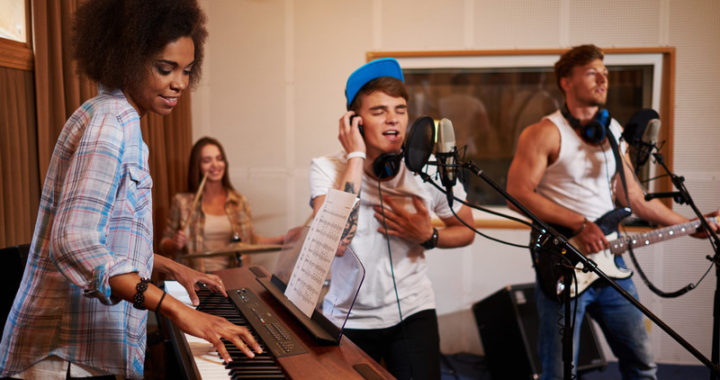 You'll notice that when you've got a melody, the notes of that melody imply the chords you're likely to use. That's not to say that you've got no choice in the matter, of course. For every chord you might use, there is a list of chords that could serve as substitutes. Just as an example, here's two versions of the opening of "Twinkle Twinkle Little Star," each version using different chords:

VERSION 1: I I6 |IV I6 |V I |V V7 I|| (C C/E |F C/E |G C |G G7 C||)

VERSION 2: vi iii |V/V V4-2/V V6 | IV6 I6-4 | ii6 V I ||
(Am Em |D D7/C G/B |F/A C/G |Dm/F G C ||)


When songwriters get stuck at the chord progression stage — where they just don't know what chords they're supposed to be using — the main cause of the distress is a simple one: forgetting to listen to the melody!

The notes of your melody are going to be the main guide. After considering the notes, you then need to know a bit of chord theory. Not much, actually, just these following points:


Good pop chord progressions make great use of the circle of fifths. If you're not sure how that works, give this article a read: "The Circle of Fifths Progression: Making It Relevant for Songwriters." All that's meant by this is that for most progressions, you'll find many spots where the distance between the roots of adjacent chords is a 5th, like this progression: C F Dm G C. From C down to F is a 5th; from Dm down to G is a 5th; and from G down to C is a 5th. This is a vital part of good chord structure.
Good pop chord progressions target the tonic chord. The tonic chord is the one representing the key of your song. If your chorus is in C major (like the bit of "Twinkle Twinkle" I used at the beginning of this article), C is the tonic chord. Chord progressions should (usually) seek out that chord. They'll often start on the tonic, wander away, but immediately try to find it again. In the progression C F Dm G C, you can hear the progression trying to find that tonic C chord again, certainly by the time you've reached Dm.
Good pop chord progressions tend to make most of the chords change on strong beats. To find the strong beats, simply tap your foot to the music. Your musical brain will automatically sort it out. Your foot will go down on a strong beat, and up on a weak beat. Start adding chords on strong beats.
Good pop chord progressions honour the function of the chords. Chord function can be a tricky concept, but for pop music, it tends to be rather simple, and you can get away with considering three basic functions: the tonic function, the pre-dominant function and the dominant function. The tonic function is typically represented by the tonic (I) and sometimes the vi-chord, the pre-dominant function by the IV or ii-chord, and the dominant function by the V-chord. Each function has a list of substitutes that can be used. To learn more about this, read "Creating Good Progressions: It's All About Chord Function."


You'll find that occasionally putting a chord on a weak beat works well. In VERSION 1 above, the final bar has a chord on beat 1 (a strong beat), beat 2 (a weak beat) and then the final chord on beat 3 (another strong beat).
Don't Forget to Listen!

There's a lot of experimenting that goes into creating a chord progression for your melody. Here's a summary of points to remember:


Listening carefully to the melody is the most important part about adding chords. Discover the notes your melody uses. Look at each strong beat, and then look at the weak beat that follows.
The chords you choose should use the strong beat note and most (not necessarily all) of the weak beat notes.
As you work out your progression, keep in mind the need for many adjacent chords to use roots that are a 5th from each other, and use the tonic as a musical target.
Find songs that you like and play or sing through the melody slowly without chords. Then play the chords and sing the melody. Notice how the progression targets the tonic, and make note of where the chords change. Most of the time, you'll notice those changes happening on strong beats.

Read more in Gary Ewer's book, Beating Songwriter's Block. Visit beatingsongwritersblock.halleonardbooks.com and enter the discount code AP2 at checkout to receive 20% off the list price and free domestic shipping (least expensive method)!
Information on the 23rd Annual USA Songwriting Competition, go to: http://www.songwriting.net/enter