How to Get Your Music Streamed Online - A Musician's Guide to Spotify, Amazon and Apple Music
by Georgia Carter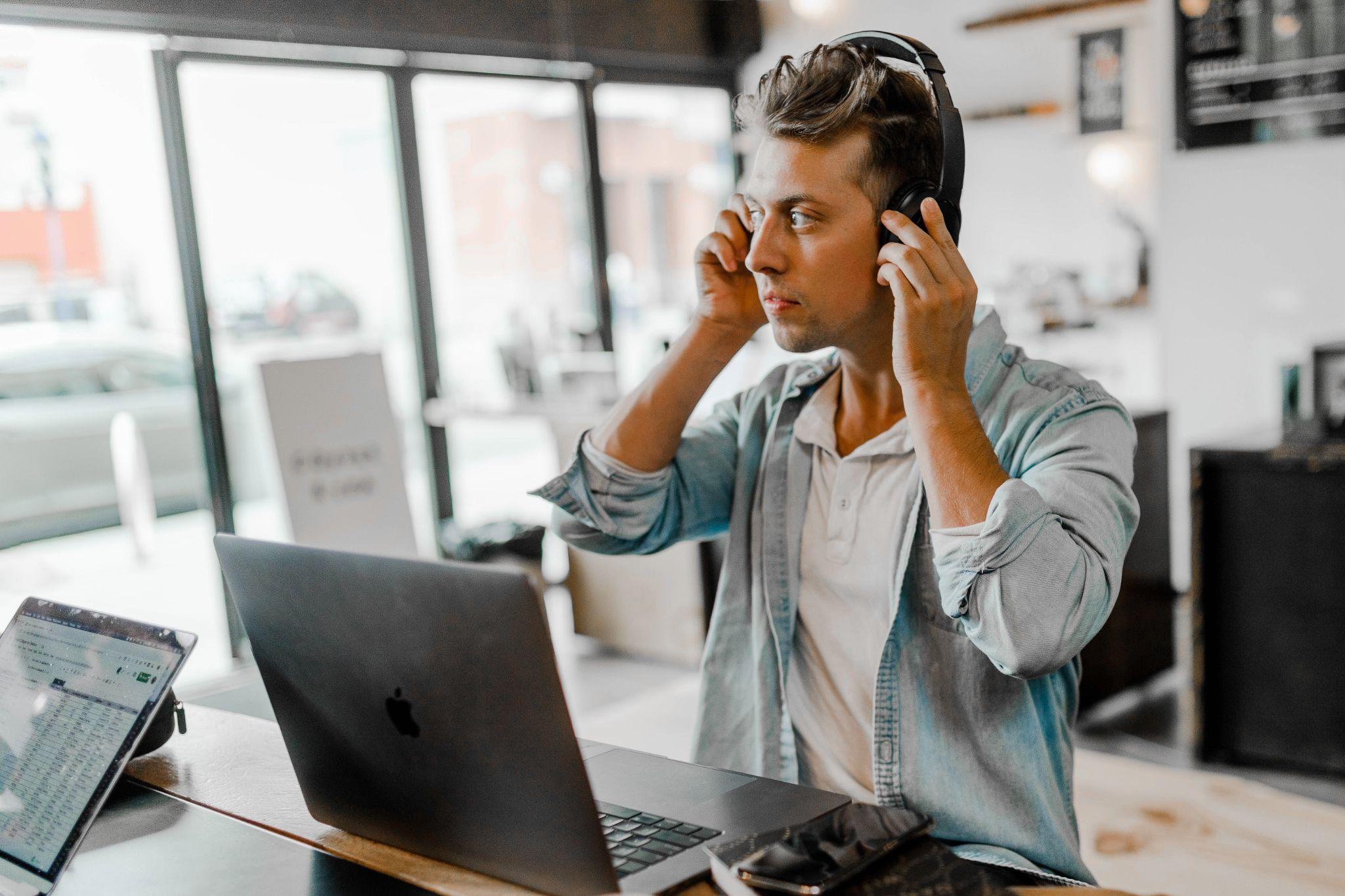 In terms of music promotion, using a digital streaming platform is one of the easiest ways to ensure your fans listen to your music. It is even easier now to download songs on your device and listen to them for free or pay for a monthly subscription which doesn't break the bank. So as a musician, you need to make sure your music is on one of these sites, and I will be taking you through the more recognizable platforms today. I believe most people would have heard of Spotify, Amazon, Apple Music and SoundCloud by now, but I want to give you the lowdown on what each offers and what is best for you as an artist.
What Is A Digital Streaming Platform (DSP)?
A DSP allows you to upload your music onto a digital site whereby people can stream and download your music. This is one of the ways you can monetize your music as an artist and if you do this right, then it can be very lucrative. Of course, these platforms can be used on any device, whether that be a phone, iPad or laptop. Using these sites, your fanbase can stream all your music, including music videos wherever and whenever they want.
Spotify Promotion
In terms of music promotion, Spotify Music Promotion is undoubtedly one of the largest DSPs out there and pretty much everybody has heard of them. I would say that if you have your music on Spotify, you will most likely get your music listened to by a large demographic. Since it was established in 2006, it has created a platform which offers a real-time service for music fans and there are different types of subscriptions to match your needs as a user. For example, your fans will be able to listen to your music for free or choose to pay a premium subscription, which means no ads and better audio quality, or there are even family and student accounts. It is a flexible service, for anybody to use.
So as a musician you need to find the best company to help you engage with your audience.
Music Gateway can help you build streams and engagement within the platform. They work alongside Spotify music curators worldwide to get your music listened to and do this on a very individual basis depending on the artist's needs. They have trusted connections with powerful influencers and decision-makers, and offer playlist pitching to targeted curators, optimisation, organic growth in streams, monthly listeners and followers. You can't argue with that!
Spotify's Algorithm
As an artist, as well as getting people to listen to your music, you need them to keep on doing it, so the algorithm is key to this process. So, the more your listeners do not skip between your songs, and you see they are happy when streaming your music, you will be added to Spotify playlists and your audience will grow. I would also definitely suggest that you submit new singles, and any new music to Spotify when you can, as this will help you increase those stream figures.
There are certain playlists that as an artist you would benefit from being added to and Music Gateway can help you pitch to people who will curate these lists.
Editorial Playlists - these are curated by the editorial team at Spotify and can be very selective. There are more than 3,000 playlists like this and do not rely on an algorithm, hence why they can be more particular in nature.
Popular playlists include Hip-Hop / R&B, Rock, Pop etc. You need to create a free account on Spotify for Artists and pitch your song at least a week before it is going to be released. Once your account is verified, the more your audience will see you as a serious contender and you will therefore accrue more data. It all adds up and so the more present you are within the platform, the better you will perform in the long-term in relation to your listeners.
Algorithmic Playlists - we have covered this briefly above, but ultimately these are created by Spotify and the user will be able to stream music aligned with their unique taste. Discover Weekly, Release Radar and Daily Mixes are a favourable part of Spotify's service. Based on the behaviour of the user, this will then generate the type of music they will be shown to listen to.
Royalties
Royalties are the revenue you make as an artist from someone streaming your music. And as of May 2022, Spotify pays artists between $0.003 - $0.005 per stream on average. So this works out at 70% to the artist and 30% to Spotify in terms of revenue.
In addition, the Spotify payment per stream process - your revenue - does depend on a few factors, which are;
- Spotify's streaming revenue total
- The negotiated global payout as a percentage of that revenue
- The total number of streams on Spotify
- The total number of your streams from your music on Spotify
If you are wondering how much do artists make on Spotify, well I suppose it depends on the artist you are and how large your audience is. Harry Styles for instance or The Rolling Stones may get a hefty amount of royalties since they are popular musicians. But for more independent artists or those who are starting you in the world of DSPs, then it is a great start. The music industry is fully digital, so as an artist, you have to be able to work with DSPs to ensure your music gets heard by as many people as possible.
In short, Spotify will help build your brand profile, through more streams of your music and essentially drive more traffic through other social media platforms.
Amazon Music Promotion
Another digital streaming platform to help you grow your music is Amazon Music. You will secure more followers and plays through streaming, so Amazon Music Promotion will help you achieve this. With over 55 million users, it certainly shows how much weight it carries in the industry. This service comes with your Amazon Prime membership if you have this for a discounted rate.
Similar to Spotify, you are able to create an artist's account which is then verified, whereby you can start to collect data with regards to streams. In terms of the process of being added to a certain playlist on Amazon, you - with the help of your manager or publisher, like Music Gateway, can send your music to Amazon music curators and the rest is history.
There is a similarity in the use of algorithms so you are recommended music that would suit you based on the genres you previously have listened to.
Pitching A New Release To Amazon Music
There is an Amazon Music For Artists app which you can download to help you pitch new music. Once this is up and running, you choose 'New releases'. As you will be pitching one song per new release it is best to choose a single that you think will gain the most traction and the most followers. It has to be a new song, and up to 14 days after the release date.
You then need to tell Amazon Music why you want to release this new sound, what is its selling point and how you will enable the promotion of this track. Music Gateway could help you produce this. What is its genre, mood, and who are your fans? The more you know about your release the better.
Alexa Compatibility
Of course, you will likely have heard of Alexa and great news, Amazon music is compatible, which means that your followers will be able to listen to your music hands-free, using the voice controls in the system. This makes it even easier to reach more people and cuts the time they would spend searching for your song by half.
Apple Music Promotion
Launched in 2015, Apple Music Promotion is making serious headway to be amongst the titans of digital streaming platforms.
There are so many unique features on the platform that will aid you in releasing your music, and also in terms of mixing and mastering your audio.
Your music is something that you have spent a decent amount of time and energy on, so why not make it count? Connect with your fan base and nurture them.
Spatial Audio
When you record music, you want to achieve the highest standard and for it to sound authentic, so with the help of Dolby Atmos and Logic Pro, you are able to create a connection between location and the recording itself. You as the artist can create innovative and original music.
Simply put, Dolby Atmos is the "multichannel audio technology that maps sounds to specific locations around the listener's headspace." It can be used in any location, whether that be at home or in a studio. Essentially, you will be able to achieve a smooth, and distinct track in any environment in which people choose to listen to your music.
Garage Band
Experiment with sounds and mix them on the go, using the software GarageBand in the form of voice memos, to later build on to produce a fully formed track. There is space for spontaneity and this is where Apple Music really shines through as championing the artist's creativity and focusing on their needs. You will have the skills in audio mixing and mastering in just one piece of software, and Logic Pro is a very impressive DAW for a streaming platform. Kudos to Apple Music for this feature to help aid music promotion for artists.
Preparing Your Release
When it comes to publishing your music, you will need a trusty advisor to help you through the process and Music Gateway can be that guide. As is the similar process for Spotify and Amazon Music, we will help you release that track that means so much to you and take you to the next level.
You should upload your lyrics, which is something that Spotify does, so your fans can sing along and be fully immersed in your music.
Add your artist info - or metadata if you will - so fans can get to know you, and your songs and further connect with you. This is very important if you want longevity and it should be at the forefront of music promotion.
Of course, creating an EPK and cover art alongside your track will be a hit with your fans too. Think of your one track being multi-dimensional.
Milestones
Another way to connect with your fans is to celebrate your milestones with them and you can do this via social media, with the Apple Music For Artists app. You can share "new playlists featuring your songs, how many Shazams you have in a given country or region, and other notable milestones you've hit on Apple Music." All of this info can easily be integrated with the largest social media platforms, such as Instagram, Facebook, Snapchat and Twitter.
In addition to milestones, you are able to create QR codes, badges, links and logos for your fan base, therefore providing huge promotional potential for your music with the added extra of collecting data at the same time. You can see what works and what doesn't and tweak your campaign for your track depending on what your fans like.
SoundCloud Promotion
The last digital streaming platform I will mention today is SoundCloud Promotion. This free service for artists allows them to produce and release music to a wide audience, and so is a valuable foundation for independent artists. It allows them to find a solid fanbase. It is easy to use, enabling them to share their work and connect.
Even though you can use the platform for free as I previously mentioned, if you want to grow your audience, you can buy a yearly subscription, billed at £7.50 a month. It is called Pro Unlimited. Do you want to be able to replace your track without losing its stats, or get paid fairly for your plays? Then SoundCloud is the way to do this. You can schedule your releases in advance and upload music in real-time, anywhere.
First On SoundCloud
This is the emerging artist picks program, which champions those artists who have their breakthrough moment and the annual campaign is of huge relevance to SoundCloud.
The 9 artists who were named on the program were; Ekkstacy, Isabella Lovestory, Kelow LaTesha, KenTheMan, Nezi Momodu, Pote Baby, Riela, Rosemarie, and Titus. Watch this space, that is all I am saying.
"The year-long program will see SoundCloud filming interviews and behind-the-scenes video; creating an original docuseries for each artist; providing funding for "original creative projects"; and putting on a special event at some stage featuring all nine."
Remember, as with Spotify, Amazon and Apple - any DSP - the more your music is listened to on this platform, the more you will earn. And as I mentioned before, there is a real sense of community for the artists on SoundCloud, especially amongst those emerging musicians and they can be given feedback on their tracks, grow and interact with like-minded people.
Other Honorable Mentions
So here are some other platforms you can try out there for streaming your music.
1. Tidal

2. Deezer

4. iHeartRadio

5. YouTube Music

6. Pandora

7. LiveXLive

10. Quobuz
About Music Gateway:
Music Gateway is a sponsor of the 28th Annual USA Songwriting Competition. So have you decided which of these platforms you are going to choose to sell your music online? At Music Gateway they also have guides to help you understand Music Royalties and Music Licensing. You can really amplify your music to your fanbase with music marketing and promotion or explore music publishing and distribution. Try all of this out for yourself when you join Мusic Gateway.
For information on the USA Songwriting Competition, go to: https://www.songwriting.net