How to hack the songwriting process
by Ged Richardson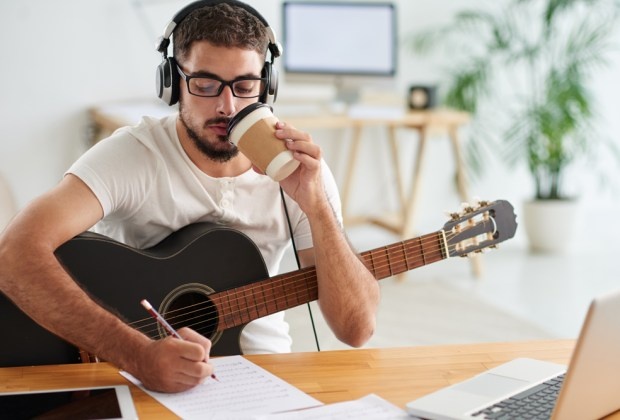 Songwriting is as old as the hills, so writing songs should be straight forward enough right? Wrong! Penning a song that stands the test of time and resonates with an audience is one of the hardest things to do. You need to boil down the essence of a feeling, or a mood, or an emotion into a 3 or so minute song.

Fortunately our friends over at Zing Instruments have been studying songwriting for some time and have come up with some 'hacks' that help accelerate the songwriting process.

There's nothing more intimidating than a blank piece of paper. Starting the process of writing a new song can take just as long as finishing it - give one or all of these a try and see if they work!

Write the beat and melody first and lyrics last
There's nothing that wastes time quite like writing a set of great lyrics and then discovering that there's no way you can fit that many syllables into one verse. If you know how many beats you have to fill, that's half the job done for you.

Writing the melody before the actual words is also a great way to accelerate your songwriting. Since you'll know how a particular lyric is going to sound, it's easier to fit the meaning to the music. After all, can you imagine if the "happy birthday" song was set to extremely atonal jazz? The lyrics must fit the mood.

It's also an easy way to make dissonance your friend. The Smiths were particularly adept at writing overwhelmingly cheerful sounding music that emphasised the melancholic tone of Morrissey's vocals.

Switch from 4/4 time signatures
If you're really stuck for ideas, doing nothing more than changing up the time signature for a few bars will help you draw attention to hook lines and connect different parts of your song structure together. The simplest way to do this is to simply kill every instrument, guitar pedal and the rest, except for the drums and have that switch to 6/8 timing for a brief moment, before reverting back to 4/4.

Use Chord Inversions
Everyone is used to hearing chords in their typical form, with the root note being the deepest and each tone going up in pitch. To instantly make any chord progression more interesting, simply invert it so that the root note is the highest, and the fifth is the deepest. This takes no extra work at all and can instantly help you to progress with writing a song as it gives you an easy way to switch up your bass line and add flavour to an otherwise dull song.

Modulation for faster variety
On the second or third verse of a song, it can be a little dull to stick with the same old progression. However, since writing a whole new sequence is going to take just as much time as the first one, switch to the relative minor or major scale of the one you were using before. To do this, take the 6th note of the major scale and use that as the root note for the relative minor. Now you can write the exact same sequence, but using the intervals of the new scale instead. This is handy for making a moodier reprise of an early part of your song.

Leave sections blank
This might not sound like you're actually writing a song, but bear with us here. Instead of painstakingly writing out the entirety of a solo, leave a bar or two completely empty. If your guitarist (or whoever will be doing the solo) is competent at improvisation, this is a great way to give them a chance to show off their technical skills without getting too far away from the overall character of the song. If they don't know how to improvise, make sure that they know the major and minor scales of the key at the very least and let them loose. Since it's only a couple of bars, it won't be difficult or particularly noticeable if done poorly.

This is also a great way to make each gig unique, which dedicated fans will love.

Outline the structure first
Instead of writing each part of the song in sequence, develop the overall direction first. If you know what each piece of the song has to accomplish, then it's much quicker to write those parts in detail. This way, you don't suddenly realise halfway through the writing process that the last bar of the chorus doesn't actually work with the first bar of the next verse, and vice versa.

The theories of cadence and voice leading are particularly useful here, as you can simply jot down some of the basics to refer to whilst writing a song.

Learn to read and write music
Many guitarists, bassists and other non-classical instrument players are more used to reading tablature than staff notation. However, developing fluency with this method of writing music allows you to apply your musical knowledge much more easily as you can visually see the development of music. Tablature is great for quickly teaching other people how to play a song, but as a songwriter you need to know why it sounds that way.

Staff notation helps with this, as you can easily see how the notes relate to each other tonally. It's also much quicker to write once you're fluent, and will contain absolutely everything you need to know about a piece of music when done properly. This eliminates a lot of the guesswork that can crop up after you've written a piece of music and forgotten some of the more subtle details about how it sounded in your head.

In Summary
Armed with these tricks, your songwriting skills will change practically overnight. It doesn't matter if you apply all of them at once (although that isn't entirely practical) or try them out a few at a time. Your own process is going to be a factor in this, so perhaps some of them won't be entirely applicable. Don't fret about this, just do the ones that feel 'right' to you.


Ged Richardson is founder and editor-in-chief at Zing Instruments, a music blog dedicated to helping teach 1 million people how to play music and connect with their creative side (to find their 'Zing'). https://zinginstruments.com/


Information on the 23rd Annual USA Songwriting Competition, go to: http://www.songwriting.net/enter