How To Write A Hit Song
by Mark Cawley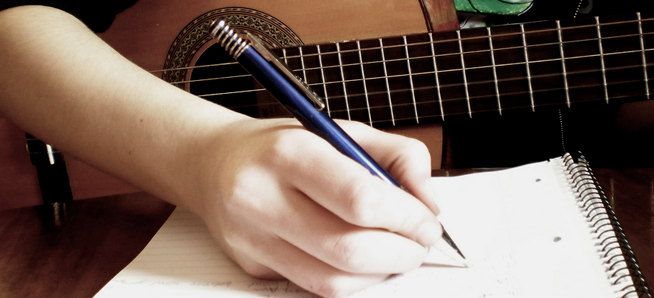 If chart success is your songwriting goal, then you need to pay attention to how today's hits are actually written. MARK CAWLEY of iDoCoach.com shares some thoughts on breaking into a very competitive field..
Even as I sit down to write this, I can hear the groans. "Who is this guy? How can he claim to know how to write a hit? And if he knows, how come he hasn't written a ton of them?"
So let me back up. No one can guarantee a hit. No label, no producer, no artist, and no songwriter. Max Martin misses, Diane Warren misses, Ryan Tedder misses. They all miss more often than they hit! There is no formula. But there are things you can do to up the odds of your song getting heard, cut, and (if all the stars align) becoming a hit.
Look Around You
Start by doing your homework. Listen to the hits and look for patterns. Are you hearing lots of songs about affirmation? Songs that say 'I wanna see you be brave, stronger, beautiful, happy'? Songwriters have long understood that one of the quickest ways to a listener's heart is to lift them up with your song. There's a fancy term for this called 'second person positive,' which basically means writing lyrics that make someone else feel great about themselves. A classic example of this it would be the Joe Cocker standard, "You Are So Beautiful."
I'm in Nashville and every publisher, artist and producer right now is asking for 'uptempo positive'. The reason for this is the sheer volume of ballads and midtempo songs they get: for some reason, when a writer gets in the room with an acoustic guitar or a piano they turn into Ed Sheeran or James Taylor. It can be hard to create the energy required unless you plan for it, but again, your chances of getting that hit improve by giving the powers that be what they're asking for.
One of the very best ways I know is to get in the habit of deconstructing recent hits. Go beyond just learning to play them: write down the structure, print out the lyric, make notes about the production. I'm always amazed at the songwriting clients I get who will say they want to write a huge song, but who pay absolutely no attention to the current hits. If you're writing pop or even new country and still creating long intros, lots of verses, using only one hook, and aren't familiar with terms like 'post-chorus', you might have a harder road.
Try going one step beyond deconstructing and create a playlist with a couple of hits along with a song of your own. Try to pick ones that might have a bit in common with yours, but the idea is to be objective. Does your song hold up to the two hits? If not, why? Go back to your notes. What's different? The point is not to clone, just get this info into your subconscious so the next song you write is at least informed by structural ideas that are more current.
Do It Yourself
A bit of a disclaimer here. Even though you're listening to the radio and learning the structural and lyrical as well as musical content, the songs you're hearing were probably written and recorded as much as a year ago. If you set out to write something exactly like what you're hearing, you're likely already too late! So what can you do now?
Try and take it all in and then add yourself to the mix. What makes you different as a songwriter? Can you bring something fresh to your songwriting? You could argue there's nothing new under the Sun, but I would disagree. Music goes in cycles, styles change, old becomes new every once in a while. Our job is to tap into a listener's head and create something that a whole lot of people are gonna love at the same time.
It's not easy, but the chances get better by not only honing your craft, but learning what came before (even if it's only a month back). It all goes into your toolbox as a songwriter and gives you the best chance of writing a hit.
Team Up
Finally, I want to talk about the biggest obstacle to writing that hit on your own. This is something that comes up in my sessions all the time: people say to me, "I look at the writing credits on a Beyoncé song and see six writers! How can I hope to be heard, if I'm not part of one of these writing crews?" It's a tough one. But keep in mind, not every song is a hit by committee!
There are two ways to go to access this route. One is to create your own team. If you're a writer but have no aspirations to produce, find someone who's interested in production and work with them. If you're a writer but not the artist, look for local talent; find someone with star potential and hitch your wagon to them. Hit songwriter Liz Rose co-write with Taylor Swift when no one else really wanted to know, and that worked out rather well for her…
The other route is to join an existing team. I just read an interview with Dr Luke in which he talked about signing writers to his publishing company, usually for their unique talent. Anything from track-builders to vibe masters that know how to get the most out of co-writing with an artist. The point was they gained entry to the writing process, and some have moved from being the fourth writer on a song to producing artists and co-writing with them. I did this for a few years, working with Eliot Kennedy and his hit machine Steelworks in the UK. By getting access to the artists he was working with, I got cuts on many of them, including the No 1 single Day & Night by Billie Piper.
Again, there's no magic bullet for writing a hit... but you can definitely educate yourself to get your best shot. Good luck!
[Reprinted by permission from Songwriter Magazine]
ABOUT MARK CAWLEY
Born in Syracuse, NEW YORK, Mark has LIVED in Nashville FOR the last 20 years. His songs have been recorded by Tina Turner, Joe Cocker, Chaka Khan, Diana Ross, The Spice Girls and many more. These days, he mentors WRITERS AND ARTISTS around the globe via iDoCoach.
To enter the 21st Annual USA Songwriting Competition, go to: http://www.songwriting.net