by Scott Ashley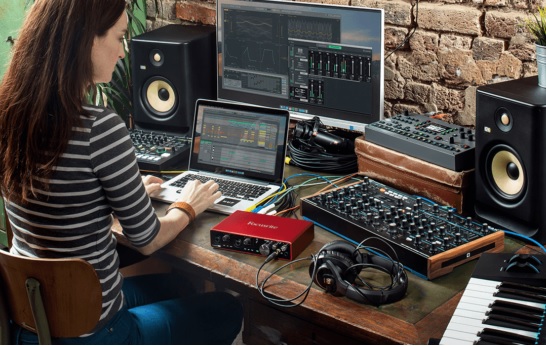 Do you use interpolations when you write songs? Interpolation in songwriting is a technique that involves the incorporation of pre-existing melodies or lyrics into a new composition. This approach is often used to add familiarity and nostalgia to a song, as well as to pay homage to the original work. An interpolation is when you use any portion of lyrics or melody from a copyrighted song that you did not write within an existing composition, original composition, or public domain song.

Interpolation has been a common practice in the music industry for decades, with many of the biggest hits of all time utilizing this technique. One of the most famous examples of interpolation is the use of the melody from "My Favorite Things" in the song "Seven Rings" by Ariana Grande. The song channels the melody of The Sound of Music's "My Favorite Things" in the verses: "Breakfast at Tiffany's/And bottles of bubbles/Girls with tattoos who like getting in trouble/Lashes and diamonds, ATM machines/Buy myself all of my favorite things".

The use of interpolation can be controversial, as it can lead to issues of copyright infringement. In order to avoid legal trouble, songwriters must obtain permission from the original copyright holders before using their work in a new composition. This can be a difficult and time-consuming process, but it is necessary in order to ensure that the new song is legally sound.

Interpolation can be a powerful tool for songwriters, as it allows them to draw on the emotional resonance of pre-existing works to create something new and unique. By incorporating familiar melodies or lyrics, songwriters can tap into the nostalgia and sentimentality of their listeners, evoking a range of emotions and creating a deeper connection between the audience and the music.

However, it is important for songwriters to approach interpolation with care and respect. Using someone else's work without permission is not only illegal, but it can also be seen as disrespectful to the original artist. Therefore, it is crucial for songwriters to obtain permission and give credit where credit is due.

Here are some other examples of interpolation in Pop music:

1. "Crazy in Love" by Beyonce featuring Jay-Z interpolates the horn line from the song "Are You My Woman (Tell Me So)" by the Chi-Lites.

2. "Uptown Funk" by Mark Ronson featuring Bruno Mars interpolates various elements from classic funk and R&B songs, including "More Bounce to the Ounce" by Zapp, "Funky Worm" by Ohio Players, and "Oops Up Side Your Head" by The Gap Band.

3. "Finesse" by Bruno Mars featuring Cardi B interpolates the melody and groove from the song "Remember the Time" by Michael Jackson. Its bass line and beat have also been compared the new jack swing style to Jackson's album Dangerous (1991).

"Angel" by Shaggy Interpolated from "Angel of the Morning" by Chip Taylor (made famous by Juice Newton) and "The Joker" by the Steve Miller Band.
The thin line between Plagiarism and Interpolation
Once it is an unconscious interpolation, this can result in lawsuits unless you provide credits to the original songwriters.
There was a famous case of Beyoncé removing 'Milkshake' interpolation from her album 'Renaissance' after complaint from Kelis in 2022. Before the release of "Renaissance," Kelis criticized Beyoncé for not seeking her approval to use her 2003 Grammy Award-nominated smash, "Milkshake," for her song, "Energy." The fifth track on "Renaissance" features an interpolation of Beyoncé singing "La, La, La, La, La," in a similar fashion to that of Kelis' rendition on "Milkshake." Pharrell Williams and Chad Hugo of The Neptunes wrote and produced the song.
"Good 4 U" by Olivia Rodrigo hit #1 in 2021. In August 2021, Paramore members Hayley Williams and Josh Farro received writing credits, as the chorus was inspired by Paramore's 2007 song "Misery Business". This proved to be controversial as many disputed the plagiarism claim, citing them as being two completely different songs with some similarities. Rodrigo later responded, discussing her feelings about Williams and Farro being added as co-writers on "Good 4 U".
In the case of "Stay with Me" by Sam Smith: In January 2015, it was revealed that a settlement had been reached with Tom Petty's publishing company to add Petty and Jeff Lynne as co-writers, and that they would receive a 12.5% songwriting credit. Petty's publisher contacted Smith's team after it noticed a likeness between "Stay with Me" and the melody of Petty's 1989 song "I Won't Back Down". Petty clarified that he did not believe Smith intentionally plagiarized him, saying "All my years of songwriting have shown me these things can happen. Most times, you catch it before it gets out the studio door, but in this case, it got by. Sam's people were very understanding of our predicament and we easily came to an agreement." According to Smith, they had never heard "I Won't Back Down" before writing "Stay with Me", but they acknowledged the similarity after listening to the song, and said that the likeness was "a complete coincidence". Petty and Lynne, however, were not eligible for a Grammy as the Recording Academy considered "Stay with Me" to have been interpolated from "I Won't Back Down" by Napier, Phillips and Smith; instead Petty and Lynne would be given certificates to honor their contribution to the work, as is usual for writers of sampled or interpolated work.
In conclusion, interpolation is a valuable technique in songwriting that can add depth, emotion, and familiarity to a new composition. However, it is important for songwriters to approach this technique with care and respect, both for legal reasons and out of respect for the original artist. When used properly, interpolation can be a powerful tool for creating new and impactful music that resonates with audiences on a deep emotional level.
ABOUT THE AUTHOR
Scott Ashley is a songwriter and graduate of the prestigious Berklee College of Music in Boston. He is a voting member of the Recording Academy (National Academy of Recording Arts and Sciences). He is currently working as the Artist Relations director with the USA Songwriting Competition and IAMA (International Acoustic Music Awards). His book "How to Write Better Songs" hit #1 on the Amazon Best Seller Books Charts last year. Click here to purchase Scott Ashley's book on Amazon: https://www.amazon.com/dp/B0B5PLFGKX
For information on the 28th Annual USA Songwriting Competition, go to: https://www.songwriting.net