Producing With The Finished Track In Mind
by Tom Frampton
Well, its been a busy few weeks so I have just taken a two day 'holiday' from my mastering studio. I spent the majority of the time writing a new song....In my mastering studio. What can I say, music is a jobby (job/hobby) I love and getting my creativity fix is actually quite rejuvenating. Its funny how writing and creating music excites you to the point where you almost can't stop. You start writing and the next thing you know 8 hours has already passed. It becomes an obsession. You insist on listening to your new song on repeat, no matter how sick the people around you are of hearing it. When you try to sleep you hear your chorus over and over in your head and you think of ways to make improvements.
During this particular writing session I noticed that I was writing with my end goal in mind. I was thinking about what I needed to do at the writing stage to make sure my song would sound its best once finished. A mind set that I didn't have when I started producing music and knew nothing about audio engineering. I want to share with you a few of the techniques I used to keep my work in progress along the right track.
Gain Staging
When I first started making electronic music I wanted everything to sound HUGE. Thats the idea right? Well, I wish someone had told me sooner that the most effective way to achieve a huge sound is with dynamic range and proper gain staging. Want your bass to sound louder? instead of pumping it up a few dB try turning everything else down. Select all the channels in your DAW, deselect the bass, Output and Master fader. Then bring the channels down until you feel the bass is where you want it to be in the mix. A mastering engineer will always ask to receive a mix down with between 3dB to 6dB of headroom. So with this in mind, always try to have the output fader peaking around -6dB during the loudest point of your track.
Here is an effective way to create headroom when you don't have any…
To start with, the Output and Master bus should always be set at 0dB. The Image below shows a mix that is clipping. The red peak reading of '0.4' on the output bus displays the clipping.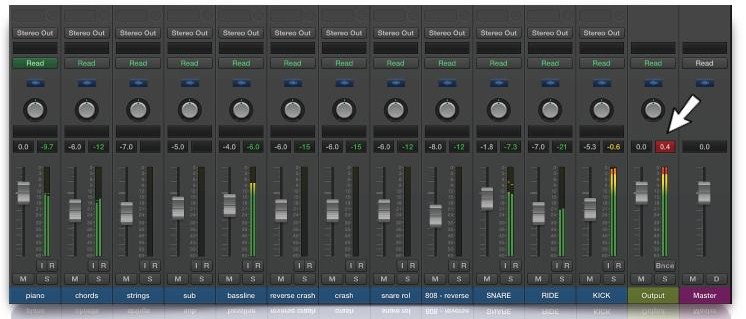 To fix this select all the channels in your DAW, but deselect the Output and Master bus to leave them at 0dB. Once all the individual tracks are selected bring one of the volume faders down. They will all move down together which means that the balance of your mix will not change. Bring the levels down until the output fader shows the peak level of roughly -6db as seen in the image below.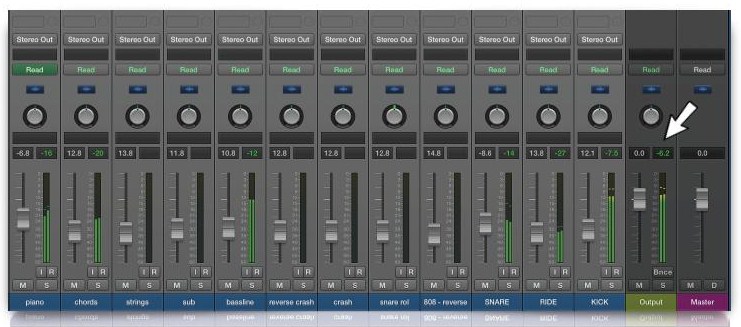 Creating Space
Low frequencies can creep in to your track unnoticed when recording vocals and guitar using a microphone. Below you can see the frequencies that are present on a vocal recording and the eq I used to cut out the unwanted low end. This doesn't change the sound of the vocal as I don't cut into the frequency range of the singer. You can apply this technique to any of your tracks but be sure to not cut the frequency range you actually want to hear.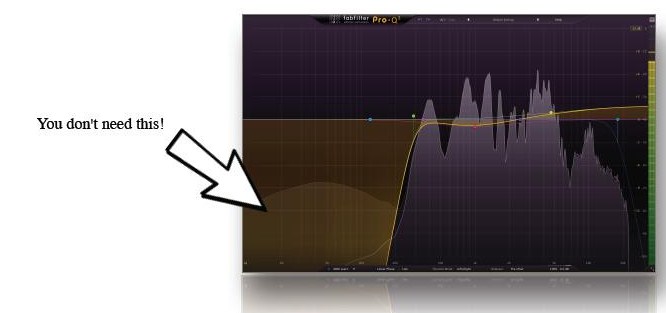 Stereo Image
Panning is a useful tool for creating space in your mix. Utilising mono signals can help free up stereo space and increase focus on high energy elements. In many scenarios it is recommended to place your kick, bass, snare and vocals in mono. These files may already be in mono but if they're not you can use the gain plugin to sum them from stereo to mono. This helps the fundamental elements of your mix become the focus of your music. This also minimises changes to these instruments when you hear your mix in mono. You can use reverb and delay to enhance your vocals without affecting your mono signal. An effective way to do this is by employing a process called parallel processing. This is where you send your audio to a bus and place the reverb on the newly created auxiliary channel. You can then mix in as much reverb as you want without altering your original mono source.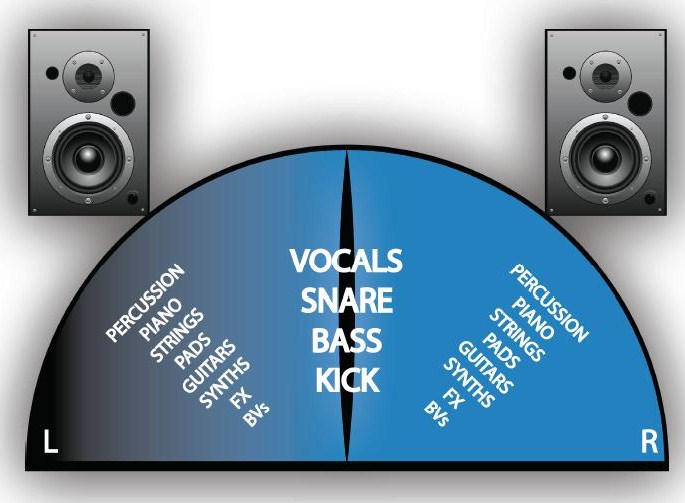 What Is Mono?
Mono is one single channel of audio. The left and right channels of your stereo mix are combined into one signal and sent individually to both of your speakers. A surprising amount of listeners will experience your track in mono. A lot of portable speakers are mono and all car FM radios automatically switch to mono when the signal is weak. Most nightclubs and venues also play music in mono.
How should I check my mix in Mono?
In Logic, load up the Gain plugin on the master channel. Check the box below 'Mono' but be sure to uncheck this box when bouncing your audio. Listen and hear how your mix changes. Some instruments may be quieter or even disappear completely from you mix. This happens due to the sound waves being out of phase. Make sure you only listen in mono through one speaker. If you use two the bass will be hyped giving you a false balance of your mix. Use your reference tracks to achieve a good balance between your instruments whilst listening in mono.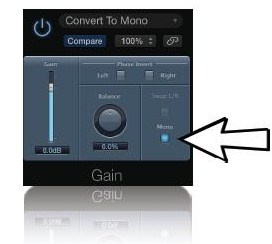 Conclusion
Hopefully, these little tips will help you to translate your musical ideas into your DAW the way you envisioned and give you a better final result. Ultimately, the most important part of production is having a great song. But as artists, I believe we must strive to give our fans a fantastic listening experience by presenting our music in its best possible form. Sometimes imperfections in a mix can add to the mojo of the music. On other occasions a track is praised for its impeccably clean production. Having the wisdom to know what to take out and what to leave alone is what will define your sound as an artist.
Tom Frampton is a owner of Mastering The Mix, a London based mixing and mastering studio. http://www.masteringthemix.com/
For more information on USA Songwriting Competition, go to: http://www.songwriting.net/