Playing With The Box
by Harriet Schock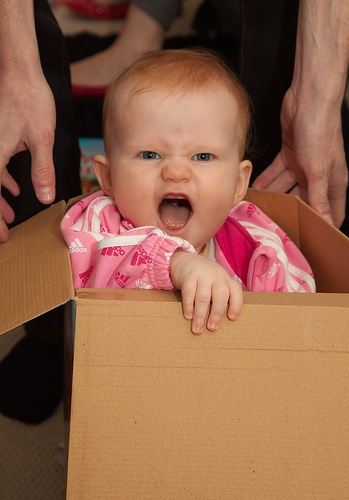 It all started with a student I had named Moke. He would bring me songs that he wasn't happy with but he couldn't figure out what was wrong. I put him through my songwriting course "steps" and very early in the process, he discovered something that got him enthusiastic again: In a verse, verse, bridge, verse song with the title at the end of the verse, you can twist the title and make it have a different meaning at least three times during the course of the song. Each verse will lead to it differently and it will change meaning just like a chameleon changes colors. I'd forgotten what that realization felt like, but he was having it like fireworks. From then on, every week he'd bring me another song that attempted to change the title's meaning at the end of each verse. It was at that point that I coined the term "playing with the box."

There's a well known story about the child at Christmas who is given an expensive toy only to end up playing with the box the toy came in. This is exactly what it feels like to me when I see a writer find a clever idea and try to twist and turn it, outlining a way the story could develop, without any real meat to the story. He's playing with the title, as the child would play with the box at Christmas.

When a title comes in at the end of a verse and hits us right in the seat of our emotions, it's very powerful. "The Song Remembers When" by Hugh Prestwood is a perfect example of this. But that song is not a clever mind game. It is a work full of real-life pictures, supporting a truth that goes beyond language.

Many of my students have written powerful songs with the structure of verse, verse, bridge, verse with the title at the end of each verse. One of the most talented and skilled writers I've ever worked with is Tracy Newman. In the decade she's been in my class, she's written some astonishing songs. The one I'd like to quote here is "Someone in the Room." She twists the title each time but never lets the emotional impact be lessened by our awareness of "cleverness."

SOMEONE IN THE ROOM (Tracy Newman 2011, Kabeauty Music)

He lets me brighten up his day
Pours out his heart to me
He's interested in what I say
And when we disagree
He fights fair, we work things out
He's such an open book, I have no doubt
I'm his special SOMEONE IN THE ROOM

Not a word of that is true
He only looks my way
When I interrupt his view
Or take the remote away
Sad eyes, the TV
It's finally gotten through to me
I've become just SOMEONE IN THE ROOM

He used to fly to me with a wild heart
Pretend to cry when we were far apart
Yeah, he'd call me up and say my name
Over and over again

He took me to the highest high
I never touched the ground
So I don't even want to try
To travel this far down
It feels so wrong
Days and nights are too long
To be just a SOMEONE IN THE ROOM
Life is too short
And I want much more
Than to be just SOMEONE IN THE ROOM


Getting back to my student, Moke, I should say that he soon learned there was more to emotional impact than clever plays on words. He's eventually chose topics to write about that were connected to reality and fertile with pictures. Occasionally he would fall off the wagon and bring in something that looked a bit like a movie set of a house, with no house behind it, but I would just look at him and he would say "I'm playing with the box." It's great to have students who do my work for me.


Harriet Schock wrote the words and music to the Grammy-nominated #1 hit, "Ain't No Way To Treat A Lady" plus many songs for other artists, TV shows and films. She co-wrote the theme for "Jakers! The Adventures of Piggley Winks," currently showing in 30 countries. She and her band were featured in Henry Jaglom's film "Irene In Time" performing 4 of Harriet's songs. She also scored three other Jaglom films and starred in "Just 45 Minutes from Broadway." Jaglom's recent film, "The M Word," features Harriet's song "Bein' a Girl," performed on camera at the end of the film. Karen Black wrote the play, "Missouri Waltz," around five of Harriet's songs, which ran for 6 weeks at the Blank Theatre in Hollywood as well as in Macon, Georgia. In 2007, Los Angeles Women In Music honored Harriet with their Career Achievement and Industry Contribution award. Harriet teaches songwriting privately, in classes and a popular online course by private email. For her performance schedule, list of credits and samples of her work or information on her book (Becoming Remarkable, for Songwriters and Those Who Love Songs), and her new up coming book, her songwriting classes, online courses and consultation, go to: www.harrietschock.com
Information on the 22nd Annual USA Songwriting Competition, go to: http://www.songwriting.net/enter