The 3 "PS" of Songwriting — Present, Protect, Promote
Simple strategies for making sure your hard work gets what it deserves
By Bruce Kaphan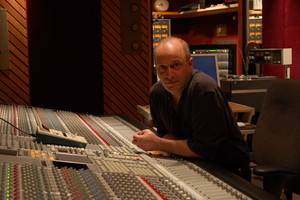 (Bruce Kaphan, Photo by James Saxon)
You write songs, but are you doing everything you should to take care of the business end of songwriting?
As a reader of Recording you are, by definition, a recording musician who knows how to make a song sound good. Today we'll help you focus on how to present the song so as to maximize the business potential of your production.
Protection of your work is important. You may have seen the monthly columns that entertainment lawyer Todd Gascon and I have been co-authoring, called It's Your Music—Know Your Rights. From those texts I'm summarizing points to keep in mind for the protection of your work.
Lastly we'll suggest ways to promote your songs—some time-tested ideas for how to turn your songs into income generating entities.
Presentation
Focus is a challenge to most self-recording singer/songwriter/musicians. Do you wear lots of different hats? Are you trying to promote yourself as a singer, songwriter, musician, recording engineer, or producer? That can be distracting.
How do you prioritize? And how far should you go with the recording and production of your songs? Do you intend to sell your song "as is" to someone who will record and produce and release it? Or do you record and produce your own songs and sell the finished recordings?
Whichever of these two paths you choose should determine how you present (produce) the recording of your song.
Selling your song
If you're looking to just shop the song, for someone to sing who will take it elsewhere for production, then present it accordingly as a song demo. [Note that this is different from the artist demo which isn't really done much any longer, now that you might as well make a finished record for sale, since the technology allows for that even on a modest level.—LzR]
When I'm producing a singer and looking for songs, I prefer to hear the songs as unadorned as possible. While the most stripped-down version isn't necessarily always better, I like for the song to stand out clearly, maybe with just a single voice accompanied by a single instrument (most likely guitar or keyboard). There may be exceptions—cases where a musical hook is so deeply embedded in the essence of the song that it must be present in the song demo, in a way that requires a more elaborate production than I'd usually suggest.
Still—if you are trying to sell just your song, it will be to an artist or possibly a team comprised of artist, producer, management, record company, etc., etc., who will have their own ideas about how best to produce the song.
Your song, even though you're not making a big production out of it, will have a better chance at getting picked up if it is presented properly. If you can't effectively sing your song, hire somebody who can, so it sounds convincing rather than questionable.
Selling a record of you and your song
Do you sing and perform on the recordings of your own songs? If you're just starting out, and you think you have what it takes to be a star, but you have hardly begun to launch the business side of your career, think about how your recordings represent you.
One of my clients plays mostly solo shows, singing and playing guitar. He sells CDs at his gigs. He's made a few albums. All but one of them present the music similarly to what people hear at his gigs—mostly just one guitar and a vocal. 
He had a dream of doing an album with a full band, so we did one, at much greater expense than his solo albums—musicians had to be paid, we needed to work in a bigger, more expensive studio, etc., etc.
He loved the way the album came out, but has noticed that it doesn't sell as well as his other albums, because his audiences generally want to hear his recorded music presented the same way as his live shows.
If you're a singer-songwriter starting out, it's going to be a lot easier and much more economically realistic to work as a solo artist—with fewer mouths to feed, airline tickets and hotel rooms to purchase, etc., etc. If this is how you'll present yourself onstage, doesn't it make sense to make recordings that reflect this same presentation? In business, this is called branding.
Last—take pride in your work! With recording tools improving all the time, you may as well put the effort into making your recordings sound as good as they can be.
Protection
There are certain legal steps you must take to protect your interest in your intellectual property. In past issues in our column It's Your Music—Know Your Rights, we've discussed the following tasks in great detail. Let's summarize them in this list that should never be far from your eyes...
Step 1: Copyright your songs. We describe copyright in detail in our March 2010 issue. In our April 2010 issue, we show you how to file a copyright claim.
Step 2: If you record with other musicians or singers, ask them to sign a Service (or Sideman) Release. You'll find more details for this and Steps 3–6 in our June, 2010 issue.
Step 3: If you use the pre-existing work of others (sampling), depending on the type of sampling, you'll need to get the permission of the copyright owner and/or publisher.
Step 4: To earn royalties when your songs are broadcast, affiliate with a PRO (in the USA, ASCAP, BMI or SESAC), either as a writer, or writer and publisher.
Step 5: To earn royalties when your masters are broadcast on the internet, digital cable, and satellite radio, register with SoundExchange.
Step 6: If you manufacture a physical product (like a CD or vinyl), get a UPC bar code for the packaging and ISRC code for the master recordings.
Step 7: If you publish your songs, form a publishing company. This can involve forming a business entity, obtaining a business license in the city in which you live, doing a DBA name search/filing for a fictitious business name in the county in which you live, possibly filing for permits for doing business in your home, etc., etc. You'll find more details on these topics in our July, 2010 and August, 2010 issues.
Step 8: If you're self-publishing, provide adequate notice of your copyrights on your packaging and on your discs. We describe this in detail in our March 2010 issue.
Promotion
Words From An Expert
I asked Steve Seskin, one of the most successful writers in Nashville today, to share his thoughts about getting songs into the right hands. Steve had his songs recorded by Tim McGraw, Neal McCoy, John Michael Montgomery, Kenny Chesney, Collin Raye, Peter Frampton, Waylon Jennings, Alabama, Mark Wills, and Peter Paul and Mary. His song "Don't Laugh At Me" was a finalist for CMA "Song of the Year" in 1999, and has spurred an entire tolerance movement, launched by the Don't Laugh at Me Project. Other Seskin hits include: "I Think About You," "Life's A Dance," "No Doubt About It," "If You've Got Love" and "Grown Men Don't Cry." (More at www.steveseskin.com)
Here's what Steve had to say:
"When it comes to writing songs for others to record, there are many ways to go at getting songs to the artists looking for them. The best way is to partner with a good publisher who will act as a middleman between the writer and the various people involved in a recording project. It's not that easy to get a publishing deal these days, so what else can a writer do to pitch their songs?
In Nashville, writers collaborate on songs, and it has just as much to do with business as creativity. I tend to choose collaborators strictly because of the creative connection, but I see a trend towards more writers hooking up with emerging artists to co-write specifically because there's a greater chance the song will be recorded if you write it with the artist.
If a writer wants to pursue this route, the best thing to do is to perform at lots of writers' nights and showcases with the hope that an up-and-coming artist or producer will hear their songs and either be interested in cutting one of them or possibly co-writing for their project.
This is also a good way to meet other co-writers in general, because it lets writers hear each others' songs, which is one of the things to do before considering co-writing with someone.
Lastly, if you have a song that you think would be good for a specific artist, I would certainly try being creative about finding ways to get it to them, such as sending it to the manager, producer, or A&R person at the label. It's a long shot but there's no harm in trying. Let's not forget that Kris Kristofferson pitched "Sunday Mornin' Comin' Down" to Johnny Cash by landing a helicopter on his front lawn. Flying lessons, anyone?"
In the music business, just having talent and skill usually isn't enough to further your career—you need to be in the right place at the right time, doing the right thing; you have to jump into the stream at just the right time... and you have to be able to swim!
Perhaps the title of this article should have been The Four P's, because persistence will have to be a permanent partner on your path to success.
Bruce Kaphan (kaphan@recordingmag.com) appears every month in our column "It's Your Music—Know Your Rights".
Excerpted from the March edition of Recording Magazine 2011  ©2011 Music Maker Publications, Inc. Reprinted with permission. 5408 Idylwild Trail, Boulder, CO 80301  Tel: (303) 516-9118 Fax: (303) 516-9119 
For Subscription Information, call: 1-800-582-8326 or www.recordingmag.com For more information on the USA Songwriting Competition, please go tp: http://www.songwriting.net