Legendary Music Producer Phil Ramone Dies
(edited by Jessica Brandon)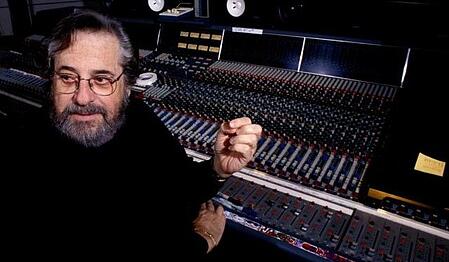 Phil Ramone has worked with virtually every top music star including Bob Dylan, Frank Sinatra, Barbra Streisand, Ray Charles, Rod Stewart, Elton John, and Paul Simon, often as a producer, occasionally as a songwriter. He recorded Marilyn Monroe's infamous performance of "Happy Birthday" to JFK. He's the co-founder of A&R Recording, Inc. He had a key role in the release of the first ever album, Billy Joel's 52nd Street.
A former violin prodigy and expert engineer, he worked with Dylan, Sinatra, McCartney, Bennett, Charles, Streisand, Simon, Joel and Bacharach and spent more than 50 years in the business.
Phil Ramone, the instinctive music producer whose mixing mastery for Frank Sinatra, Barbra Streisand, Bob Dylan, Ray Charles, Paul Simon and Billy Joel helped fashion some of the most sumptuous and top-selling albums of his era, has died. He was 72.
Ramone was married to Karen Ichiuji-Ramone (a.k.a. Karen Kamon, who had a top 100 hit in 1983 "Manhunt", featured in the hit movie and stage musical "Flashdance"), with whom he had three sons.
The 14-time Grammy winner and 33-time nominee once dubbed "The Pope of Pop" was hospitalized in late Feb. with an aortic aneurysm in New York and died Saturday morning at New York Presbyterian Hospital, according to Ramone's son Matt.
A native of South Africa who at age 10 performed as a violinist for Queen Elizabeth II, Ramone spent years working as a songwriter, engineer and acoustics expert in New York before charting a path that would make him a trusted studio partner in the eyes (and ears) of the industry's biggest stars.
Among the albums on which he worked were Streisand's 1967 live A Happening in Central Park; Paul & Linda McCartney's Ram (1971), sandwiched between the Beatles and Wings eras; Dylan's aching Blood on the Tracks (1975); Simon's pop classic Still Crazy After All These Years (1975); Joel's critical and commercial breakthrough The Stranger (1977); Sinatra's last-gasp Duets (1993), a model of technical wizardry; and Charles' final album, the mega-selling Genius Loves Company (2004).
Ramone served as a songwriter in New York's famed Brill Building music factory and worked early on with Quincy Jones, Tom Dowd, Creed Taylor, Jerry Leiber & Mike Stoller and Burt Bacharach & Hal David, among others. In 1959, he launched the A&R Recording studios on Seventh Avenue in New York, where Blood on the Tracks and so many other classics were recorded.
"Players are like prodigies, thoroughbreds," he added. "You have to handle them with care."
Born on Jan. 5, 1941, Ramone at age 3 began studying the piano and violin, and he attended the Juilliard School in New York as a teenager. Although he was an accomplished performer and composer, he was attracted to the technical side of music and became a wizard working with the dials.

Ramone was nominated for 33 Grammy awards, winning 14 awards and a technical Grammy for a lifetime of innovative contributions to the recording industry:
1965 – Best Engineered Recording (non classical), for Getz/Gilberto
1970 – Best Musical Show Album for producing Promises, Promises
1976 – Album of the Year for producing Still Crazy After All These Years
1979 – Record of the Year for producing "Just the Way You Are"
1980 – Album of the Year for producing 52nd Street
1981 – Producer of the Year (non classical)
1984 – Best Album Of Original Score Written For A Motion Picture Or A Television Special, for Flashdance
1995 – Best Musical Show Album for producing Passion
2003 – Best Traditional Pop Vocal Album, for producing "Playin' With My Friends: Bennett Sings The Blues"
2005 – Album of the Year and Best Surround Sound Album for producing Genius Loves Company
2006 – Best Traditional Pop Vocal Album for producing The Art of Romance
2007 – Best Traditional Pop Vocal Album for producing Duets: An American Classic
2012 – Best Traditional Pop Vocal Album for producing Duets II
For more information on the 18th Annual USA Songwriting Competition, please go to: http://www.songwriting.net